R.E.A.L Therapy and Wellness
Stroke Memory Rehabilitation Programme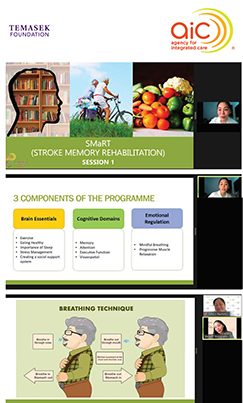 In collaboration with The National Neuroscience Institute, S3 conducted the Stroke Memory Rehabilitation Programme to help stroke survivors boost their brain health and memory. Through this series of sessions, stroke survivors learnt various skills and techniques such as managing stress, eating a healthy diet and effectively using their senses to enhance memory retention.
With better memory, stroke survivors are able to perform daily activities such as marketing and cooking.
m-Health Hand Rehabilitation Programme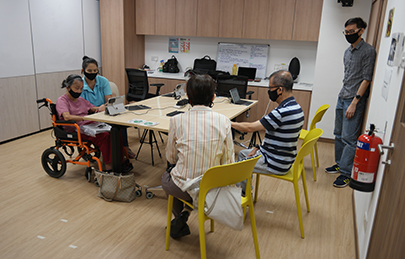 Do you know that stroke rehabilitation can be as fun as playing a game in an arcade?
Jointly conducted with the National University of Singapore Institute of Systems Science, the m-health Hand Rehabilitation programme uses interactive computer games to promote the hand mobility of stroke survivors.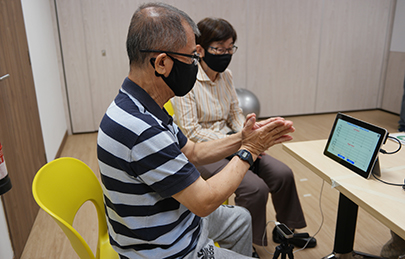 During the sessions, stroke survivors had to guide an object to reach various objectives by executing different movements such as pinching, rotating and flexing their fingers. Their movements are picked up by sensors which feed information back to the computer system. Based on the actions of stroke survivors, the computer system will determine the movements of the object on the screen.
Caregiver Support Group
Together with S3's occupational therapist, S3's Care team organised a series of caregiver support sessions which aim to equip caregivers with the skills to care for their loved one.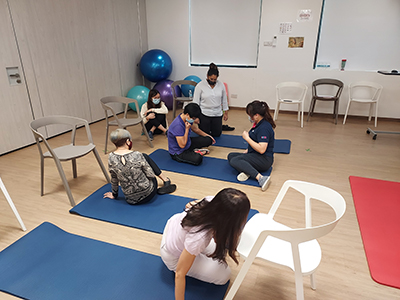 What happens when a stroke survivor falls down? Do you have to panic and call an ambulance straight away? How can you help? Many caregivers would try to lift their loved one directly from the ground. This action may cause further injuries to the stroke survivor as well as to the caregiver. Instead, one should provide a sturdy support such as a chair for a stroke survivor to lean on first before helping them to get back up on their feet. This is one of the key techniques that caregivers learnt during the programme.
Besides learning about physical caregiving skills, caregivers also practise important communication tips such as empathy and ways to manage their emotional well-being through discussion sessions.
Mindfulness Compassion Workshop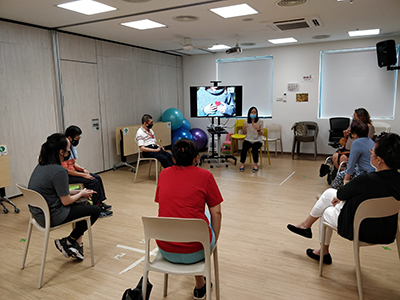 The Outreach and Care Team invited Be Mindful to share about mindfulness exercises and practices that can help stroke survivors and caregivers reduce their stress and negative emotions. For example, accepting one's self and living in the moment help stroke survivors and caregivers to find meaning and joy in simple pleasures.
R.E.A.L Outreach
Virtual Volunteer Recruitment Session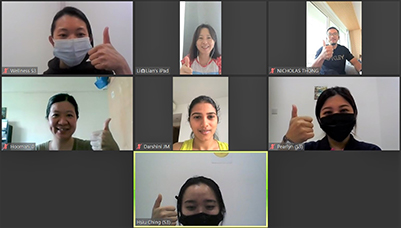 Despite the need to reduce physical sessions, we continue to reach out and engage our volunteers. Through this engagement session, potential volunteers learnt more about the causes and effects of stroke. We are happy to see them actively participating during the sharing session! We look forward to your enthusiasm and joy that you will bring to stroke survivors.
Outreach with PSA Singapore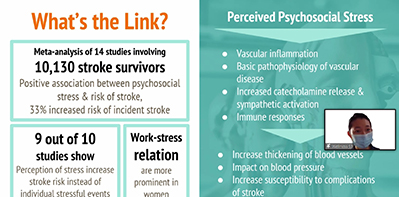 What do you think is the most effective way to counter stress?
A) Drink more coffee
B) Eat more chocolates
C) Target your root cause of stress
The Outreach team presented on the topic of stress to the staff from PSA Singapore. Identifying the sources and signs of stress can help us to employ effective coping strategies. Managing stress is important as it is a key cause of stroke!