S3 Programmes
Stroke Therapy in Singapore
R.E.A.L. (RE-LEARN AND ENJOY ACTIVE LIVING) PROGRAMME
After suffering a stroke, survivors face many physical impairments. They lose their abilities and functions such as eating and writing. They lose confidence in themselves and feel isolated and depressed.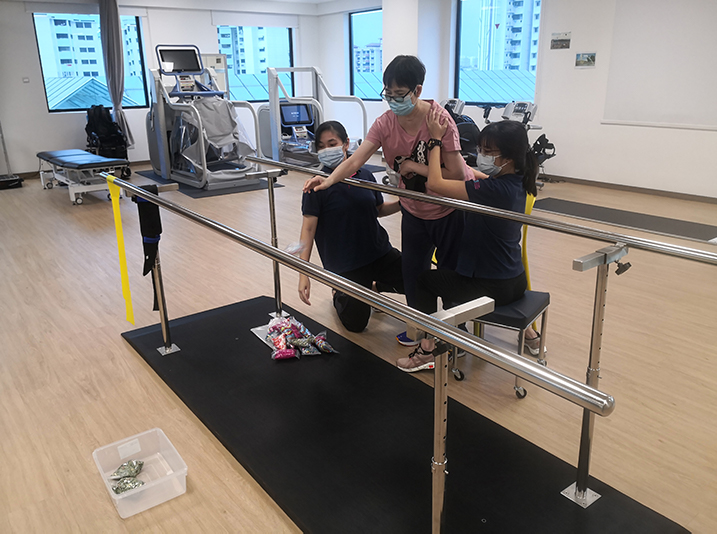 (Mdm Nancy Loh, a stroke survivor who lost the ability to go to the toilet independently)
S3's Re-learn and Enjoy Active Living (R.E.A.L) programme help stroke survivors and caregivers recover physically, mentally and emotionally. Every stroke patient is unique and we seek to understand each of their needs and aspirations before tailoring the most suitable activities. Our programme combine both conventional and assistive technologies to ease the post stroke recovery process.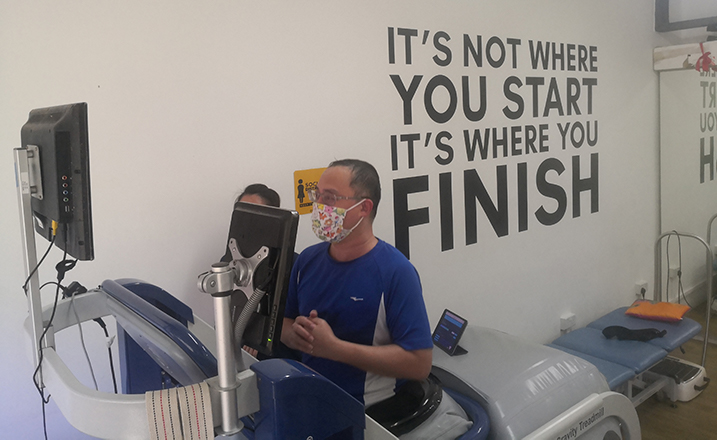 (Mr Lee Chee How using the Anti Gravity Treadmill, a rehabilitation machine that lightens the weight of a stroke survivor, allowing many exercises to be performed.)
S3's R.E.A.L programme consists of two aspects: Therapy and Wellness.
Therapy:
S3 offers physiotherapy and occupational therapy services to help stroke survivors recover physically. With better health, stroke survivors are equipped with coping skills to regain their independence and reintegrate into community life.
S3's therapists are licensed by the Allied Health Professions Council (AHPC) and stroke survivors are all assessed before they are recommended customised one-on-one and / or group sessions.
Our therapy sessions include:
1) Walk@S3: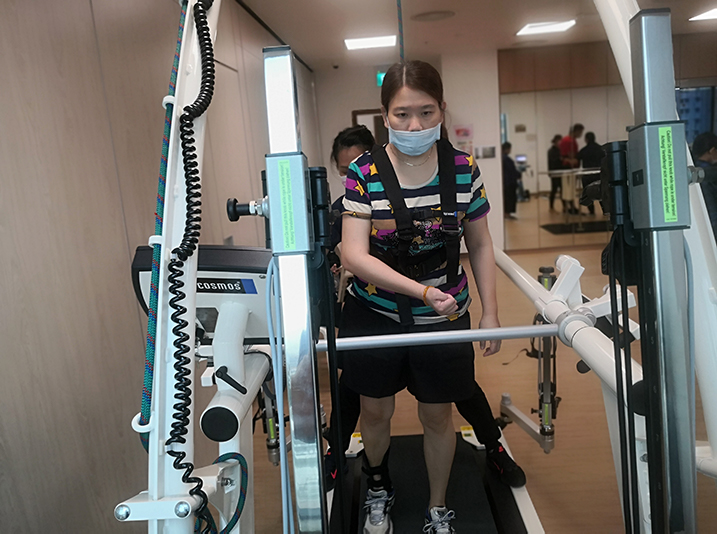 Using specialised training equipment such as the Anti Gravity Treadmill, Robo-Walk and Exoskeleton, stroke survivors can practise walking independently.
With precise data feedback from these equipment, therapists and trainers monitor key lower limb mobility indicators such as walking pattern, speed and distance. Based on these data, our therapists and trainers provide accurate guidance.
2) Conventional Therapy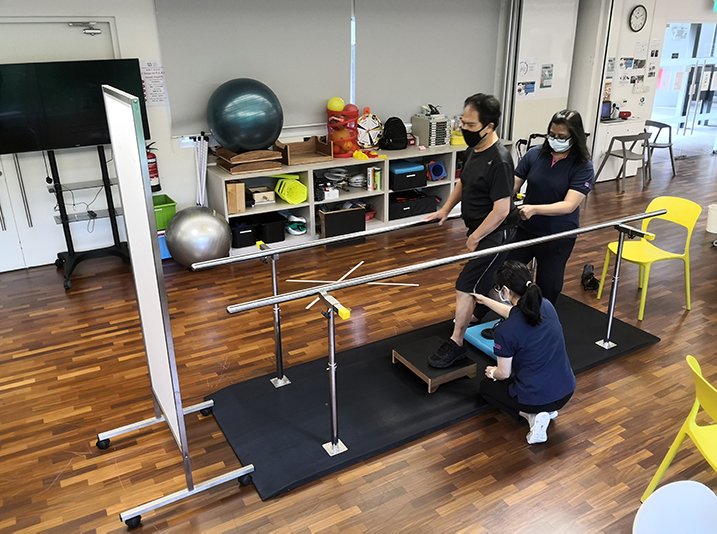 Conventional therapy treats the physical effects of a stroke and also prevents the deterioation of physical impairments. By improving their physical state, stroke survivors can avoid a stroke recurrence and improve their general well-being as they gradually regain their functions such as walking.
3) Group Therapy: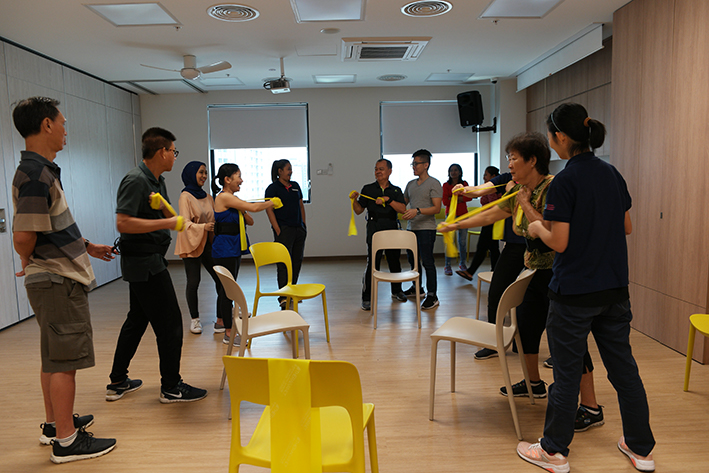 Exercising together as a group helps stroke survivors to socialise better and develop self expression as they share similar experiences. Currently, we cater three types of group activities namely dynamic standing balance, cognitive programme and upper limb sessions. Therapists and volunteers work together to support stroke survivors.
Wellness:
S3's wellness classes complement therapy services to facilitate the stroke recovery process. Wellness classes comprise of both physical and non-physical activities such as music, art and tachi which stimulate creativity and enhance general fitness. These sessions focus on a stroke survivor's socio-emotional and cognitive rehabilitation.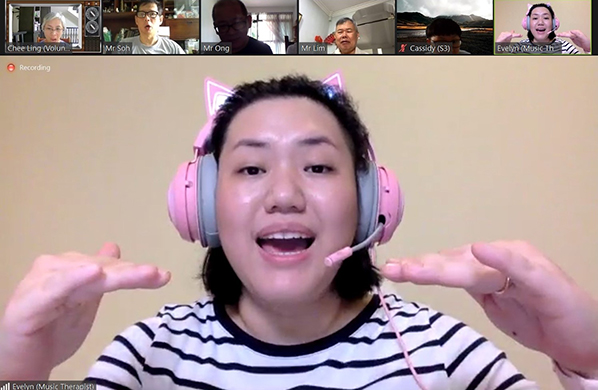 (Stroke survivors and caregivers attended a virtual music therapy session. Practising music such as singing helps stroke survivors to improve their speech capability.)
With an emphasis on group training, stroke survivors, especially those who feel isolated and lonely, can strengthen their social bonds by interacting with their family members, caregivers, S3's volunteers and other stroke survivors, who encourage and support each other.
We constantly monitor, measure and track a stroke survivor's recovery progress using validated surveys and key metrics such as the Hospital Anxiety Depression Scale. This evidence-based approach helps us to update new techniques and methodologies to help each stroke survivor to recover better.
Here's what stroke survivors have to say about our signature R.E.A.L programme:
Mr Lee Chee How: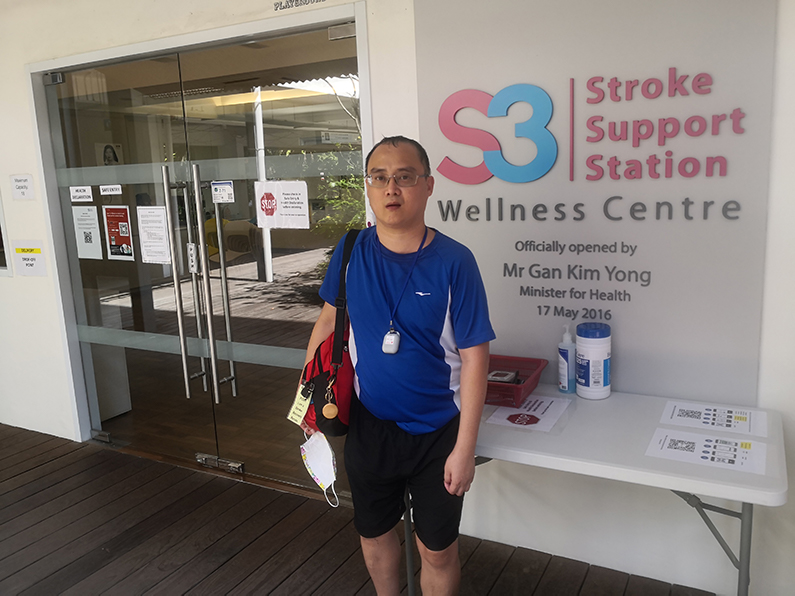 "S3's structured programme helps me to regain a sense of normal life before stroke"
Karen Koh: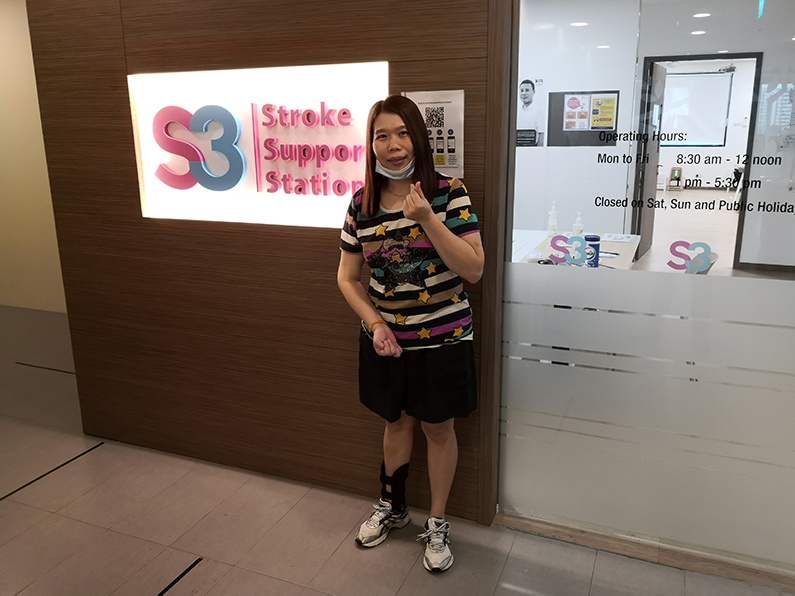 "The Walk@S3 programme improved my walking stability and leg strength. I can change direction while walking more easily now."
Our post stroke therapy services help you to recover with a peace of mind. To sign up* for our programmes, contact us here.
Physcial recovery goes hand in hand with emotional rehabilitation to help stroke survivors recover holistically. Find out more about our social support services here.
*We will conduct an assessment for stroke survivors and caregivers in our centres before recommending suitable programmes and services to help you.