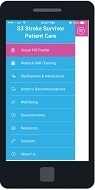 Download :
iOS version
Android version
The S3 Stroke Survivor Application aims to:
Encourage compliance with stroke medications and other chronic disease medications using a visual pill tracker
Assist stroke survivors who are on Warfarin to log down their INR levels to facilitate monitoring
Provide Stroke Survivors with core information they need to know about medications and interactions of medications with other drugs
Provide Stroke Survivors with tips on daily living and rehabilitation
Provide Stroke Survivors with access to Mindfulness exercises to help them adjust to their conditions
Provide them with a mood tracker to help them keep track of their daily mood
Provide them with validated Questionnaire to help them monitor their psychological well-being
Provide them with resources about how to seek help (from S3 and other organisations)
Provide them with immediate access to contact numbers of their family members and loved ones
The S3 Stroke Survivor application has been developed with the needs of Stroke Survivors in mind and based on latest evidence-based guidelines and recommendations.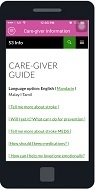 Download :
iOS version
Android version
The S3 Caregiver Wellness Application aims to:
Provide caregivers of stroke patients with necessary caregiving information

Provide links to relevant videos about mindfulness-based therapy to aid in the mental health well-being of care-givers

Provide links to S3 Podcast about caregiving and Carers' Well-being

Enable caregivers to keep track of their mental health well-being using validated questionnaires.
The S3 Caregiver Wellness application has been developed to provide caregivers with general tips about care-giving, so that they are empowered to care for their loved ones while providing them with resources to track their personal well-being. In addition, caregivers could make use of the mindfulness activities in the application to help them cope with the stresses associated with caregiving.