"I feel tired. How do I carry on?"
"I cannot do simple things such as writing and eating.
"I feel sad and useless."
Worry, helpless, depressed... these are some emotions felt by stroke survivors and caregivers.
When stroke strikes, a stroke survivor's physical disability is often placed in the spotlight. However, do you know that the mental, social and emotional consequences of stroke are as devastating?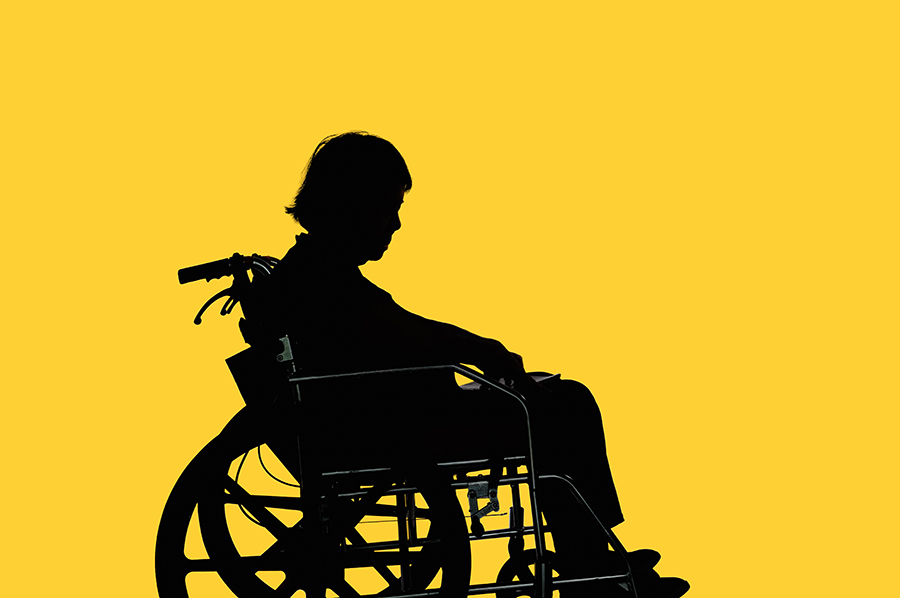 (Stroke survivors and caregivers often feel overwhelmed by their negative emotions)
After a stroke, survivors may lose their daily functions. Caregivers have to take up more responsibilities. Both stroke survivors and caregivers need to adapt to new conditions. If left unmanaged, the social and emotional effects of stroke will hurt many social bonds.
At S3, our social work team provide care support services to help stroke survivors and caregivers.
Information and Referral of Community Resources: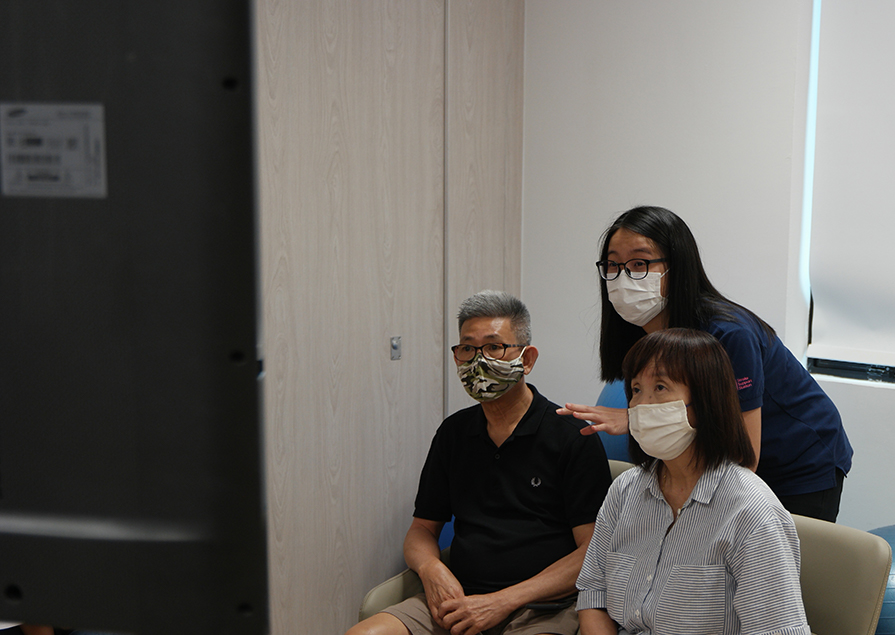 At the onset of stroke, survivors and caregivers may not know how to cope with stroke. They face many problems such as losing their jobs. Some stroke survivors have the additional responsibilities of caring for their children and parents. Each beneficiary's social circumstance is different which need different intervention approaches.
Our social work team connects our beneficiaries to various healthcare and social services. We also coordinate with these service providers and our beneficiaries to co-design plans and reach recovery goals. Stroke survivors and caregivers are also educated on the importance of self-care.
Case Management and Counselling: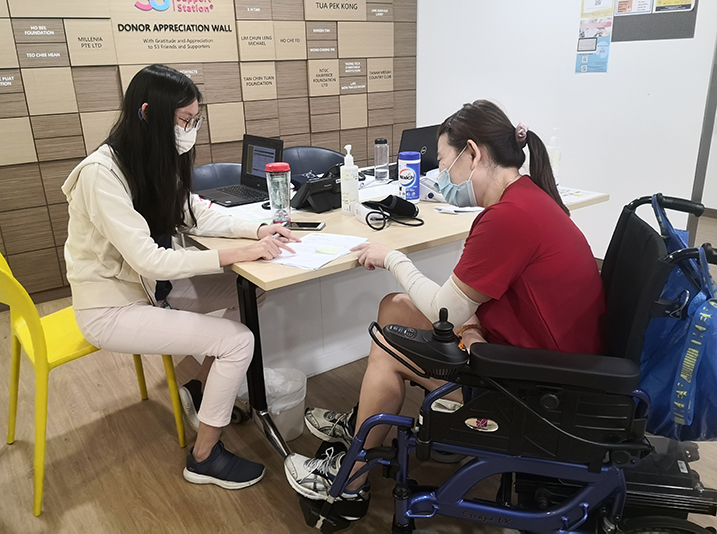 (Our social worker providing support to a stroke survivor)
Stroke survivors and caregivers may feel anxious about attending counselling sessions. We understand their anxiety as counselling may be a taboo subject. But, counselling helps stroke survivors and caregivers to overcome their emotional burden.
Our social workers provide a listening ear and a safe space for stroke survivors and caregivers to share their experiences. Our counselling service encourages stroke survivors and caregivers to examine their situation and resolve their issues.
Our case management service is client-focused which respects the individual's dignity, rights, values and choice. Our case manager works with stroke survivors and caregivers (and their social networks) to achieve their goals by identifying their needs and implementing an individualised care plan.
With better support, stroke survivors and caregivers enjoy improved psychological health, more resilience and greater independence.
Care Buddy and Support Group: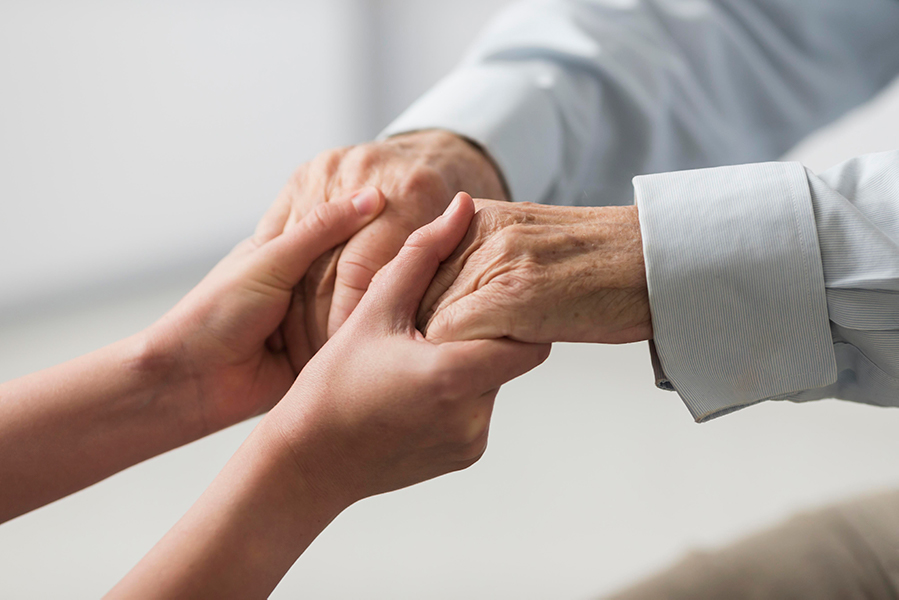 The care buddy and support group programme assist stroke survivors and caregivers on their recovery.
Stroke survivors and caregivers are paired up with a fellow beneficiary who is recovering well. They can share about their experiences which strengthen meaningful relationships and positive interactions. With a shoulder to lean on, stroke survivors and caregivers gain more self awareness and a sense of purpose.
The programme provides hope and support to stroke survivors or caregivers, reducing their stigma and isolation. Equipped with stronger emotional support and valuable knowledge about post-stroke recovery and community services, our beneficiaries can cope better.
Financial Assistance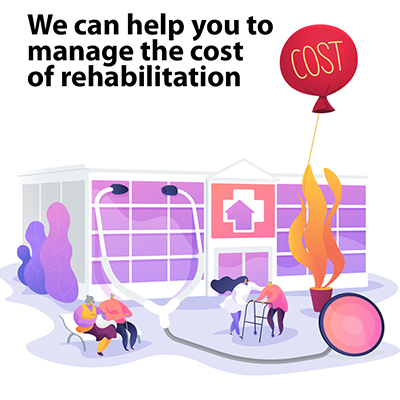 As stroke survivors and caregivers flip through their medical bills, they may feel shocked, worried and frustrated. The cost of stroke is indeed high as stroke survivors and caregivers are often overwhelmed with hospital bills, medicine and rehabilitation costs.
This burden is worsened when stroke survivors lose their jobs. Also, they may have other financial commitments such as providing support for their children or aged parents. Sometimes, caregivers have to quit their jobs to care for their loved ones.
We understand your stress and we are here to help.
The S3 financial assistance scheme is funded by donors to provide subsidies to assist stroke survivors* so that they are not deprived of rehabilitation at S3 due to financial constraints.
*To find out more about the eligibility, please contact us at info@s3.org.sg or call 6473 3500.
If you need our social support services*, contact us here.
Combined with quality physical therapy, stroke survivors gain a new lease of life. Check out our physical therapy services here.
*Our social workers will assess your suitability for our social support services.