"The world came crashing down. I was devastated. I could not move my body. I struggled with breathing, speaking, and eating, and was on a feeding tube every night. I was in fear and had nightmares constantly. It was a scary experience to be in the observation ward for nine days."
This was the ordeal that greeted Mr Pandian when he was admitted into the hospital after suffering a brain stem stroke.
After the stroke, Mr Pandian had to be monitored closely as brain stem strokes are dangerous. His stroke was likely the result of high cholesterol which affected his central nervous system.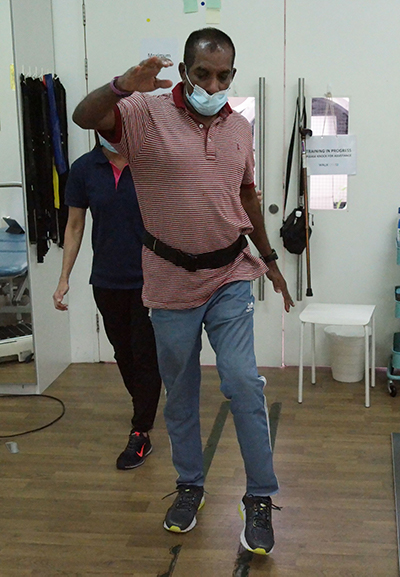 How did Mr Pandian recover? Does he have a secret technique?
After his stroke, Mr Pandian was not able to work. He developed an inferiority complex and have self doubts on whether he could overcome this obstacle and return to normal life.
However, he has since made progress in his recovery. As an athelete, Mr Pandian believes in exercising every opportunity he gets.
"When I wake up, I do some stretching exercises. I exercise every moment I get," said Mr Pandian. (Well, most of us will immediately hit the snooze button when we wake up, so kudos to your effort Mr Pandian!)
"If you have the desire, determination and will, you will find the time to improve, whenever and wherever you are," said Mr Pandian. "I want to overcome my stroke and lead a normal life."
Nowadays, Mr Pandian can take the public transport, shower, and do household chores independently. All these are possible because Mr Pandian has a supportive community.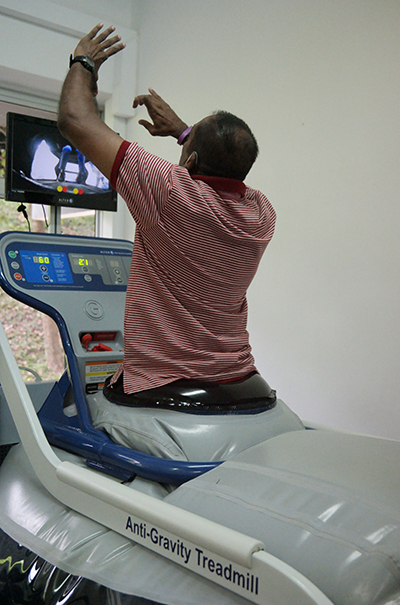 A loving community
Mr Pandian is grateful for the people in his life who have made it possible for him to overcome his challenges and lead a normal life sooner than expected. These are family and friends who gave Mr Pandian confidence and faith. He is thankful to his friend, Dr Tang Kok Kee, a neurosurgeon who monitors Mr Pandian's lifestyle closely. He tracks Mr Pandian's medication, blood pressure and diet conscientiously so that he can manage his cholesterol level.
"Dr Tang will remind me to have an uninterrupted sleep. I must send him five blood pressure readings by the time I hit the bed. Seriously, you cannot find someone more earnest than Dr Tang," said Mr Pandian.
Mr Pandian is also blessed to have a loving daughter who takes care of his emotional needs. She is a trained psychologist who spends lots of time with him and keeps track of his psychological health.

How do S3's programmes help Mr Pandian?
At first, Mr Pandian thought that there was a limit to his recovery. However, S3 helped him to break his perceived limit with the help from the dedicated physiotherapists.
"My therapist tailored the exercises for me. There were some days that I felt tired. However, she motivated me and recommended alternative exercises that I could do comfortably. Even though I wasn't at my best, I could still complete at least several exercises," Mr Pandian outlined his physiotherapy experience in S3.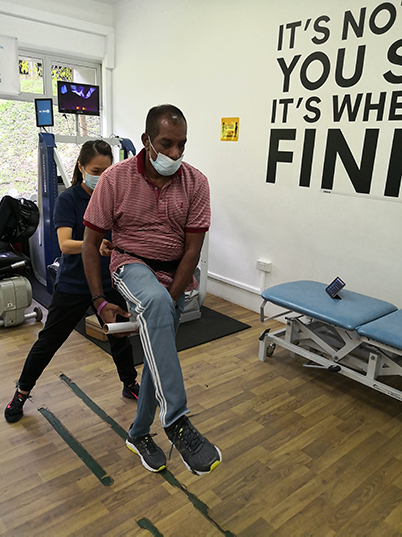 Sports does wonders to the body
Being an athlete, sports has indeed helped Mr Pandian to recover more effectively. Mr Pandian is a certified sports and holistic masseuse. He applies various massage techniques that he had learnt to soothe his pain and improve his muscle functioning.
Sports has also inculcated good values such as resilience and determination in Mr Pandian. These values drive him to work beyond his limits to recover.
The sporting community in Singapore rallys behind Mr Pandian's recovery. He still keeps in close contact with his beloved coach and mentor, Mr Patrick Zehnder, whom he has known for many years.
"Patrick video calls me and checks on my hand mobility. He also demonstrates exercises such as hamstring curls, leg extensions and hand raises which help me to improve flexibility. He sends me enriching articles to read. I am deeply appreciative of his concern."
Mr Pandian also has a network of friends in the Kabaddi Association Singapore, a sports association which promotes Kabaddi (a type of contact sports which is popular in India. Think of Kabaddi as a mix between sumo and rugby). Mr Pandian exchanges ideas with his friends on how to improve his condition. His coaches in the Association help to assess his recovery and provide assistance and guidance.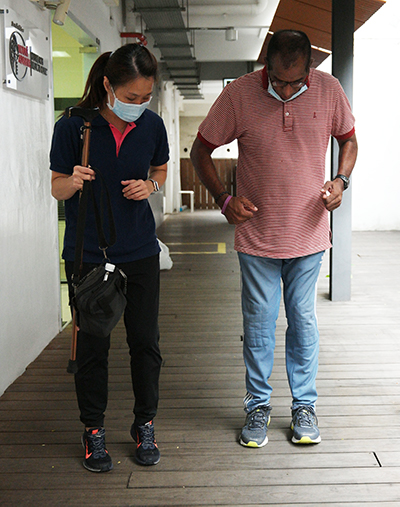 Words of advice from Mr Pandian!
"You need people to help you. Help is available everywhere.
Reach out to them - be it your family or friends, especially those who possess the knowledge to help. You need someone to help strengthen you mentally and physically, and someone to walk with through the emotional turmoil.
You must also accept the difficulties (of being a stroke survivor) and face the challenges. Stroke brings about a huge transition in life."