National Day Celebration
What does the Singapore Spirit mean to you? In the hearts of many Singaporeans, resilience and care are 2 cherished values of the Singapore Spirit, especially during this COVID-19 pandemic. Many Singaporeans have shown care to their fellow countrymen who need a helping hand by stepping up to volunteer. Singaporeans from all walks of life persevere to lead fulfilling lives by learning new skills and trying out new experiences, even though they might have suffered from losses.
On the 6th of August, S3 conducted a virtual National Day event to celebrate the Singapore Spirit. Clad in red and white, everyone was in a jubilant mood to honour the kindness of caregivers and the resilience of stroke survivors who have shown courage to keep up with their goals of recovery.
Stroke survivors, caregivers, staff and volunteers came together as one to sing National Day songs, answered interesting quizzes and took a trip down memory lane with a video on Singapore's history.
Taking a memory trip down Singapore's history
We started the event watching the History of Singapore MOE SG50 video. Participants took a trip down memory lane as they went through the key defining moments of Singapore's history. The Japanese Occupation, Merger and Separation, SARS, We had overcame many obstacles and we would do it again for this COVID-19 pandemic if we stay united and resilient.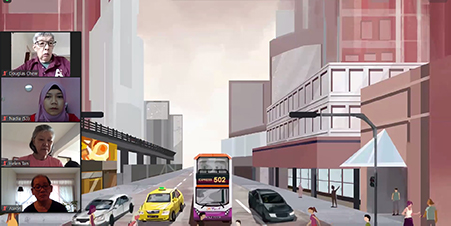 Next, Diane (S3 volunteer) presented to us the different icons of Singapore such as the Singapore Flyer, Night Safari and Gardens by the Bay. Just 2 years ago, we were at the Singapore Flyer, celebrating National Day with the staff from DCA Architects!
What are your favourite Singapore snacks? Some like the white rabbit sweets commonly found in many households during Chinese New Year, while others love the sweet and crisp hawthorn chips. Our volunteer also took us through the sights, sounds and tastes of Singapore and we certainly felt a rush of nostalgia.
Short Trivia Quiz: You have been living in Singapore for your whole life, but you probably don't know about these facts!
Next, we had Ai Lee, another S3 volunteer, who led the quiz session for us. Do you know how many islands are there in Singapore? And how many animals are there in the Night Safari? Probably not right? Participants chimed in to share their opinions and knowledge as they tried to remember different facts and figures. For those who got them right, you really are a true blue Singaporean!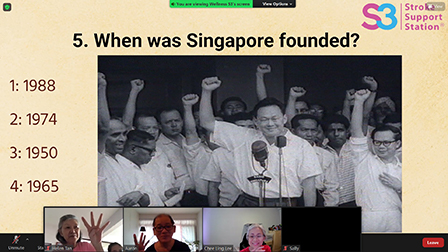 Sing-along: Do you know what is this year's National Day song?
What is a National Day celebration without singing National Day songs? Led by Helen, we sang "The Road Ahead", which is this year's National Day song, inspiring us not to give up even during a crisis.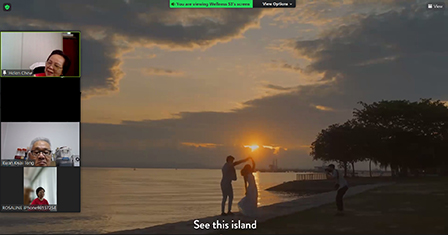 We poured our hearts and souls and exercised our vocal chords as we sang familiar tunes together. Our voices echoed as one as we clapped and waved our flags along to the rhythm of the music. The strength and power of the voices projected by stroke survivors must have been honed by the techniques that they had learnt during the music therapy wellness sessions!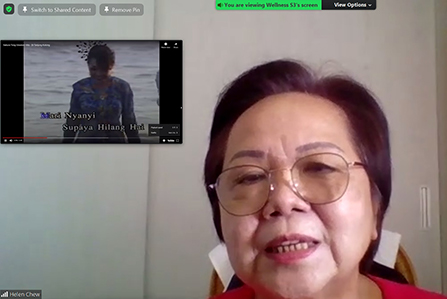 Do you know which iconic folk song that we had sung?
Lucky draw
The moment participants had been excitedly anticipating… That's right, the lucky draw! Winners got to walk away with $20 NTUC vouchers. Congratulations to our winners:
Karen Koh
Matthew Chew
Mr Ong Chong Bin
Mr Loo
Annie Ong
Helen Tan
Mr Charan
Ms Lim Lay Hoon
Mr Silavnus Koh
Patrick Chiam
The rest of the participants would be walking away with $10 NTUC vouchers.
"Thanks to the organisers. This event reminded me back in my school days celebrating National Day." Ms Rais, a participant complimented on the efforts of our staff. We were happy that you had enjoyed yourself!
We would like to thank stroke survivors, caregivers, volunteers, and staff, who had made this celebration a joyous one.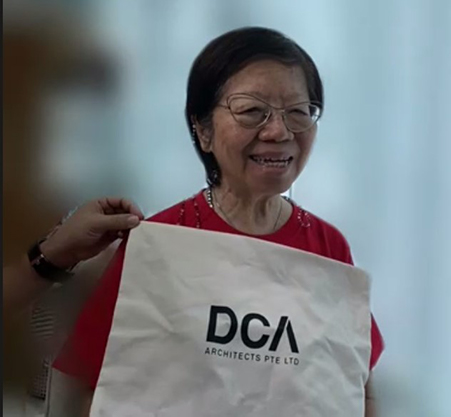 We would also like to thank DCA Architects for sponsoring the goodie bags and lucky draw rewards for the participants.
No matter how much the odds are stacked against us, we will definitely overcome them, with hopes in our hearts.