Nutrition Talk for Stroke Survivors
We are glad to invite Mr Caleb Mok, a dietician to conduct a virtual talk with stroke survivors and caregivers. Mr Mok shared his expertise on eating well with the participants which can boost the health and well-being of stroke survivors.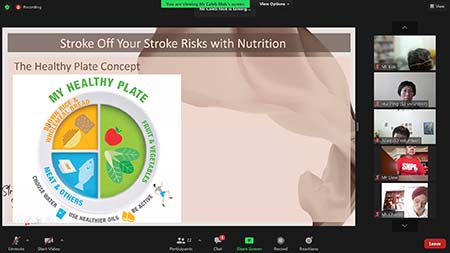 Try out these different diets to manage stroke risks
Mr Mok introduced various diets such as the Mediterranean and plant-based diets to reduce stroke risk factors. The Mediterranean diet consists of fatty fishes, nuts and tea to ensure a healthy inflammatory response and reduced calories and blood cholesterol. Using herbs to season the food decreases sodium in our body.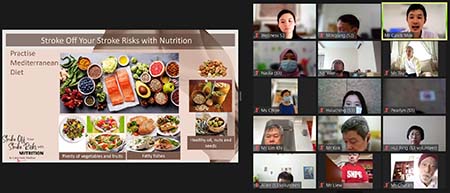 The consumption of fatty fishes such as salmon can also moisturise joints and the skin, which can lessen the pain felt by stroke survivors, especially after exercising.
Eating a plant-based diet which consists of beancurd and legumes help stroke survivors to strengthen their cardiovascular health.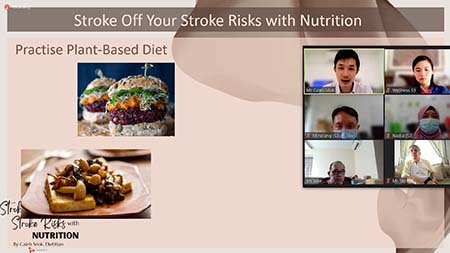 Uncommon causes of stroke and how a healthy diet can combat them
Nutrition deficiencies such as a lack of vitamin D and K can result in a stroke. Vitamin D deficiency aggravates inflammation within blood vessels which stimulates blood to clot, preventing blood flow to the brain. A lack of vitamin K causes calcium to be deposited into the blood vessels instead of our bones, making it difficult for blood to flow.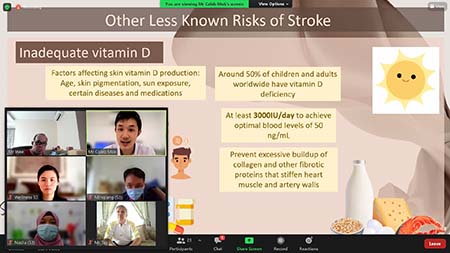 How to get more vitamin D and K? Get more sunlight and eat more nato (Japanese fermented beans) and aged cheese.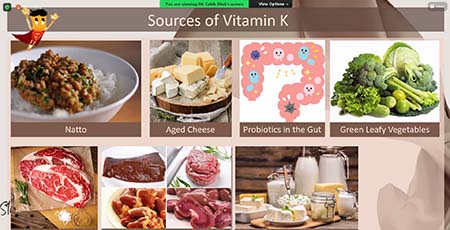 Mr Mok highlighted that consuming food which contain Vitamin K like liver can raise blood cholesterol level which raises the risk of stroke. It is important not to overconsume certain food items and achieve balance in our diets. You can take Vitamin K supplements instead. However, stroke survivors on blood thinners should consult their doctors first before consuming them.
How to craft a healthy meal plan
A balanced meal plan looks like this:
•
Breakfast: Eat more fruits
•
Lunch: Cook the ingredients in healthy oil. Season them with herbs and nuts instead of salt. Take more soy protein, mushroom, vegetables and brown rice.
•
Snack: Take soy protein such as soy milk and matcha powder.
•
Dinner: Eat more fatty fish, vegetables and brown rice. Finish the day's meal with fruits as desserts.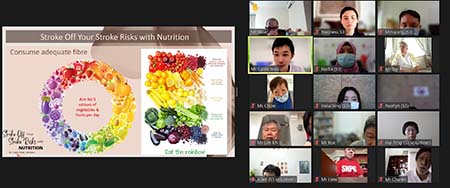 You may be tempted to eat fried chicken or grab that packet of potato chips for snacks. Substituting them with alternatives such as steamed chicken or eating fruits for snacks ensures that your diet is lower in fat and salt which reduces your stroke risk.
Finally, we have some good questions from the participants.
Mr Wee asked "Can eating leafy vegetables produce good cholesterol? Is eating raw or cooked vegetables better?"
Mr Mok answered that vegetables do not have cholesterol and advised to consume double the portion size if one is eating raw vegetables to meet the required serving size.
Mr Wee also asked whether consuming too much plant and soy-based products will lead to high uric acid in our body. Mr Mok debunked this myth by highlighting that red meat, not plant and soy based food items, leads to the build up of uric acid.
Register for our
upcoming talks
now if you want to learn more healthy lifestyle tips to prevent a stroke.