R.E.A.L Outreach
S3's Community outreach programmes
Would you like to know more about stroke? With more information and knowledge, you can take precautions to protect yourself and your loved ones from the devastating health effects of stroke. Our community outreach efforts help to raise the importance of stroke prevention, awareness, and care.
Through S3's outreach initiatives , stroke survivors and caregivers can learn about various health and self-care tips to lead a fulfilling lifestyle in the community.

Corporate Social Responsibility:
Would you like your staff to build strong bonds and rapport at work, while at the same time creating a meaningful impact on society?
Would you like to boost your brand image and awareness?
S3's corporate social responsibility programme allows you to achieve both goals, especially through our strong network of partners. S3 conducts fun activities for your organisation to make a difference in the lives of stroke survivors and caregivers.
Take a look at some of these projects:
( The team from Roche Singapore assembling fishing toy sets and treasure hunt kits for stroke survivors during their therapy sessions)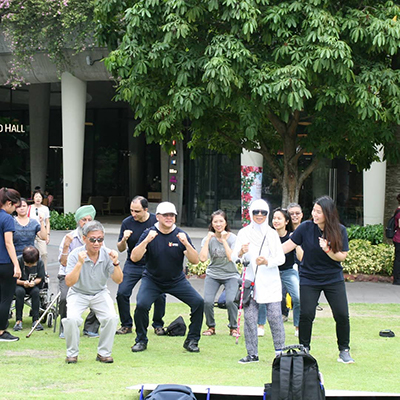 ( Staff from Tanoto Foundation and the Royal Golden Eagle Group leading a day trip for S3's beneficiaries to Gardens by the Bay)
There are many ways for you to partner us on your corporate social responsibility journey. You can volunteer with us, make a donation or support us through a sponsorship. You can even start a campaign to support S3's cause(think about the Ice-Bucket challenge that created massive awareness of multiple sclerosis. You can make the same impact too!).
To all our participants in S3's Corporate Social Responsibility projects, we thank you for your kindness.
Community Engagements:
S3 believes in building a sense of social cohesion by involving members of the public in the fight against stroke. Our engagement programmes inculcate good practices and habits that foster healthy and active living. They also create an environment that fosters interactions and connections. People can look out for each other, share knowledge and information. These community networks enable us to defend against stroke.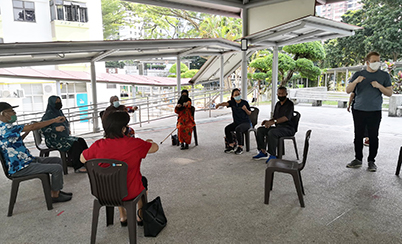 ( S3's outreach staff, volunteers and therapists working together to organise morning exercise sessions for residents living in the Lengkok Bahru neighbourhood. Leading an active and healthy lifestyle is a sure way to prevent stroke! )

S3 works closely with community partners to co-create efforts to better assist stroke survivors and caregivers living in the community. Our strategic partnerships identify and address the issues faced by stroke survivors, helping them to reintegrate into the community. Our collaborations also help stroke survivors and caregivers gain awareness on the various support services provided in the community. As we build stronger connections, stroke survivors are better able to seek assistance.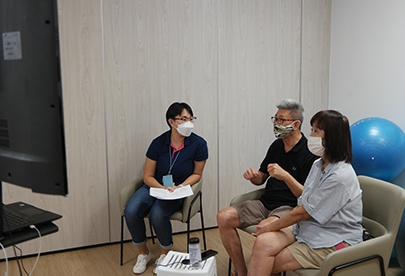 ( S3 partners with Alexandra Hospital to conduct sharing sessions. During these sessions, stroke survivors attending therapy and wellness programmes in S3 share about their life experiences with acute stroke patients in the hospital)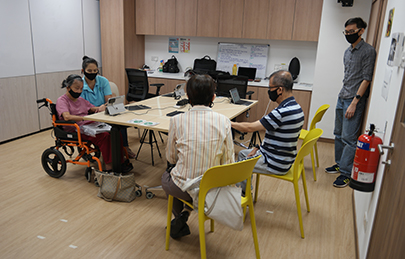 ( S3 collaborated with the National University of Singapore to conduct the M-Rehabilitation, a programme which tests the effectiveness of computer games on a stroke survivor's hand mobility)
We also worked with:
National University Health System (NUHS)

, for their partnership with S3. Both S3 and NUHS hope to harness the synergy to effectively help stroke survivors in achieving fulfilment and acceptance within the community which goes beyond the traditional concept of a healthcare system.

Community Hospitals and Rehabilitation Centres

for refering stroke survivors to S3; such as St Luke's Hospital, Ang Mo Kio – Thye Hua Kwan Hospital, National University Health System and the National Neuroscience Institute

Ang Mo Kio – Thye Hua Kwan Community Hospital

for providing S3 volunteers with hands-on experience and exposure to working with stroke survivors and guidance on programme development.

Abilities Beyond Limitations and Expectations (ABLE)

for collaborating with us for the Return to Work programme which S3 members can tap on for relevant job training and placement.

The Enabling Village

provides a beautiful, safe and inclusive environment for stroke survivors, allowing them to focus on recovery. Enabling Village also offers job training and placements for S3 members.
We are grateful for the support given by our partners.

Talks, workshops and events:
S3 conducts talks and workshops on different topics which are related to stroke. We also invite experts in the field of stroke care to share their perspectives and ideas.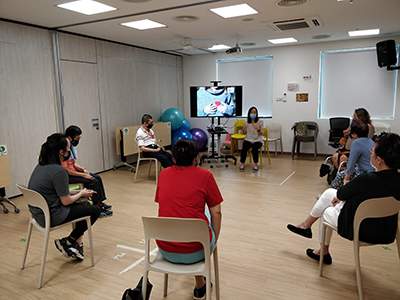 ( During a Mindful Self-Compassion talk conducted by Be Mindful, stroke survivors and caregivers learnt about self-compassion exercises and techniques to manage their stress and emotions )
During S3's community events, staff will explain about S3's programmes and services, as well as knowledge about stroke, to members of the public. Together, we can do our part to prevent stroke.
Attending these talks and workshops allows participants to gain valuable knowledge and insights about stroke. With more knowledge, you can even advise your family and friends!