Stroke Rehabilitation and Wellness Programmes
1. Stroke-Focused Active Rehabilitation

Conventional Physiotherapy
Through the support provided by therapists, trainers and assistive equipment, stroke survivors are trained to execute different exercises and movements. The sessions improve the mobility of stroke survivors and overall physical well-being. S3's therapists are licensed by the Allied Health Professions Council (AHPC).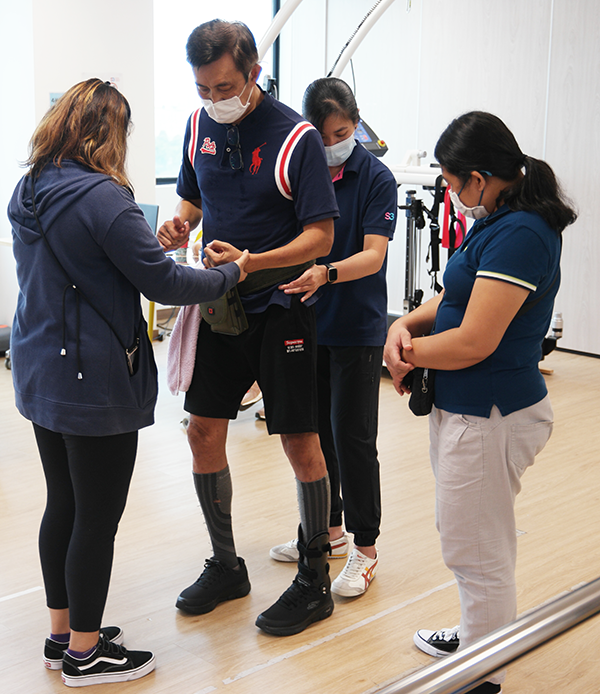 Conventional Occupational Therapy
Our occupational therapists apply tasks-specific practices which train different aspects of physical fitness. These practices and exercises emulate activities of daily living to help stroke survivors re-learn their ability to carry out daily functions. They will also be guided on different methods and solutions to support these activities.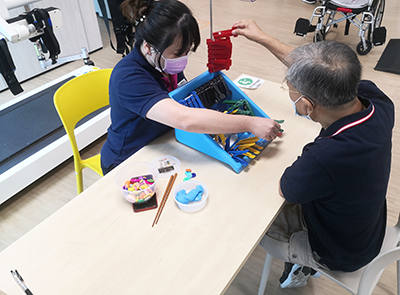 Speech Therapy
A stroke can affect cognitive-communication abilities for some persons affected by stroke, such as aphasia, dysphagia, and/or others.
Our licensed speech therapist designs sessions to improve a stroke survivor's speech, language, cognitive-communication, voice, swallowing abilities, and/or others through a customised therapy programme tailored to meet each individual's needs.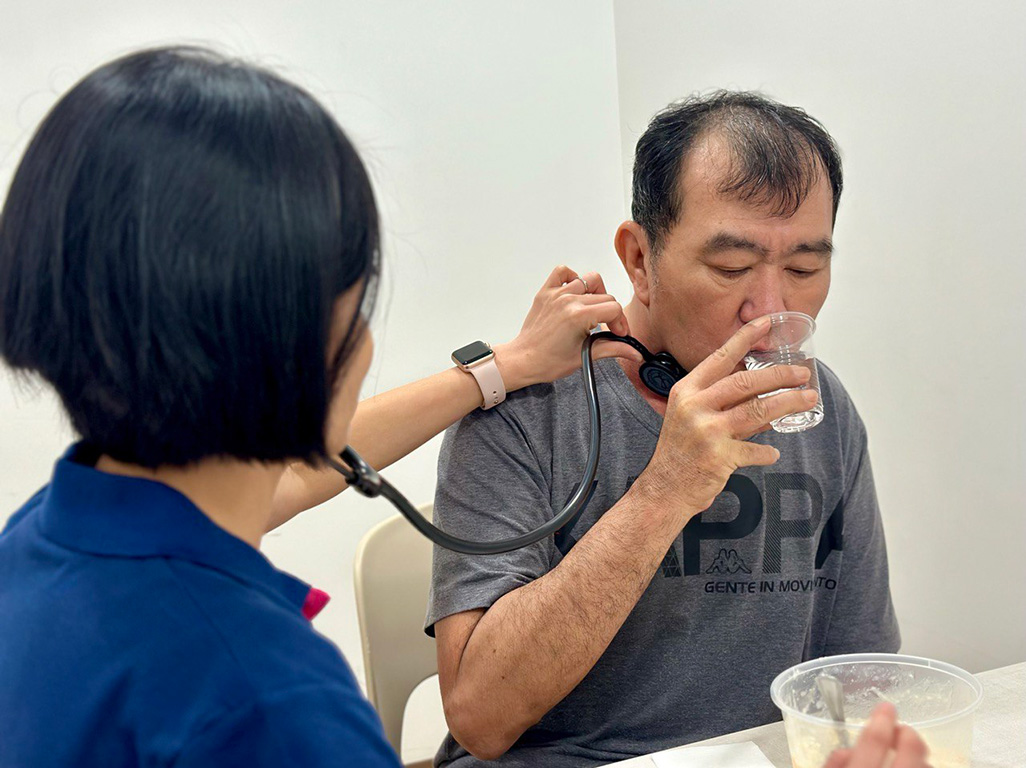 Clinical Programmes
S3's clinical programmes are additional tech-enhanced services that complement conventional therapy to further enhance a stroke survivor's recovery potential. Our therapists will assess each member's condition accordingly to determine whether such services will be incorporated into their respective rehab programmes.
Tech-enhanced Strength & Conditioning Programme (Walk-on@S3)
At S3, we use high-end innovative robot assistive equipment which encourages stroke survivors to be more independently mobile. The safety mechanisms in place, coupled with the accompaniment of professional trainers, ensure that stroke survivors can train with a peace of mind. Stroke survivors are empowered to confidently try out movements which are perceived to be challenging and difficult, which facilitate the recovery of their mobility.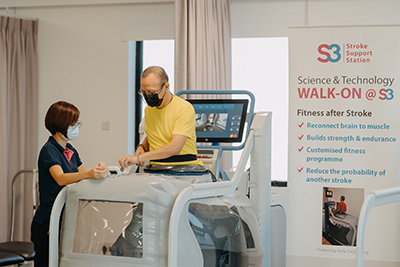 Exoskeleton Programme
This programme uses a high-tech and wearable robotic machine that helps to train users' standing and walking abilities with precise, real-time data analytics and feedback. Stroke survivors can find out the number of steps completed in a session to track their progress, which can improve their confidence and spur motivation. In 2022, 71% of users cited improvement in either their balance, mobility or gait speed after attending at least 12 Exoskeleton sessions.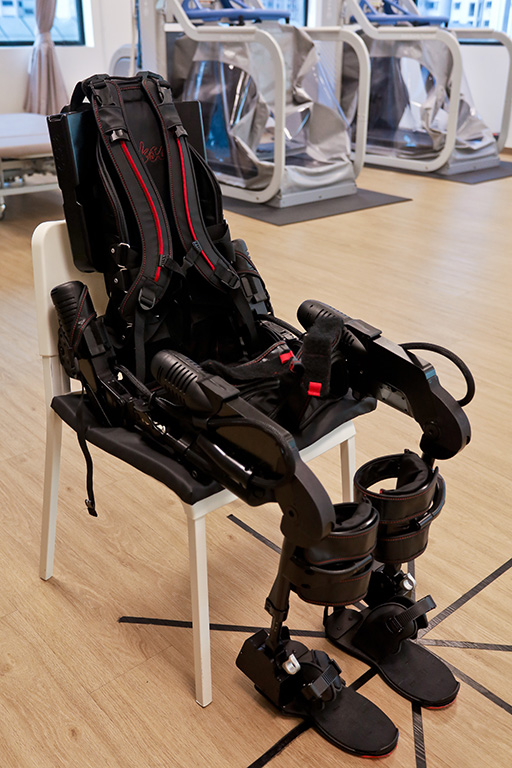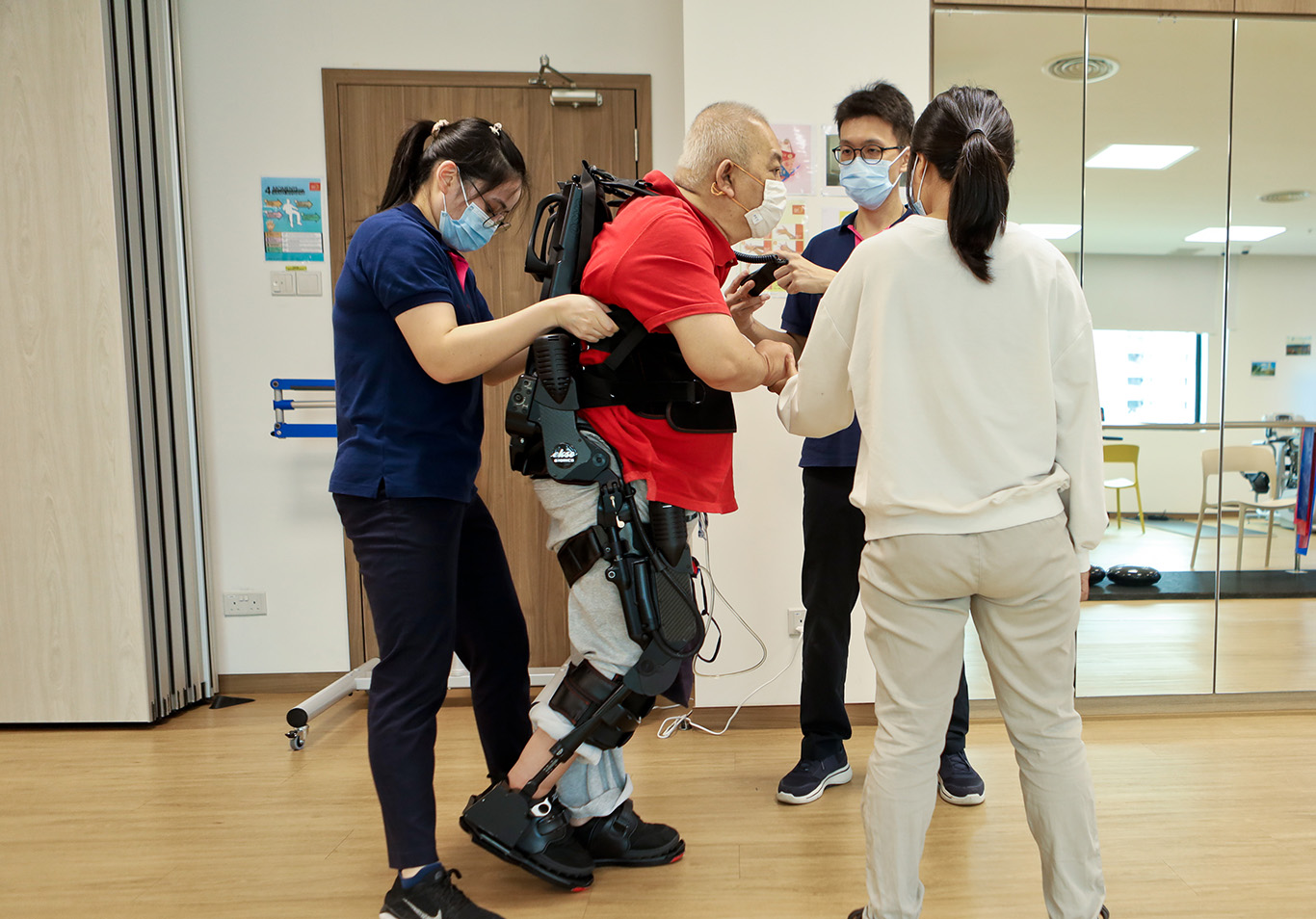 Tech-enhanced Upper Limb Rehab
A high-tech rehab solution that includes the use of robotics is used to help members maximise their upper limb recovery potential in conjunction with therapeutic activities prescribed by onsite therapists.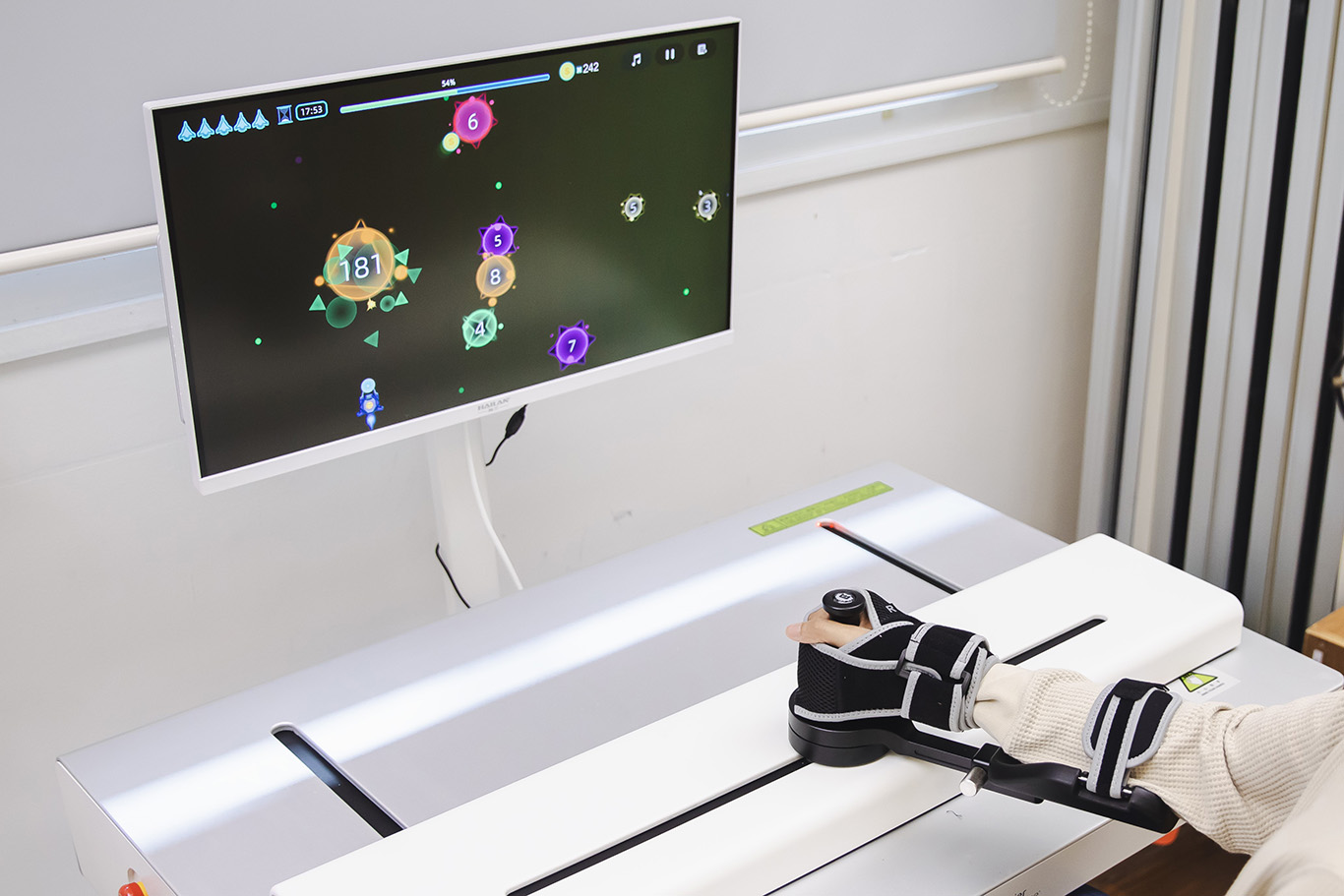 ---
2. Stroke-Focused Maintenance Rehabilitation
Dynamic Standing and Balance Programme
This programme trains the ability of stroke survivors to retain their balance while executing various movements and exercises. These exercises improve body awareness and boost the coordination between the brain, sensory functions and muscle reaction.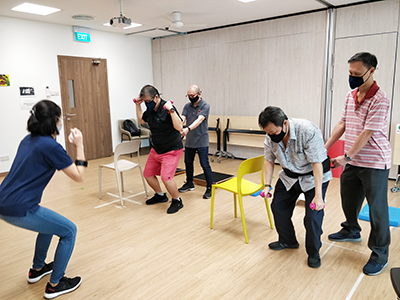 Upper Limb and Cognitive Group Therapy
Stroke survivors go through a group strengthening routine which trains the core, elbow and shoulders. The strength and stability of the upper limbs are important for stroke survivors to physically function well. Cognitive practices enhance key mental processes and abilities such as memory and identification.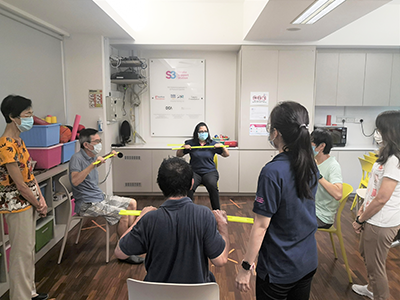 ---
3. Wellness Programmes
A stroke can cause changes in a person's cognitive and emotional abilities. Our Wellness Programmes complement therapy services to improve psychosocial and physical well-being and cognitive development through a variety of fun and engaging activities. Virtual programmes are also available.
Clink here to view our current programme lineup!
Physical Fitness
An array of services such as kickboxing, aerobics, Yoga, Tai Chi, Qi Gong are offered to support the physical health of stroke survivors. These fitness activities complement physical and occupational therapy to facilitate the physical recovery of stroke survivors. With a better state of physical health, stroke survivors can perform better in their therapy sessions and even in their daily functioning.
Creative Arts
Neurologic Music Therapy
Neurologic music therapy is based on neuroscience research which affirms that music can improve the health of the brain and many behavioral functions for stroke survivors. Music-based interventions promote active interaction and engagement with stroke survivors, while at the same time prompting physical, psychological, and spiritual healing.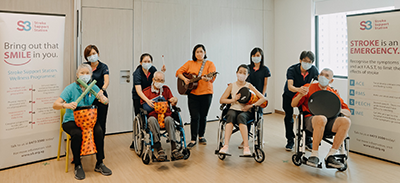 Art Therapy
Trained art therapists use artistic mediums as a vehicle to commune with and interact with stroke survivors. While creating art, therapists engage in dialogues (verbal and non-verbal) with stroke survivors to spark reflection and self-understanding.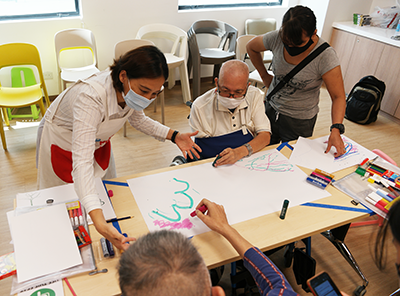 Talks and Workshops
Stroke survivors and caregivers have the opportunity to be connected with experts in the field of stroke care. Participants can learn from these experts as well as from each other as they share their questions and perspectives about stroke related topics during discussions.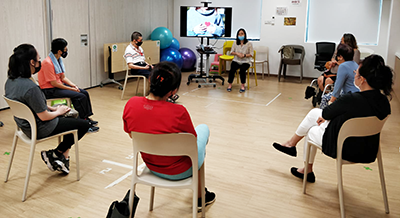 ---
4. Care & Support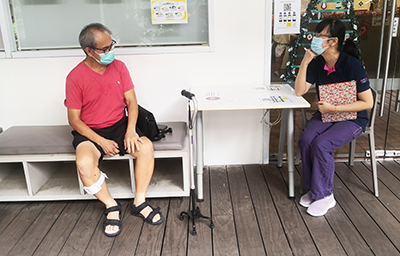 Information and Referrals
We provide stroke-related information and connects stroke survivors and caregivers to community resources and support services.
Case Management and Counselling
We assess the needs of stroke survivors and caregivers to facilitate the development of care, coordination and advocacy plans for our members. We also provide interventions to help stroke survivors and caregivers address the issues they face in their daily lives.
Financial Assistance
S3 financial assistance schemes are available to ease the financial burdens of stroke survivors and caregivers.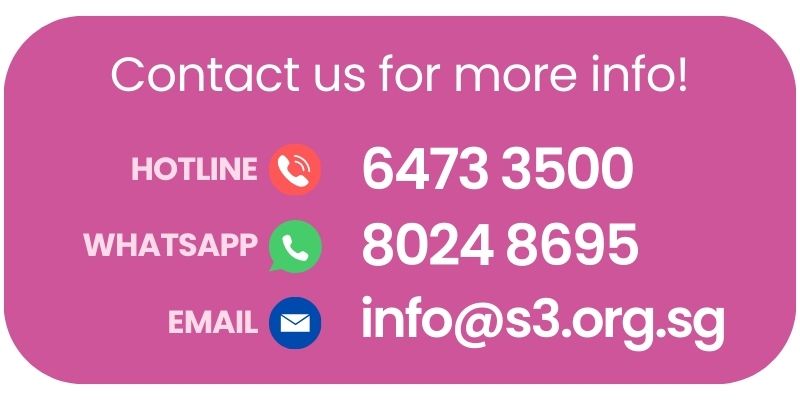 Click the button below to send a quick email to find out more about our programmes and services!
View our full Service Menu below! (Available in English and Mandarin)