Wellness Programmes for Stroke Survivors
Look forward to these wellness programmes that we will be conducting for stroke survivors and caregivers!
Upcoming talks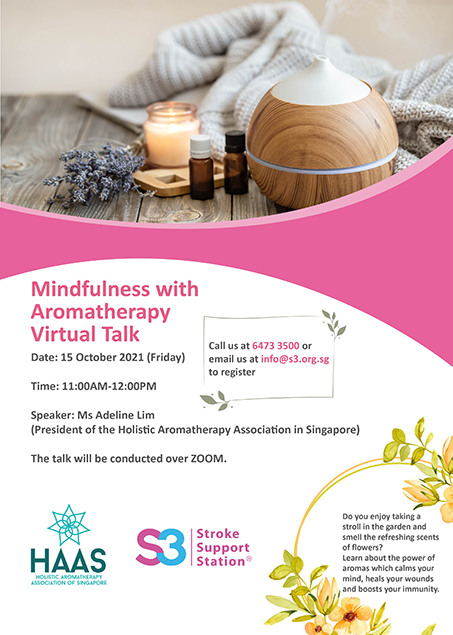 Life always tells you to "stop and smell the roses."
This is because the scents of flowers help you to relax and feel good!
Learn more about the power of aromatherapy which can help you to destress, reduce your worries and achieve a better well-being.
Do you know that a proper and healthy diet is important for effective stroke recovery? In the modern era, all of us are so busy with our work, study or family that we neglect to have a proper diet.
Do you need to buy expensive ingredients to cook a healthy meal? Do you need to spend hours simmering a wholesome bowl of soup to have a nutritious diet? No! Even if you eat out most of the time, you can still consume a healthy meal.
Join this talk to learn more about how you can eat healthily to prevent a stroke.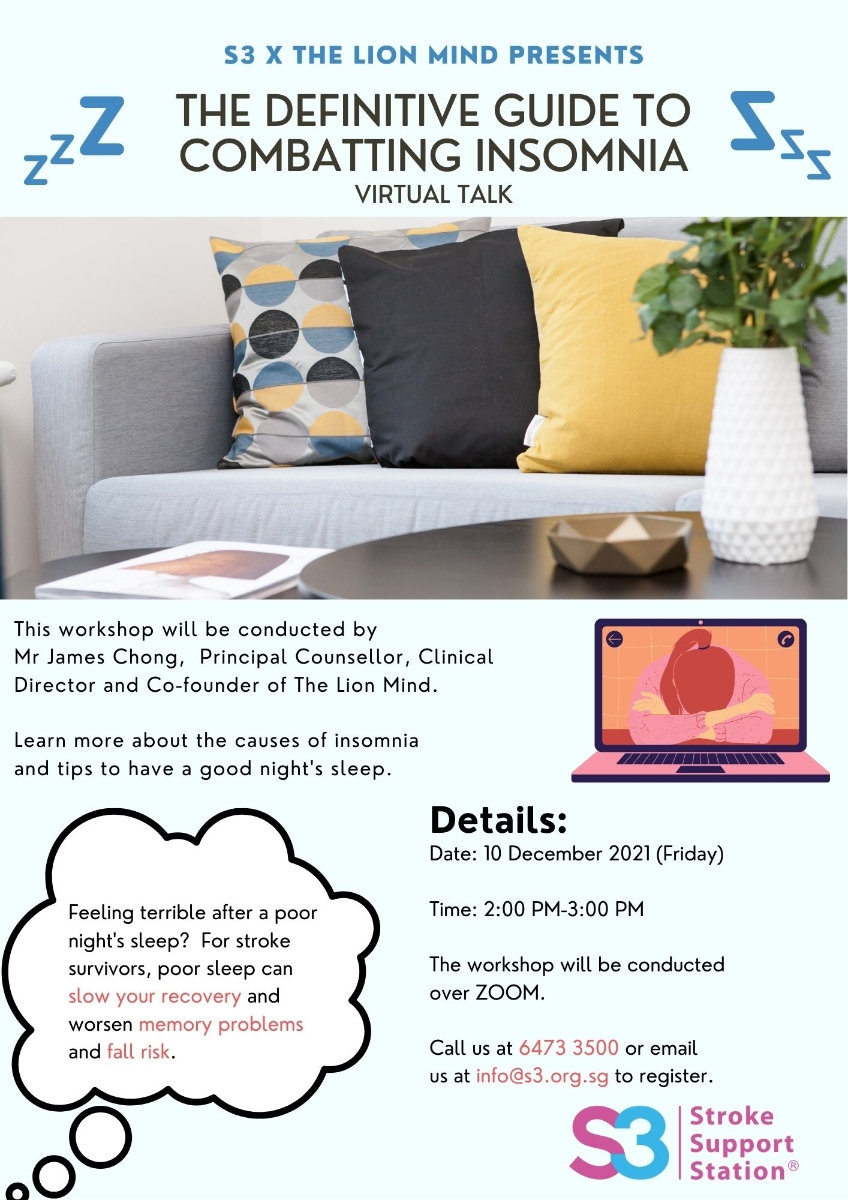 Do you feel that you have trouble concentrating on your work during the day? Does your head hurts as if you are wearing a tight hairband? You may be suffering from insomnia. Do you know that insomnia is a risk factor for stroke?
Stroke survivors and caregivers are at a greater risk of suffering from insomnia. Caregivers who suffer from insomnia face problems to support their loved ones physically due to fatigue. This is dangerous as accidents may happen to both caregivers and stroke survivors.
If you want to enjoy better sleep, join us in this virtual talk where you can learn about tips to put yourself in a peaceful slumber.
Programmes in Enabling Village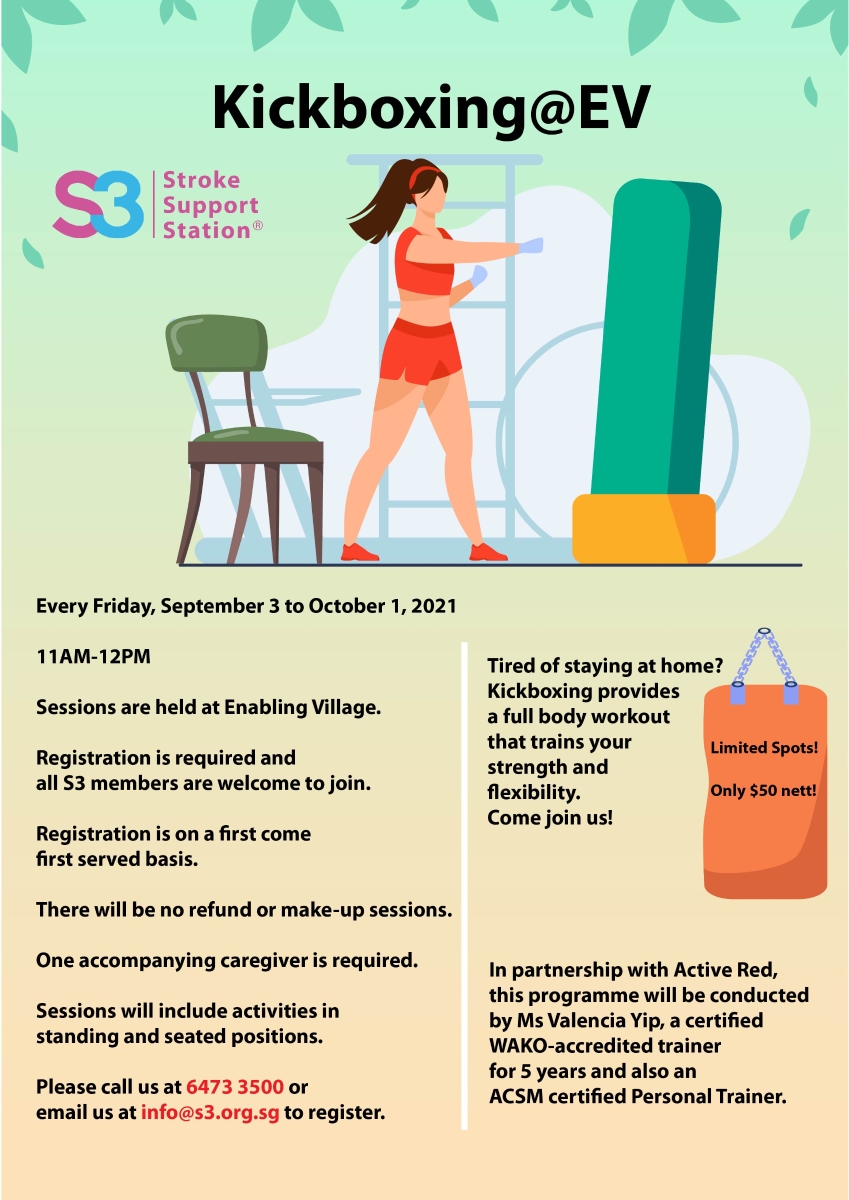 Do you feel tired after weeks of staying at home? Hook your way to good health through kickboxing! Practise your punches, kicks and jabs which will help you to keep alert and lively.
This programme is open to clients in Enabling Village only.
Programmes in Jurong Point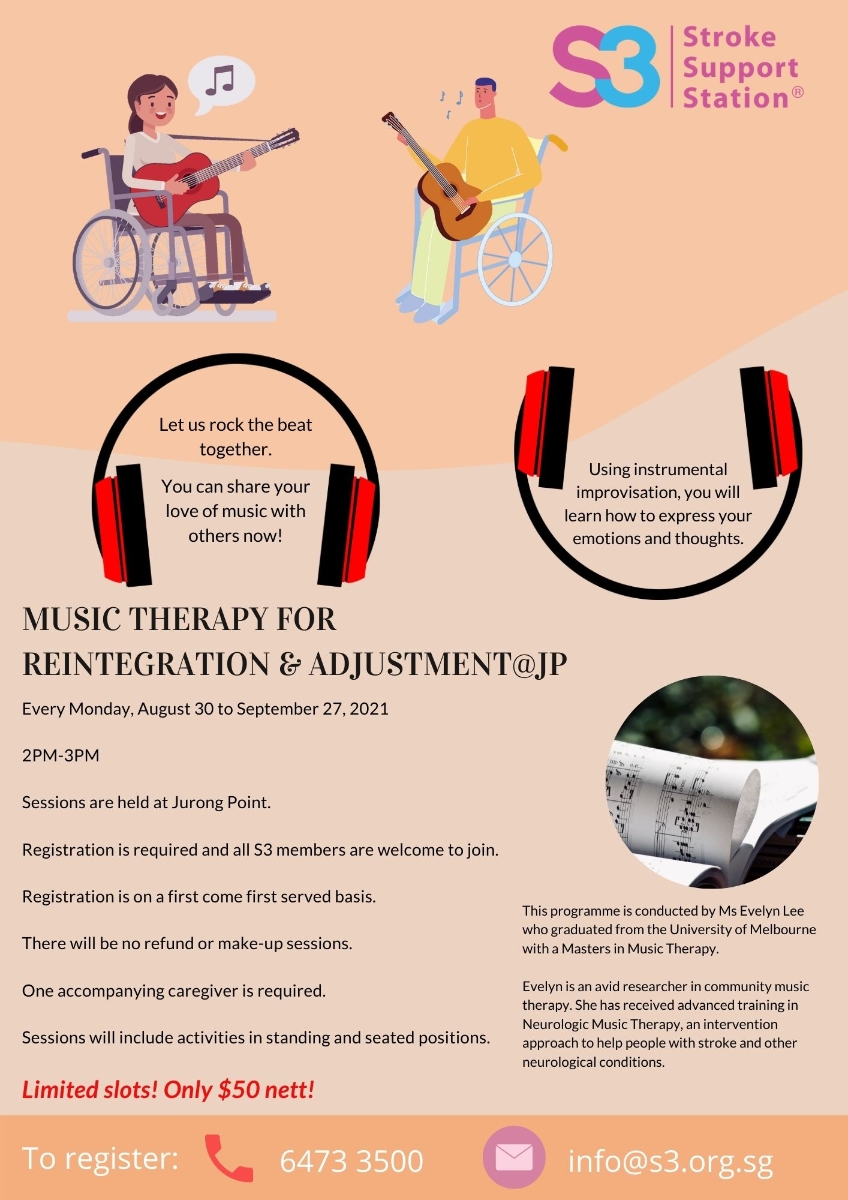 Music is free for all. Do you know that there are many different ways to create beautiful melodies? Be it playing the piano or tapping your feet on the ground, rhythms and chords are all around us. Through instrumental improvisation, you can learn about creative methods to make music. You can also express your emotions and connect with others when you use music to relate and respond to your friends and peers around you.
This programme is open to clients in Jurong Point only.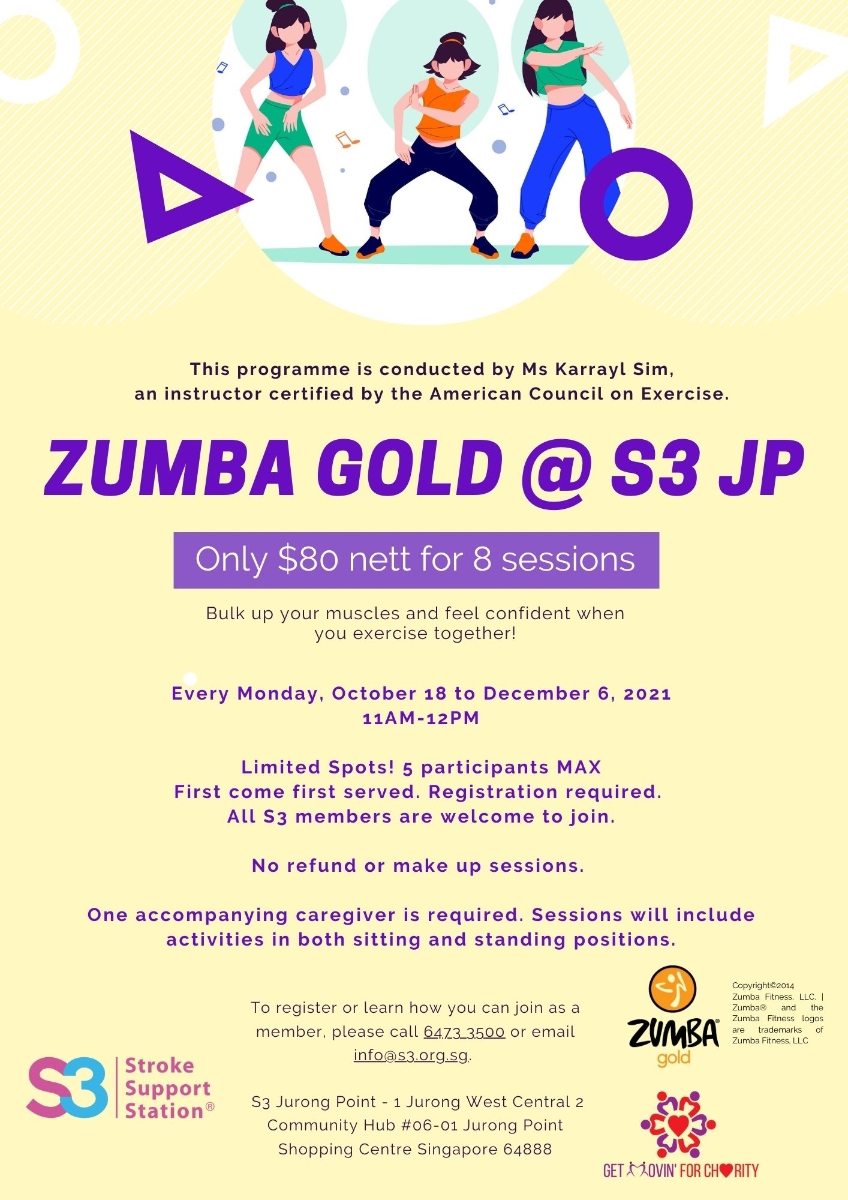 Finding it difficult to walk for 15 minutes? Stroke survivors face reduced muscular strength and endurance. Zumba Gold is a lower-intensity version of Zumba which is suitable for stroke survivors. Zumba Gold helps you to reach your exercise goals by enhancing your cardiovascular fitness, conditioning your muscles and boosting your balance and flexibility.
This programme is open to clients in Jurong Point only.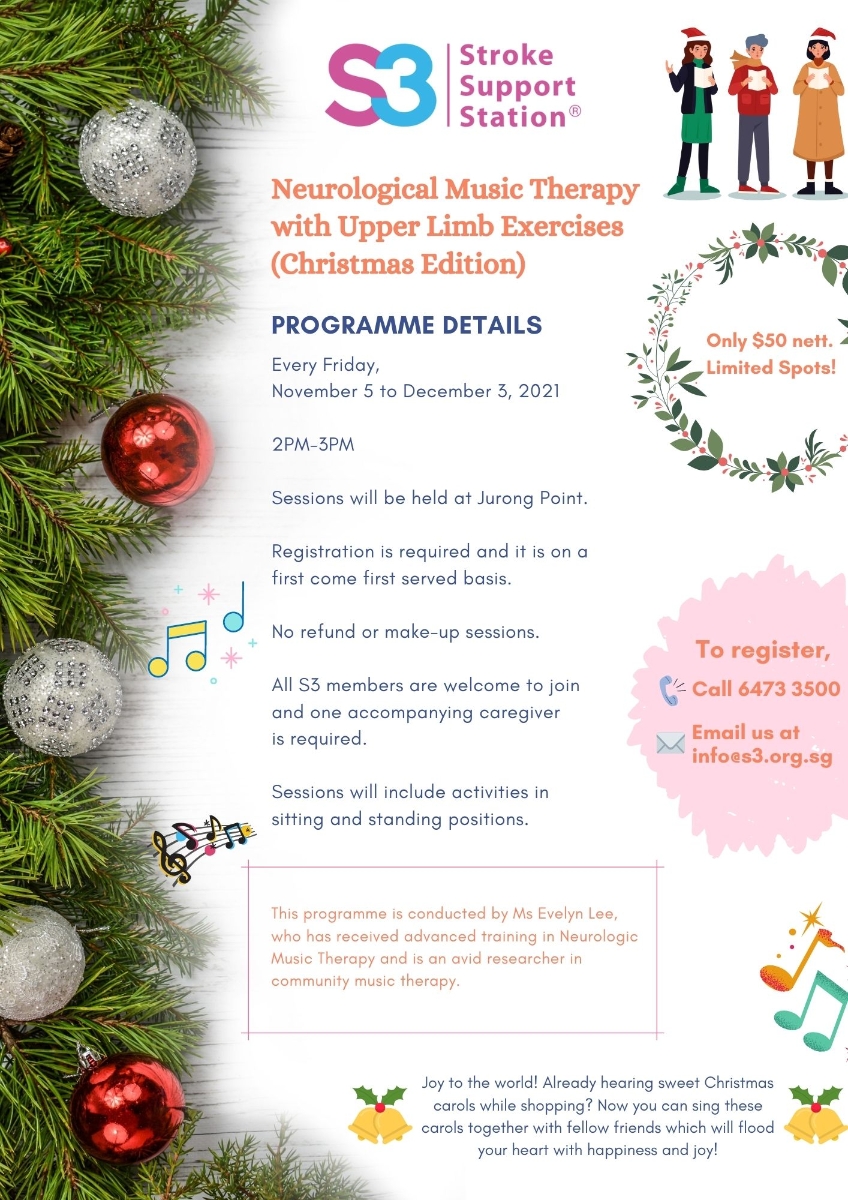 When you shop in Vivocity, Suntec City or other heartland malls, what will you hear in November and December? Wonderful Christmas carols that light up your heart! Move, dance and groove to timeless Christmas classics such as "Jingle Bells" and "Santa Claus is coming to Town." This Christmas, let us feel jolly and cheery in our heart!
Virtual Programmes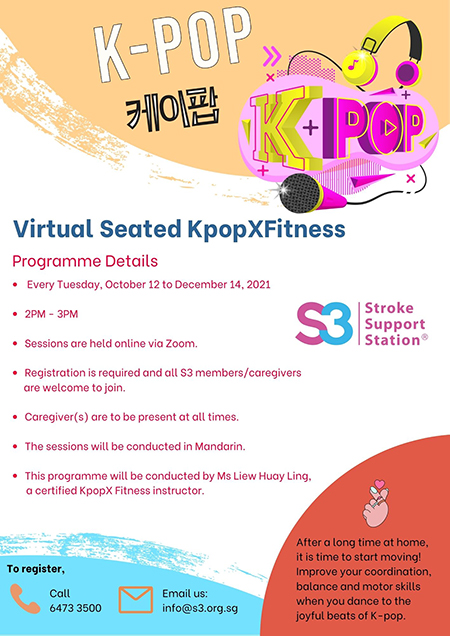 Have you ever dreamt of being up on stage dancing like a famous K-Pop star?
Our instructor will teach you the steps and rhythm so that you can feel like a superstar!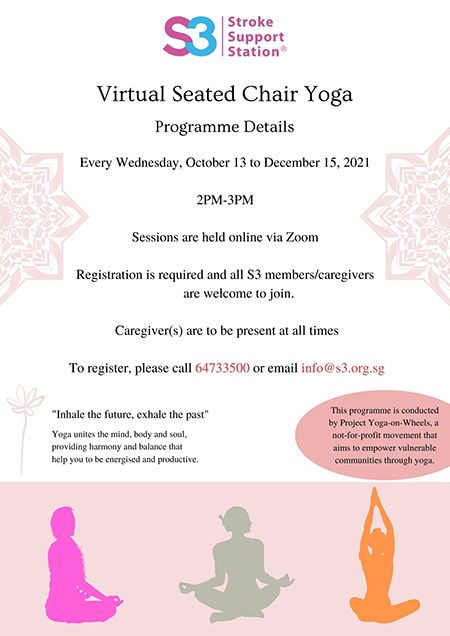 Feel your tension slowly flow away as you gently stretch, bend and arch your body. Yoga helps you to improve your flexibility which lessens your pain while you do daily chores such as lifting and making the bed.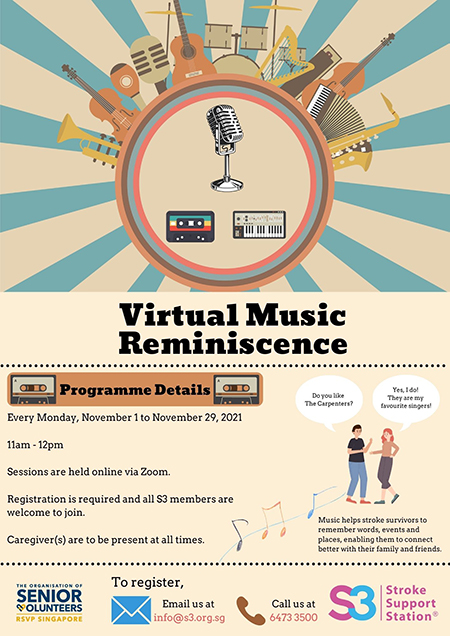 Music is a platform for us to recollect memories. As we remember lyrics, melodies and rhythms, we also recall various life events such as our first date, the places we loved to visit and the movies we enjoyed watching. Listening to Michael Jackson's Billie Jean will surely bring you back to your school days as a suave gentleman or a sassy young lady showing off your finest dance moves to impress your classmates!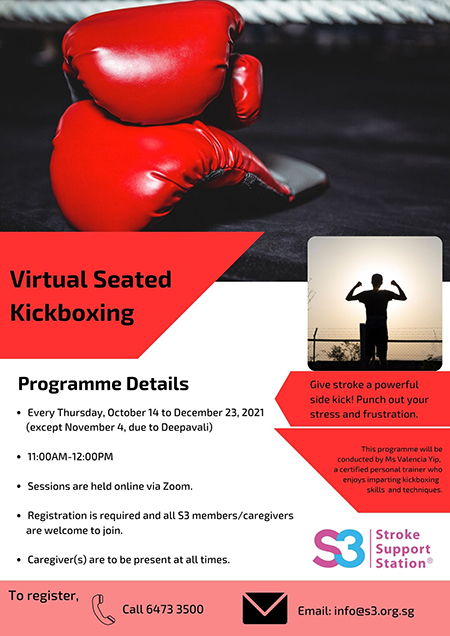 Get into your fight stance and give stroke a powerful side kick! Shuffle your way to good health as you throw your punches and kick down your fears.