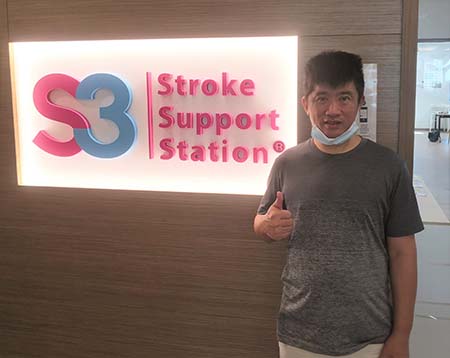 Mr Chua, a young stroke survivor in his 40s, is an inspiration to us. The recovery journey is a tough one for Mr Chua as his family weighs heavily on his mind. However, he persevered on as he does not want to let his family down. His commitment to his recovery bears fruit as he sees progress in his recovery. Let's be inspired by Mr Chua's story:
1) How did your stroke happen?

I was having a dinner halfway and needed to go to the washroom. While I was walking, suddenly, I had no strength and collapsed on the floor. I didn't even have the energy to stand, nor could I control my body. One of my friends felt my shoulders and told me that one side was warm and the other was cold. Sensing that something was amiss, my friends sent me to the hospital immediately.
Once I reached the Accidents and Emergency Department, the nurse told me that I suffered a stroke. "Impossible, How could that be? I was still eating my dinner!" I thought. I underwent an operation thereafter.
2) How has COVID-19 affected your life as a stroke survivor? How do you overcome your challenges faced during this period?
Workwise, it is difficult for me, a stroke survivor, to get a job. Not many companies want to hire me. I have a young son to take care of and I still have a long way to go. I want to say sorry to my wife as she has to carry many responsibilities after my stroke. I cannot help much. However, my son is always my motivation to try my best.
During the first few months of my stroke, I saw a stroke survivor who was able to walk using a walking stick. I asked my therapist: " how can I regain my mobility? My friends encouraged me to train myself up. They noted that I was a good driver before my stroke and that sitting on a wheelchair was such a waste of my potential. I told myself to stand up on my feet and the therapists trained my mobility step by step.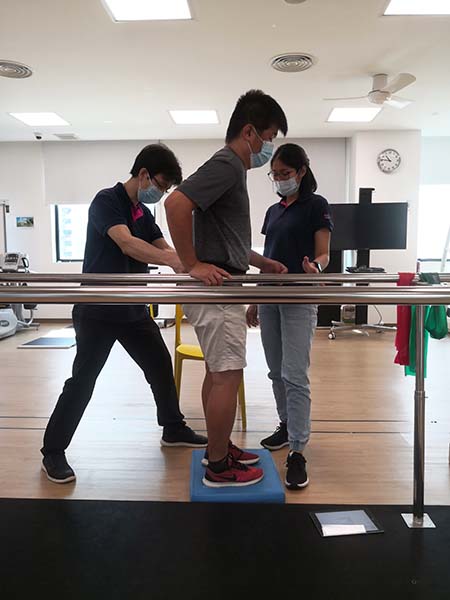 Mr Chua working hard during his physical therapy sessions.
3) What are your experiences as a stroke survivor?

Initially, I had a negative mindset. I could not accept my condition. During my stay in the hospital, I couldn't even stretch my back and had to buy a scratching stick. I was lying on the bed most of the time and I couldn't even sit up. The things that I could do at the tip of my fingertips before my stroke became very difficult. It was like the end of the world for me. I felt that the trainers and people around me did not understand my feelings. I told myself to improve on this and stay positive.
In the initial stages of my stroke, I suffered from mobility issues and my walking speed was slow. I could not cross the road in time and was almost knocked down. Imagine the fear that I faced while I was stuck in the middle of the road! Some motorists were impatient and they did not stop for me.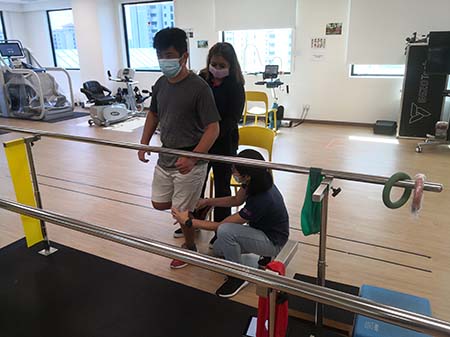 I feel that many people cannot recognise stroke patients. In public places like the shopping malls or in the airport, I don't receive much help and sometimes, people will display their impatience towards me. I am grateful for members of the public who give way to me once they know about my immobility.
While using the escalator, I have to rely on both handrails as my left side of my body is weak. People are frustrated that I am blocking their way and will give me rude glances. I will apologise and explain to them about my situation. I understand that they may not know about my health condition.
As I recover gradually, I can see some stroke survivors who do not feel hopeful about their condition. They do not try to exercise and improve. Being a stroke survivor myself, I can understand their sadness, frustration and relate to them. I even try to encourage them not to give up. On the other hand, I feel very encouraged by other stroke survivors who do their best and have a positive mindset.
4) How does S3 help you to recover?

S3's therapists and trainers are very experienced. They have helped me a lot and currently, I can climb the staircase independently without holding the handrail. When I face certain issues, I will ask my therapists about them. They will give me good advice and information.
5) What are your goals?

I am looking ahead, hoping that I can jog and mountain bike with my friends again. Whenever my friends ask me to cycle with them, I have to reject them because my hands are still unstable. How I wish I can join them!
6)How do your family and friends support you?
My wife helps me to take care of my son. She also helps me to arrange my appointments. My friends will pay me a visit and we will chit chat and share information. They help me to develop a positive mindset and we keep in touch with each other often. They look forward towards my recovery one day so that I can join them on their exercise and jogging sessions.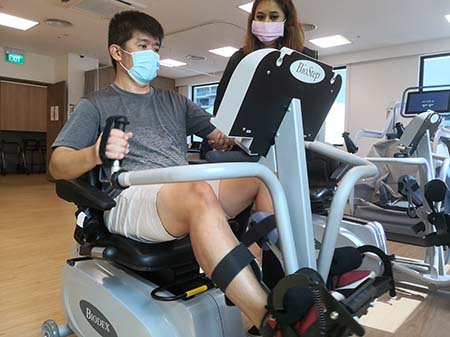 7) How did your son react to your condition?

My son is very understanding. He can explain my condition to his teachers and friends. I felt proud that he was only 3 years old then when I suffered a stroke but yet he could already understand my health. After I underwent my brain operation, he would say: "Daddy, head pain pain." My son is my morale booster.

8) What would you like to say to other stroke survivors?

Stroke is not the end of your life. It is another start of a new chapter. Have a positive mindset. Don't ever give up. I needed to rely on a wheelchair previously. However, I can walk without a walking stick now. This is because I always try to practise walking, no matter how fast and small the steps are. These words are always on my mind: "If you never try, you will never know. Always, give yourself a chance."
When I am at home, I always train myself on what have been taught to me by my therapists. Who knows, your abilities may return to you one day.