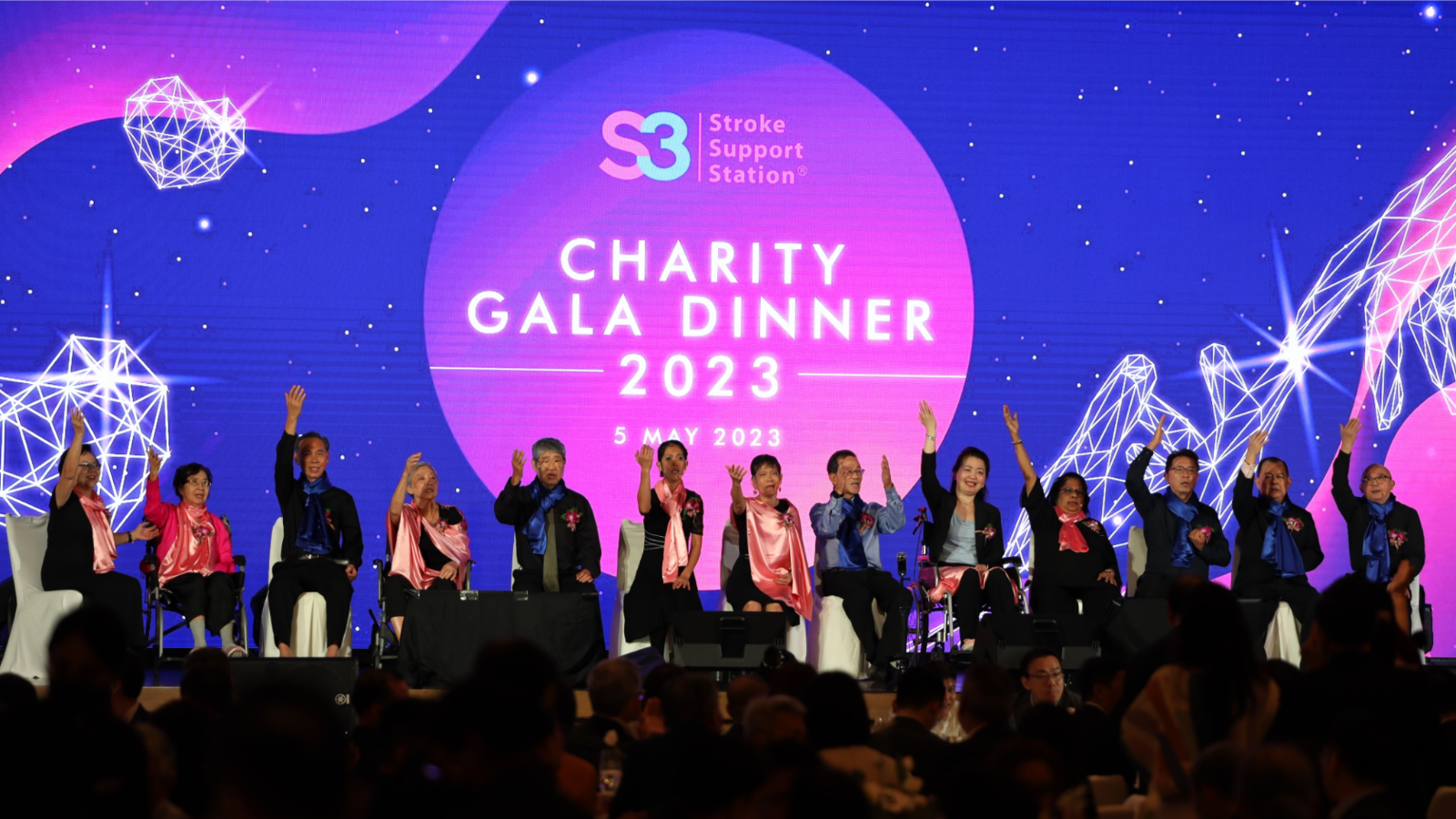 S3's Charity Gala Dinner has finally returned this year with a bang!
Typically held once every two years, we last held our gala in 2018 where we fundraised a total of $2.4mil for the continued support of our stroke survivors' recovery journey. Due to the Covid-19 pandemic, we were unable to meet our donors, partners and friends in the following years, but we returned in 2023 with at least $3MILLION raised!
With the theme 'Building Health & Hope Together', we were honoured to welcome Mr Ong Ye Kung, Minister for Health as our Guest-of-Honour (GOH) for the night, alongside Mr Teo Chee Hean, Senior Minister and Coordinating Minister for National Security as our special guest. We also invited Public Office Holders (POHs) Mr Chee Hong Tat, Ms Sun Xueling, Mr Melvin Yong and Mr Seah Kian Ping as our VVIPs!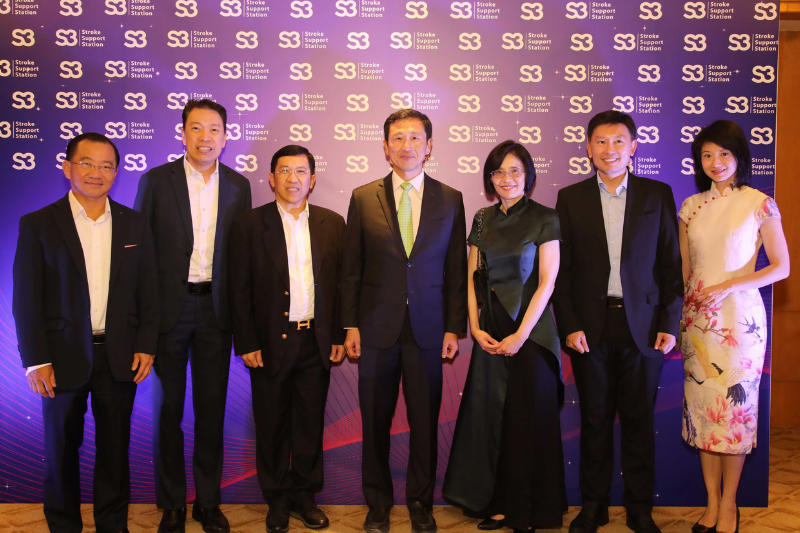 We kicked off the night with a breathtaking performance by the Dance Ensemble who captured the hearts of the audience with graceful but energetic choreography! They were closely followed by a spectacular LED show by Danny Koh and his teammate, where the S3 logo lit up brightly with a brilliant play of LED lights.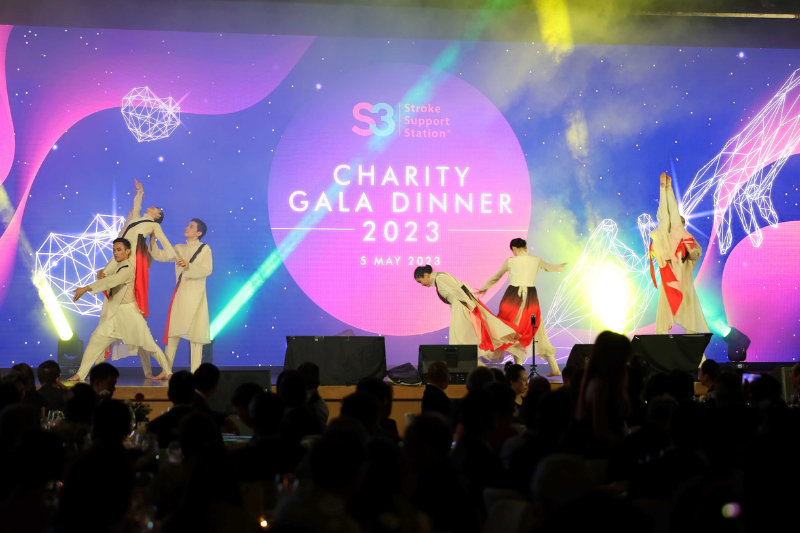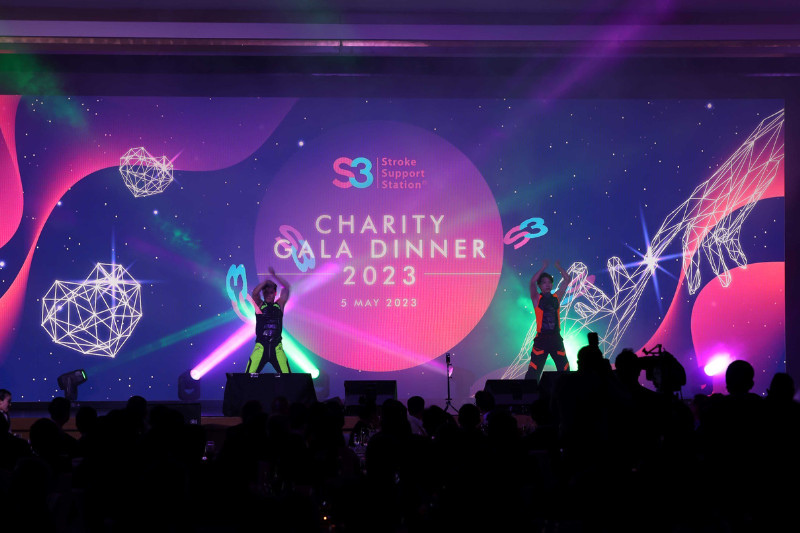 The gala formally began with a welcome address from Ms Chang Hwee Nee, Chairman of S3! She shared with guests about S3's future plans to improve and expand our services and programmes for stroke survivors. To become a centre of excellence, this includes introducing more advanced rehab technology into our current therapy services, exploring new programmes that allow members to regain their independence and reintegrate into everyday life more quickly and seamlessly, and increasing our outreach efforts to enhance public awareness about stroke and identifying other stroke survivors who may not have any resources to receive the post-stroke care they need.
Watch the video to see how we are planning to strive forward!
We also invited our GOH, Minister Ong, to share a few words with the guests. Not only did he speak about the importance of working together towards a collective effort to prevent stroke, but he was also featured in a short video of himself and an S3 stroke survivor getting to know each other while cycling! Watch the video .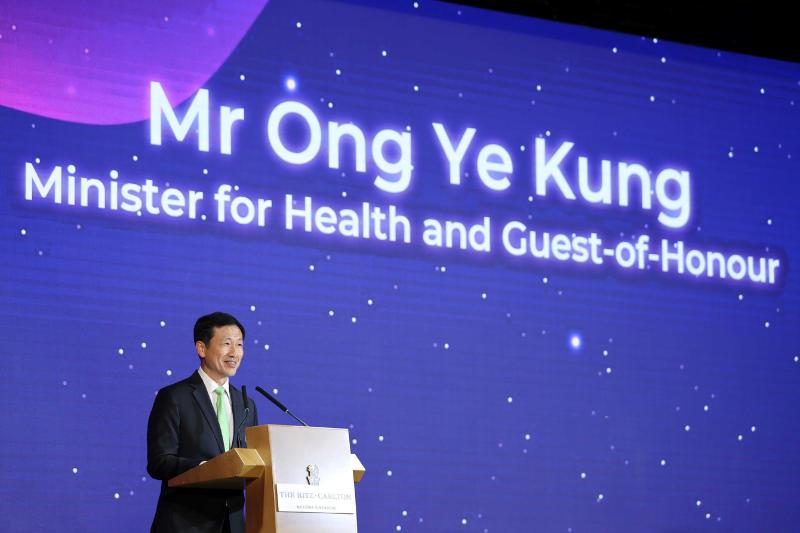 The night continued with the first of many other highlights of the gala – ! Four stroke survivors were invited to model for Werable, a fashion design company that creates inclusive but classy apparel for persons with disabilities. Alongside Singaporean actress Julie Tan, Miss Universe Singapore 2019 Mohana Prabha and two other models, we invited four stroke survivors to take the stage themselves as well!
Dressed in unique apparel with special features allowing users to dress themselves with one hand, our models showed all guests in the ballroom that they can be just as dignified, classy and fashionable as anyone else. We are truly grateful to Claudia Poh, founder of Werable, for not only sponsoring the fashion show but also for allowing our stroke survivors this opportunity to show themselves off to our guests.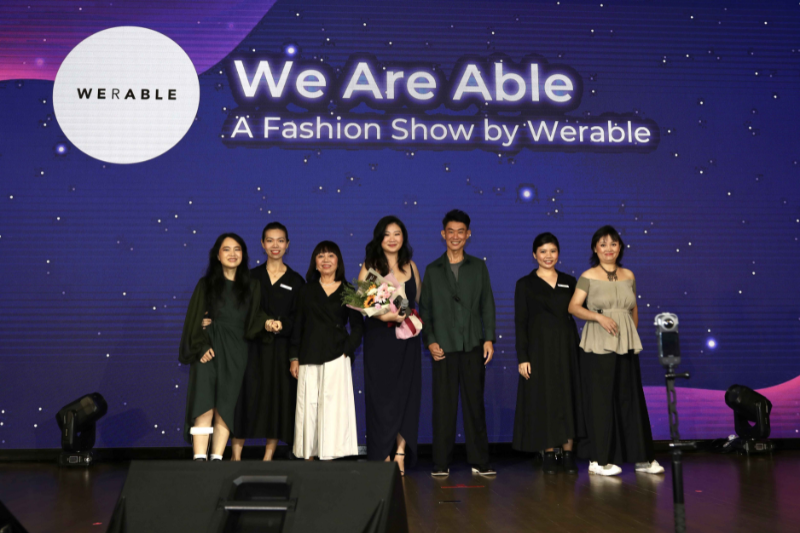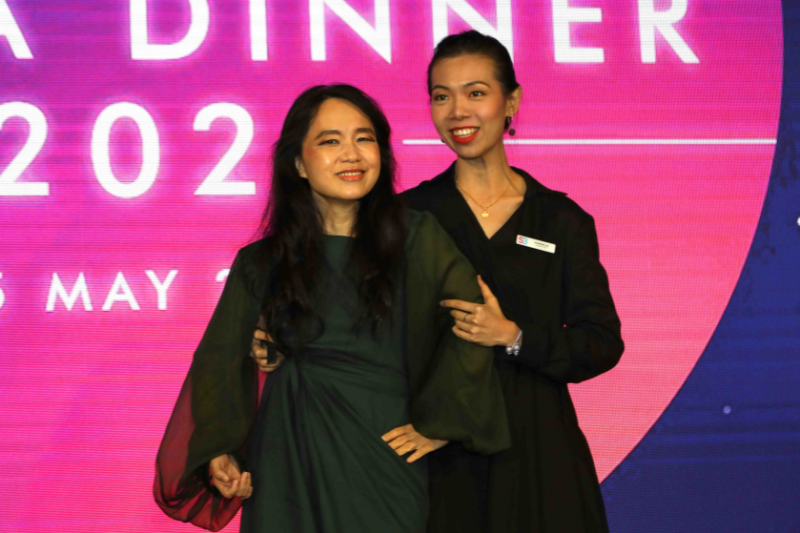 The night continued with another exciting performance — once again, our stroke survivors stole the limelight by singing an original song titled 'Brave to Be' alongside several volunteers. In collaboration with Prospect Music Therapy and local singer-songwriter RHAUN, the lyrics were inspired by the members' thoughts and feelings about their own recovery journey and strung together into a masterpiece of empowerment. Our stroke survivors also spent six sessions practicing their special song for guests who were undoubtedly moved by the performance.
We kept the energy going with the next song — 'Top of the World' that was performed by both stroke survivors and S3 staff! After all, the S3 team is inspired every day by our members, and we wanted to show everyone that the stroke recovery process does not have to be a lonely journey for survivors.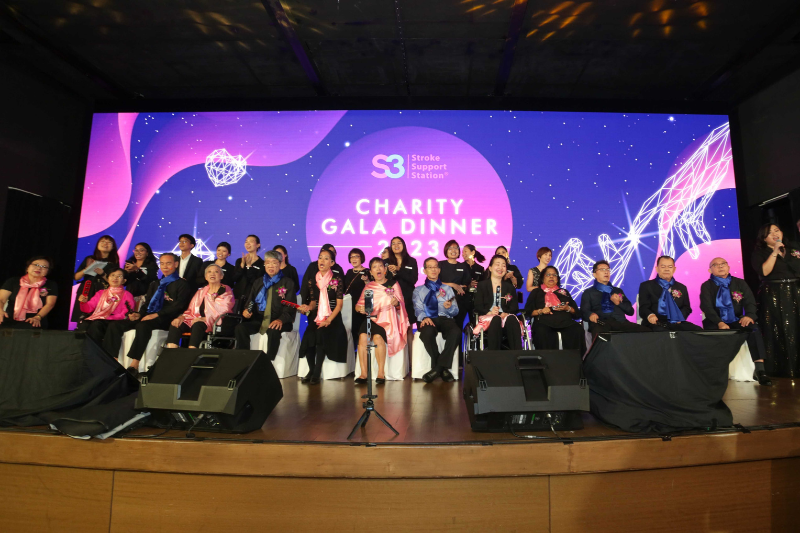 After such an energetic lineup, we brought the audience back to a satisfying dinner accompanied by beautiful classical pieces played by Mac Chang and the Pizzicato Quintet. While the ballroom filled with soothing music, our special guest for the night arrived not long after: Mr Teo Chee Hean, Senior Minister and Coordinating Minister for National Security.
To welcome our esteemed guest, we invited Zhuang Jie, renowned tenor and opera actor, onstage for the next thrilling performance of the night! Zhuang Jie sang O Sole Mio and You Raise Me Up, stealing everyone's attention in the ballroom — but that was not all.
We were all treated to a special performance by Zhuang Jie and S3's very own chairman, Ms Chang Hwee Nee! Ms Chang played the piano for Zhuang Jie's final song, 在水一方 (Zai Shui Yi Fang); the two were in perfect harmony, moving the hearts of our guests.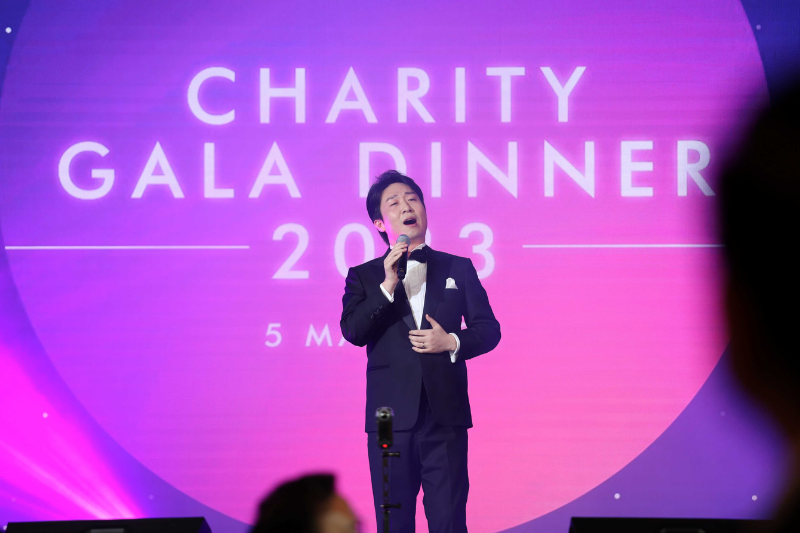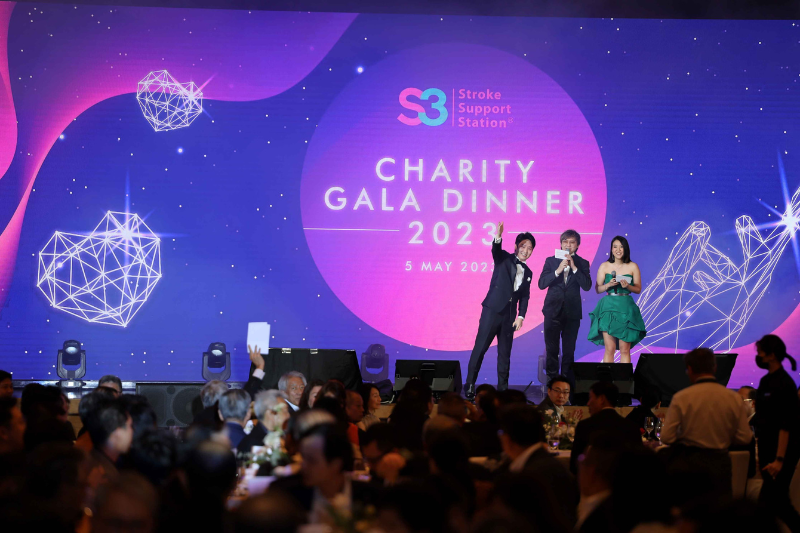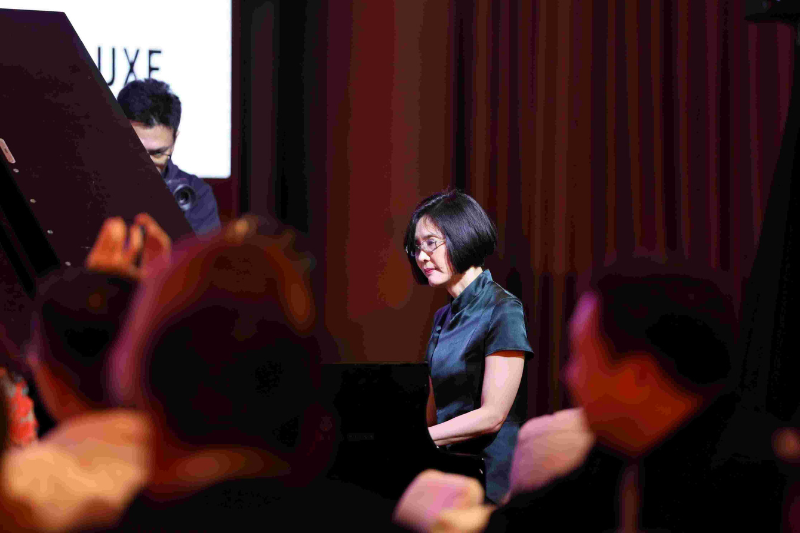 The night continued on with the next meaningful segment: . We wanted to remember Mrs Teo for her endless contributions towards establishing S3 as a charity providing care and support for stroke survivors.
To honour her memory, we invited Travis Wong, a young violinist prodigy, to play two of Mrs Teo's favourite classical pieces: Introduction and Tarantella. Needless to say, the 8-year-old left the audience in awe.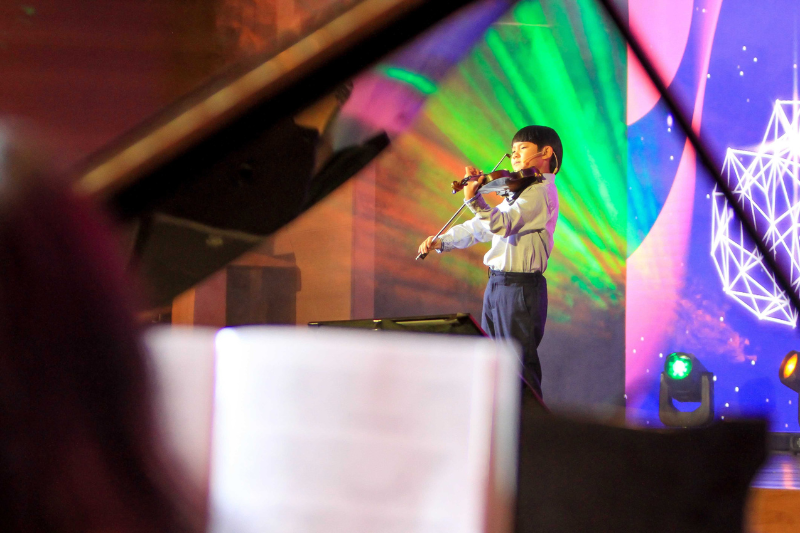 We also commissioned a unique painting titled 'Art of Therapy', painted by Mr Joseph Tay who is a stroke survivor and S3 member himself. The Art of Therapy reveals the graceful dance of two dancers atop a bonsai, with a walking aid leaning against the side.
Mr Tay used such symbolism to portray the healing process of stroke survivors. Presented by SM Teo, the masterpiece was given as the Founder's Award to the Stephen Riady Foundation for being one of S3's highest donors in recent years.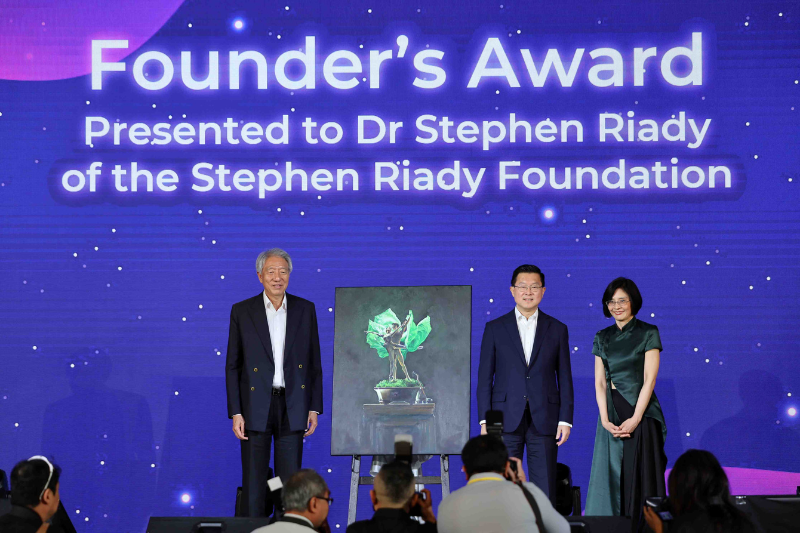 We also celebrated the various contributions by Ms Wendy Huang who has been selflessly supporting S3 since Mrs Teo's time by awarding her the Founder's Outstanding Contributor Award.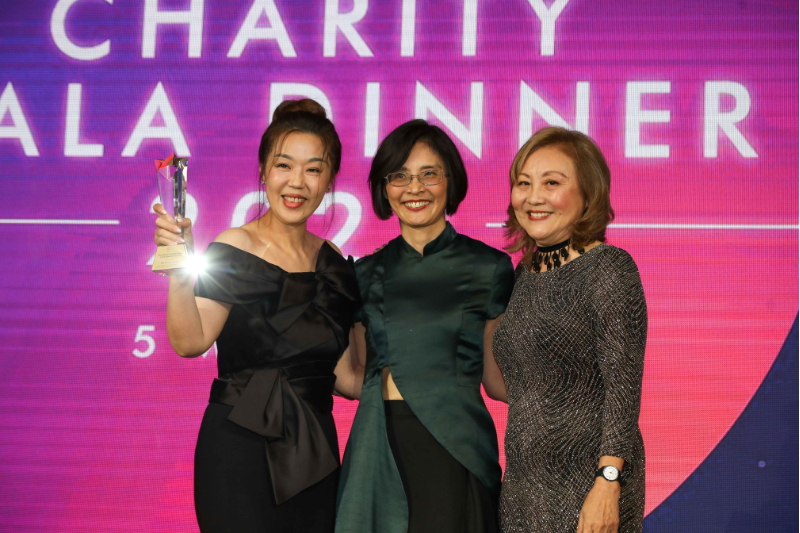 We took some time to appreciate the generous contributions made by our various donors who showed their support to S3's cause. You can find the list of donors .
We wrapped up the night with two stunning performances by Joanna Dong, a renowned local singer, actress and host. Joanna sang Fireworks and 我要你的爱 (Wo Yao Ni De Ai) to end the night on a warm note – but we had one final surprise performance in mind!
This time, we invited our GOH, Special Guest, and POHs to come onstage to sing 朋友 (Peng You) alongside a few stroke survivors, and we made sure to capture this meaningful memory!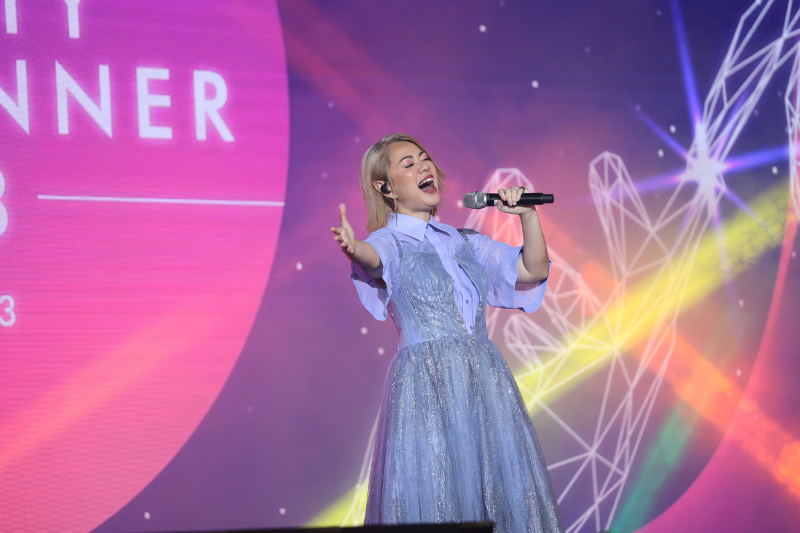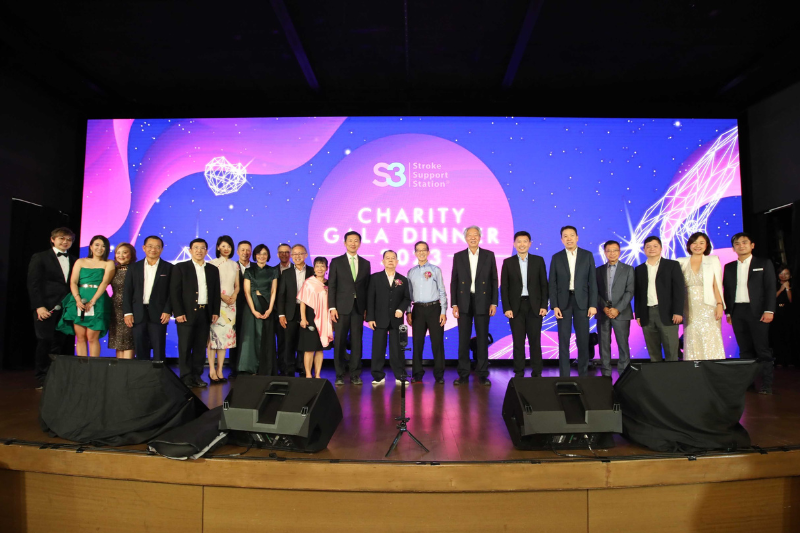 With that, S3's Charity Gala Dinner 2023 finally comes to an end! We are so happy to share that we managed to fundraise over $3MILLION to not only continue subsidising rehabilitation costs for stroke survivors, but also explore new programmes and campaigns to improve the recovery journey and raise public awareness about stroke.
We would like to thank everyone for all the kind and selfless support towards our cause of helping stroke survivors! A big thank you as well to Pontiac Land Group, Crystal Wines, Werable and Potato Productions, and Luxe Print, our generous sponsors who made this meaningful night possible.
To see how our gala dinner went, visit or view our Facebook album!
Let's meet again at the next Charity Gala Dinner in 2025!