R.E.A.L Wellness Programmes and Activities for Stroke Survivors
Look forward to these wellness programmes that we will be conducting for stroke survivors and caregivers!
Upcoming programmes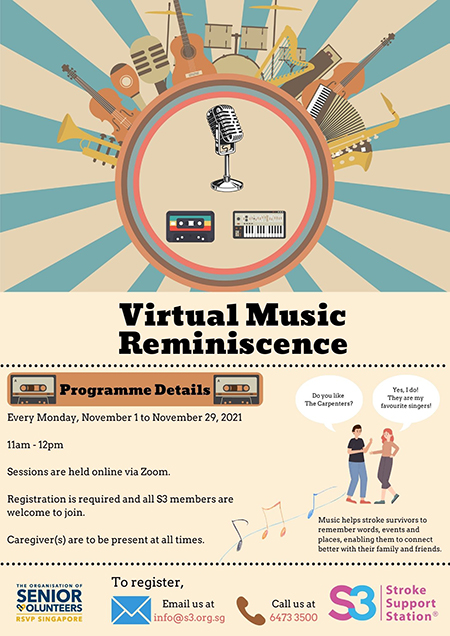 Music is a platform for us to recollect memories. As we remember lyrics, melodies and rhythms, we also recall various life events such as our first date, the places we loved to visit and the movies we enjoyed watching. Listening to Michael Jackson's Billie Jean will surely bring you back to your school days as a suave gentleman or a sassy young lady showing off your finest dance moves to impress your classmates!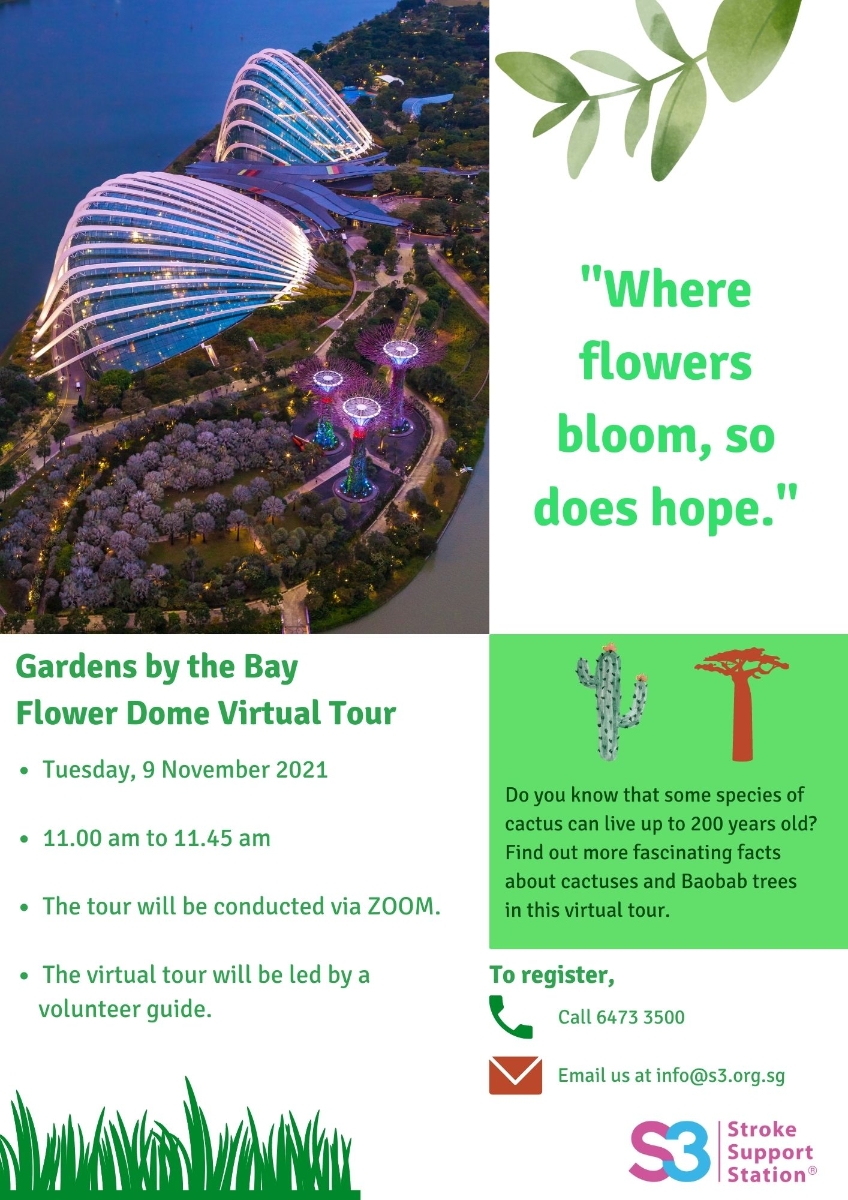 Being in touch with nature improves your physical health and cognitive functions. For stroke survivors and caregivers suffering from anxiety, looking at flora and fauna promotes calmness and enhances your mood. Being immersed in nature also helps to manage the risk factors for stroke such as lowering blood pressure and stress hormones.
Join us on a virtual tour of Gardens by the Bay where you can learn more about the majestic cactuses and Baobab trees. Soak yourself in lush greenery as you admire these towering giants!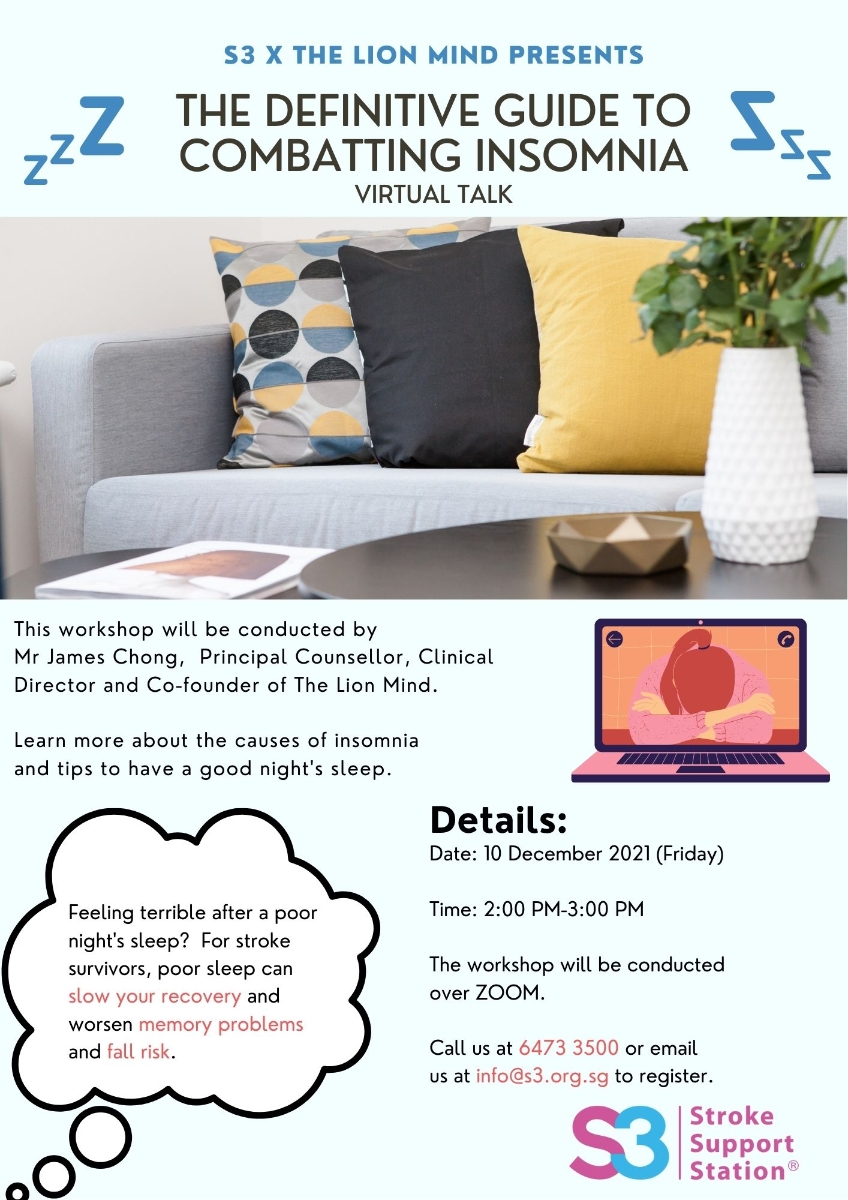 Do you feel that you have trouble concentrating on your work during the day? Does your head hurts as if you are wearing a tight hairband? You may be suffering from insomnia. Do you know that insomnia is a risk factor for stroke?
Stroke survivors and caregivers are at a greater risk of suffering from insomnia. Caregivers who suffer from insomnia face problems to support their loved ones physically due to fatigue. This is dangerous as accidents may happen to both caregivers and stroke survivors.
If you want to enjoy better sleep, join us in this virtual talk where you can learn about tips to put yourself in a peaceful slumber.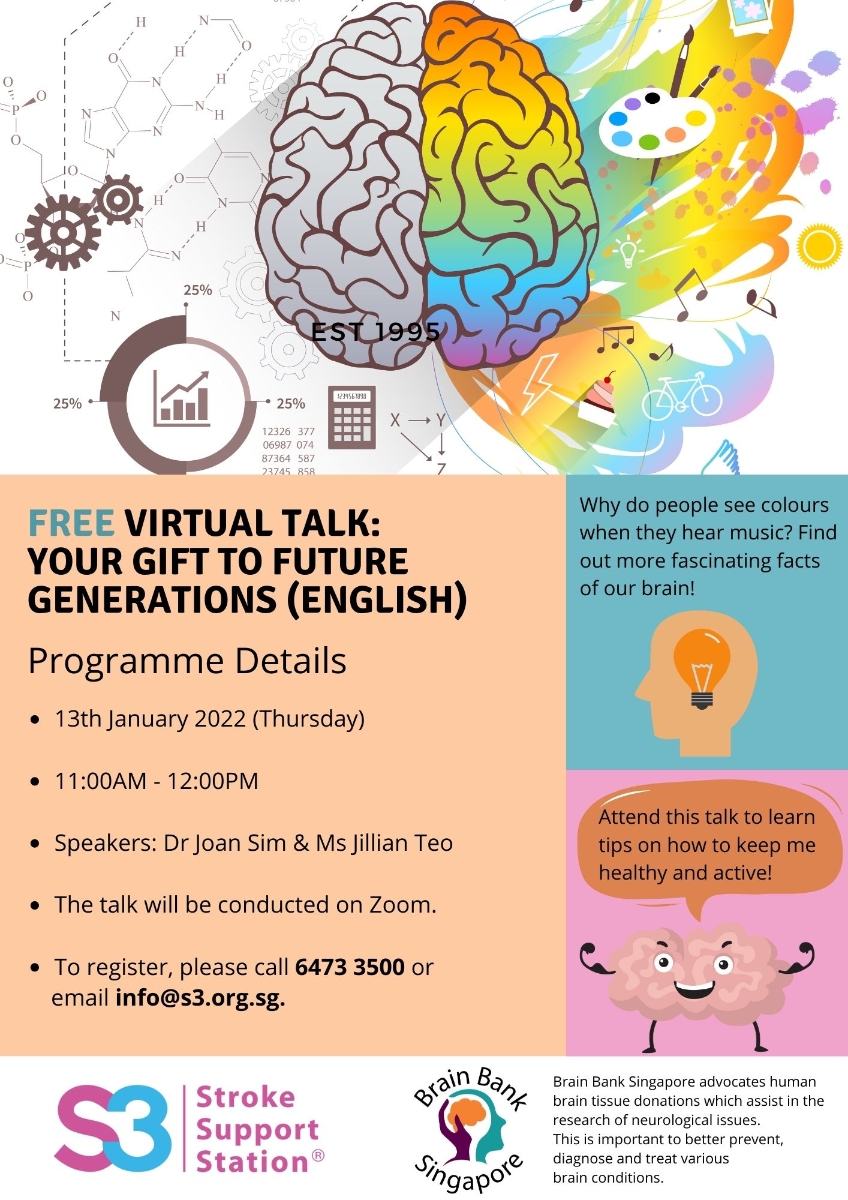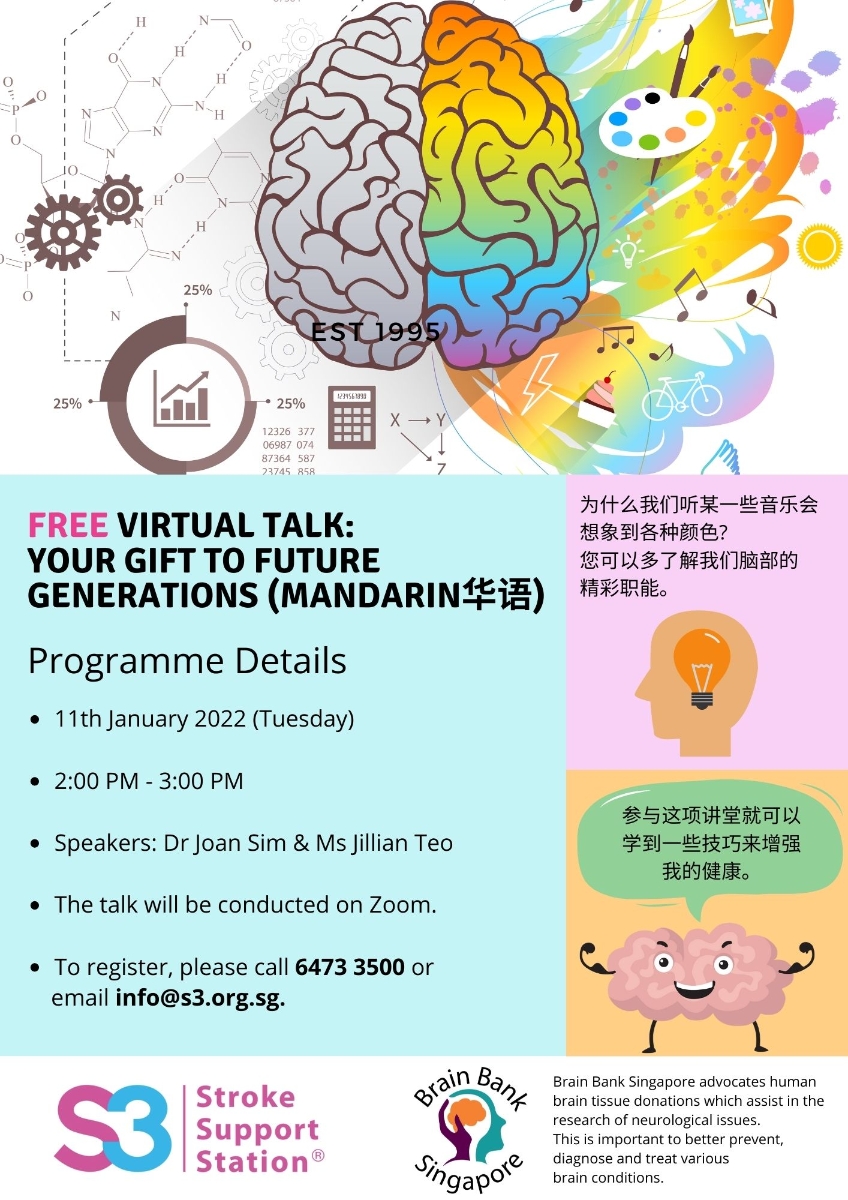 Our brain plays one of the most important role in our body. It is a control system which regulates all parts of our body. Our brain is responsible for many functions such as stimulating our movements and regulating our hormones, enzymes and even our temperature. Once our brain is affected, the other parts of our body will have consequences too.
Do you know that our brain is the fattiest organ in our body? (We always think that our belly is the fattiest, apparently not.) Register for this talk conducted by the Brain Bank Singapore where you can learn more fun facts about our brain, how to improve brain health and play brain stimulating activities and challenges.
Ongoing Programmes
(S3 members who are interested can still sign up for these programmes)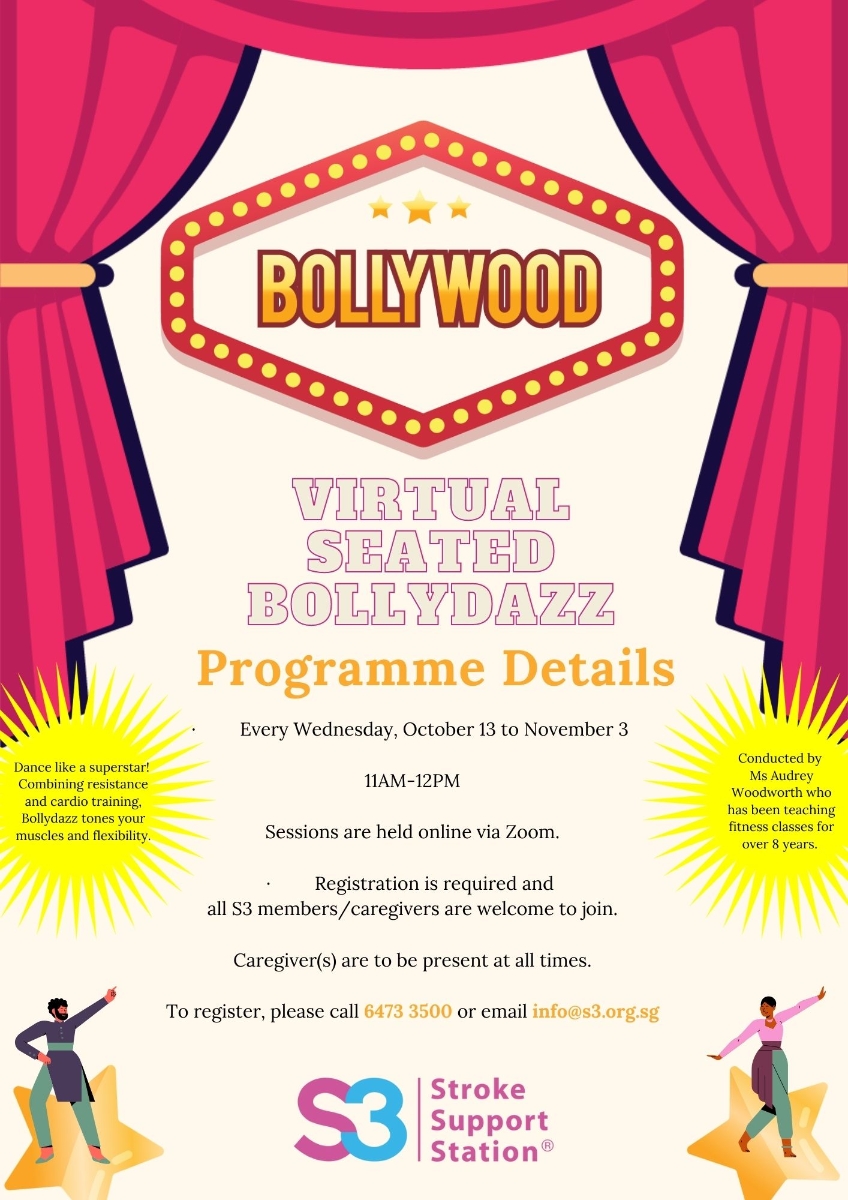 Fancy being in the Bollywood spotlight like Shah Rukh Khan, Aishwarya Rai and Akshay Kumar whose dance moves have rocked the whole world? Now you can be part of the glitz and glamour as you clap, sway and swirl with the colourful beats of Bollywood rhythm.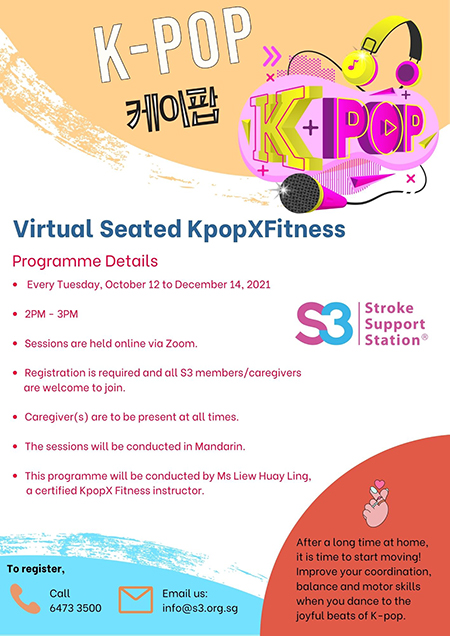 Have you ever dreamt of being up on stage dancing like a famous K-Pop star?
Our instructor will teach you the steps and rhythm so that you can feel like a superstar!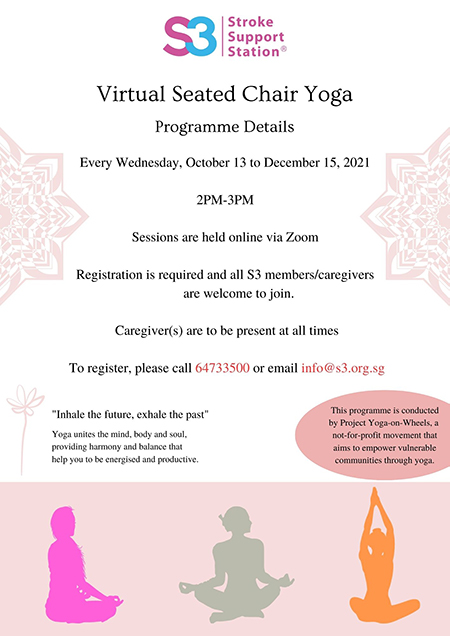 Feel your tension slowly flow away as you gently stretch, bend and arch your body. Yoga helps you to improve your flexibility which lessens your pain while you do daily chores such as lifting and making the bed.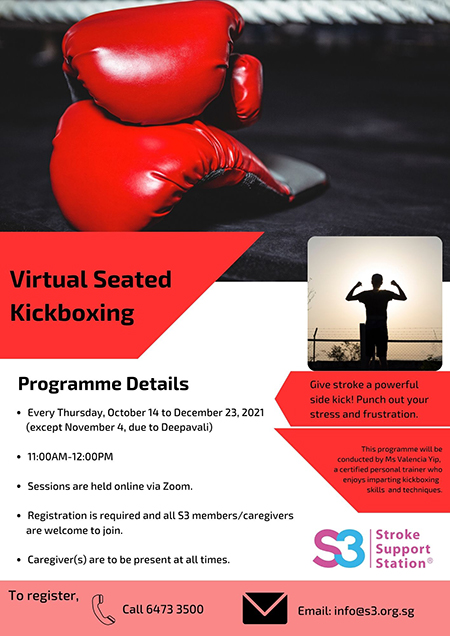 Get into your fight stance and give stroke a powerful side kick! Shuffle your way to good health as you throw your punches and kick down your fears.