Upcoming Programmes
R.E.A.L. Wellness programmes for stroke survivors and caregivers
TALKS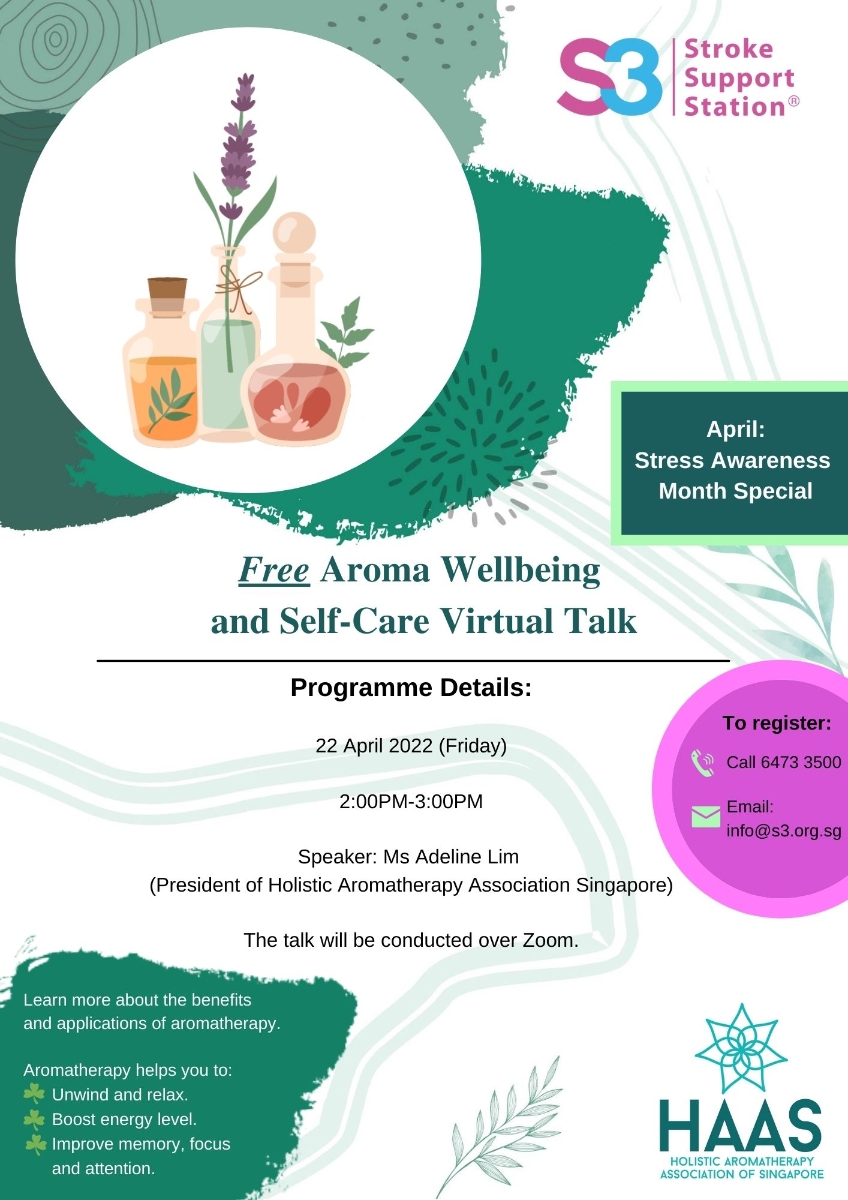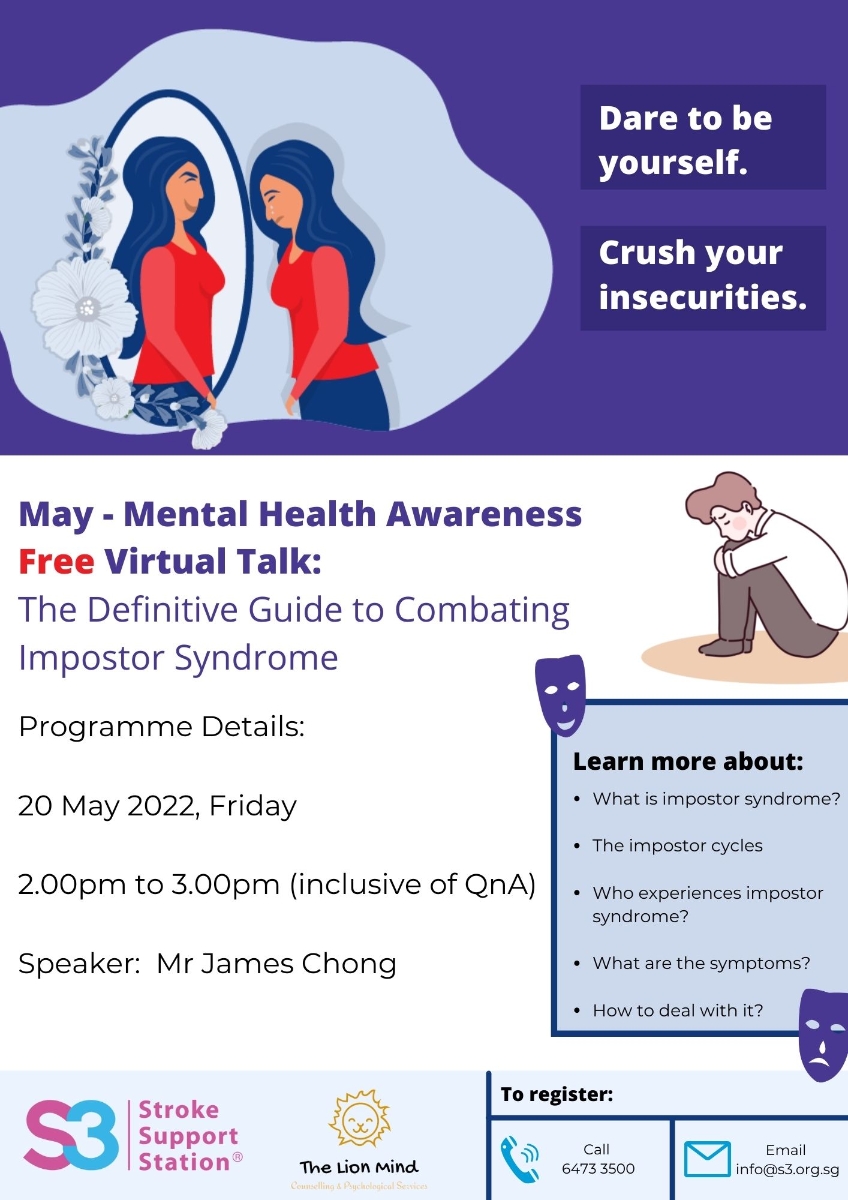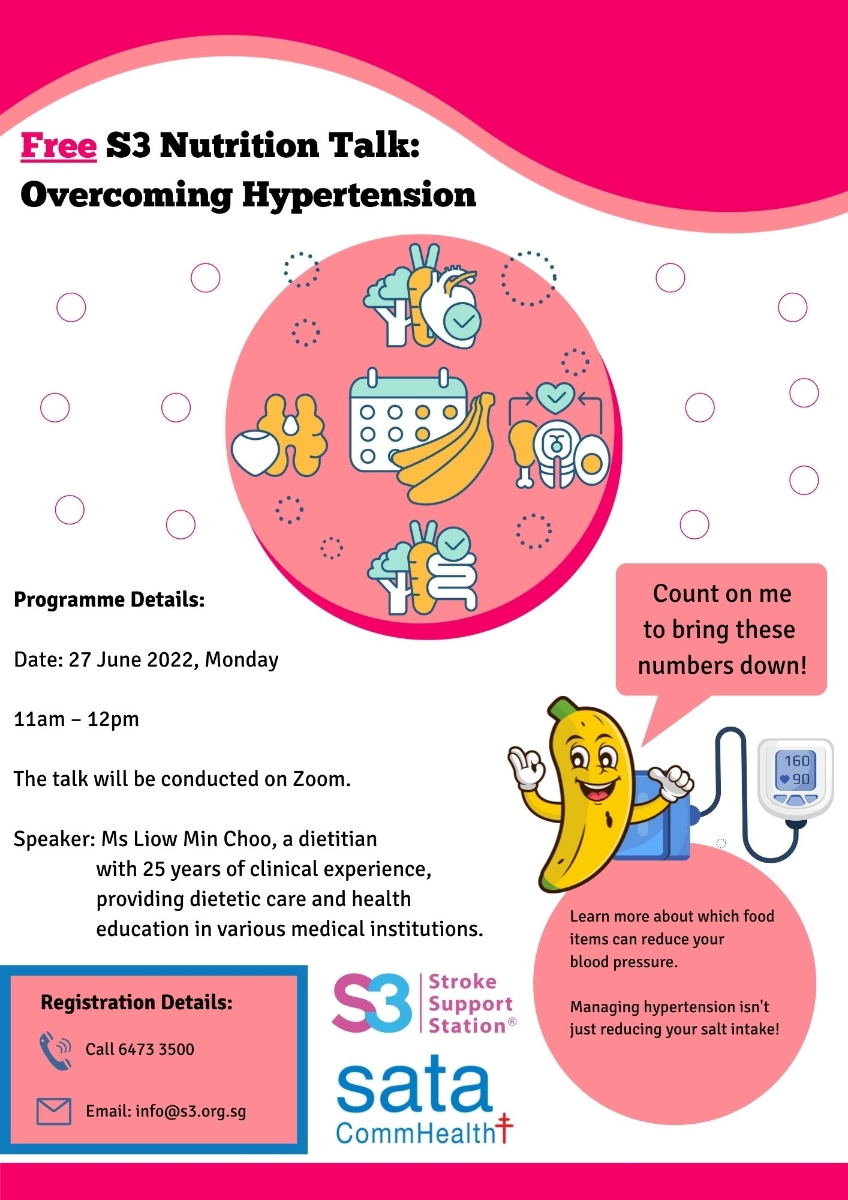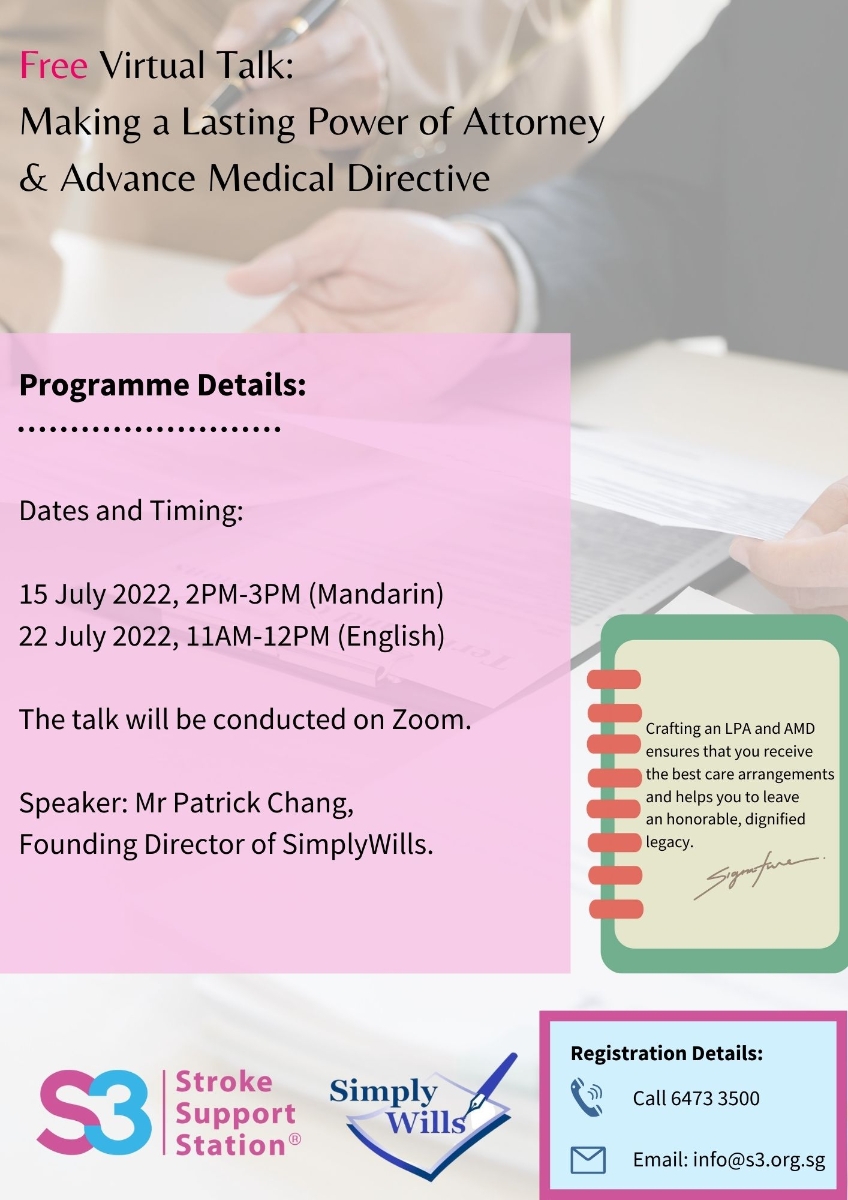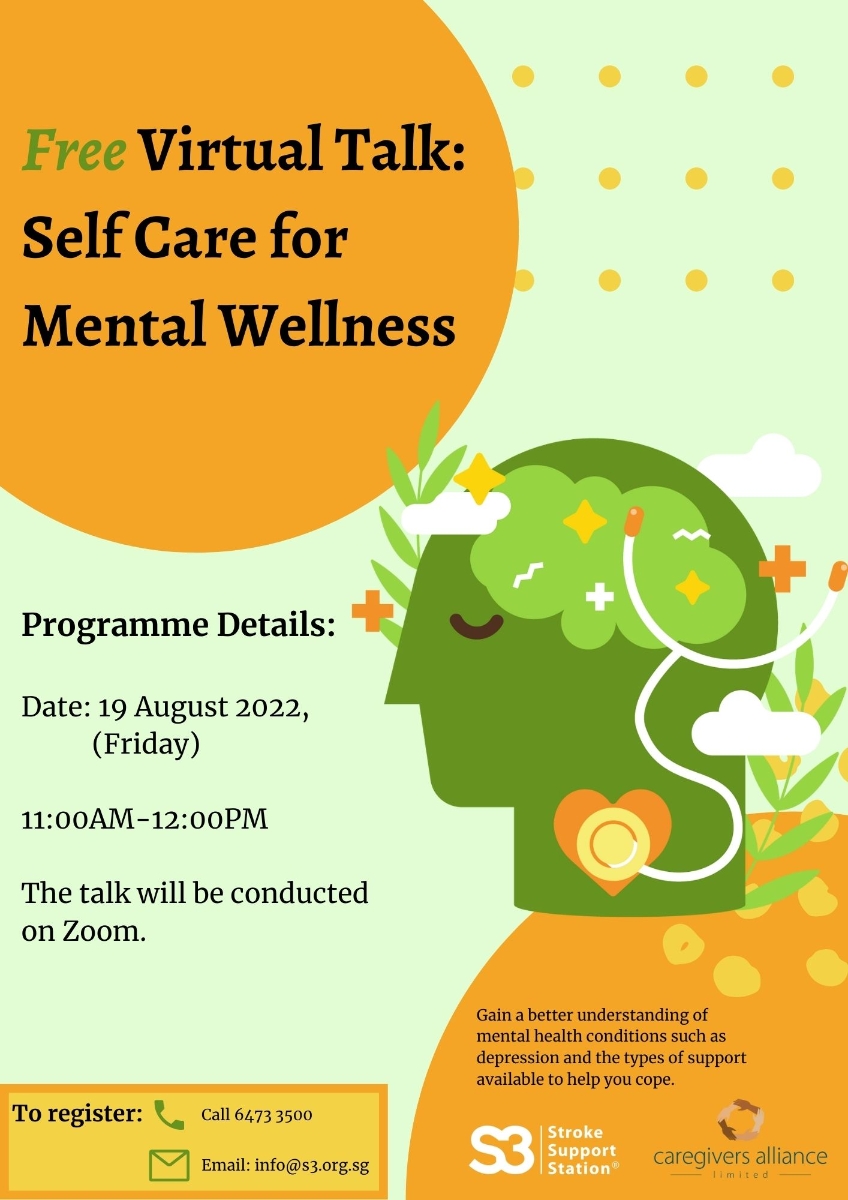 PROGRAMMES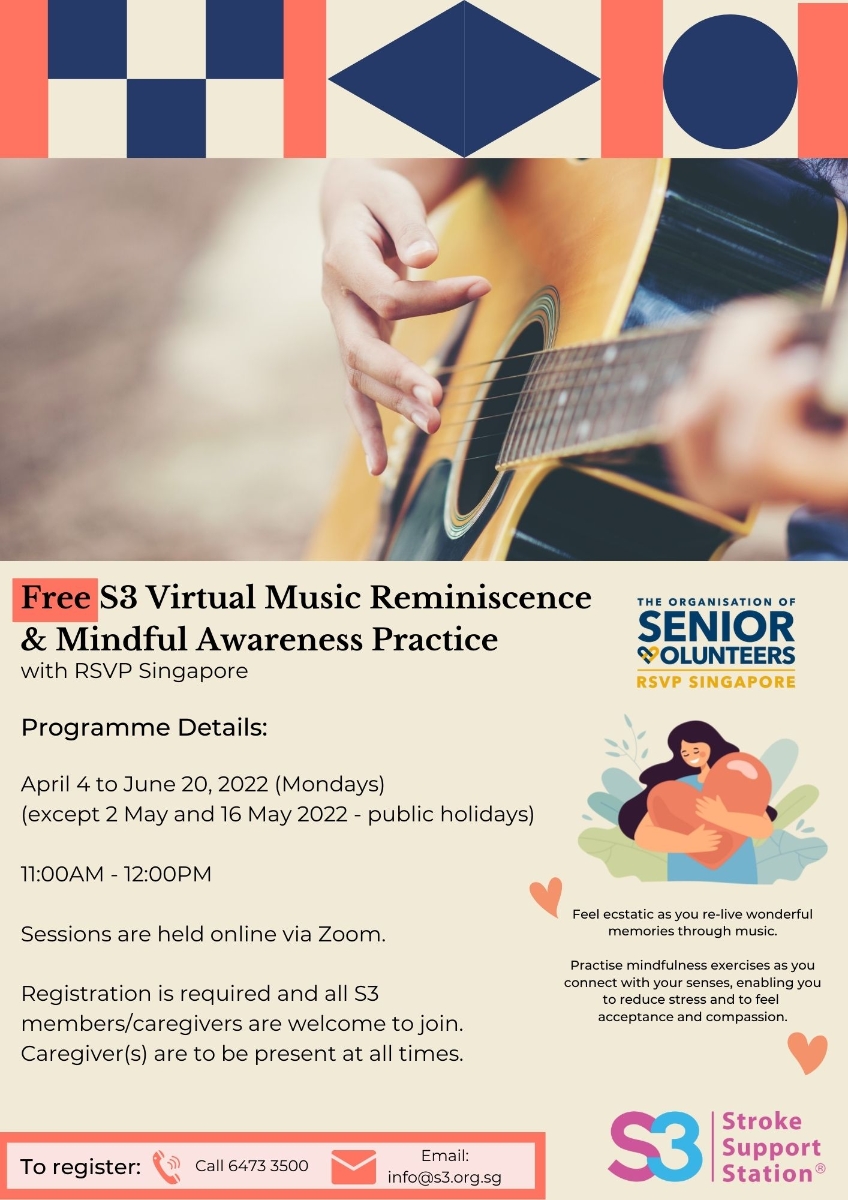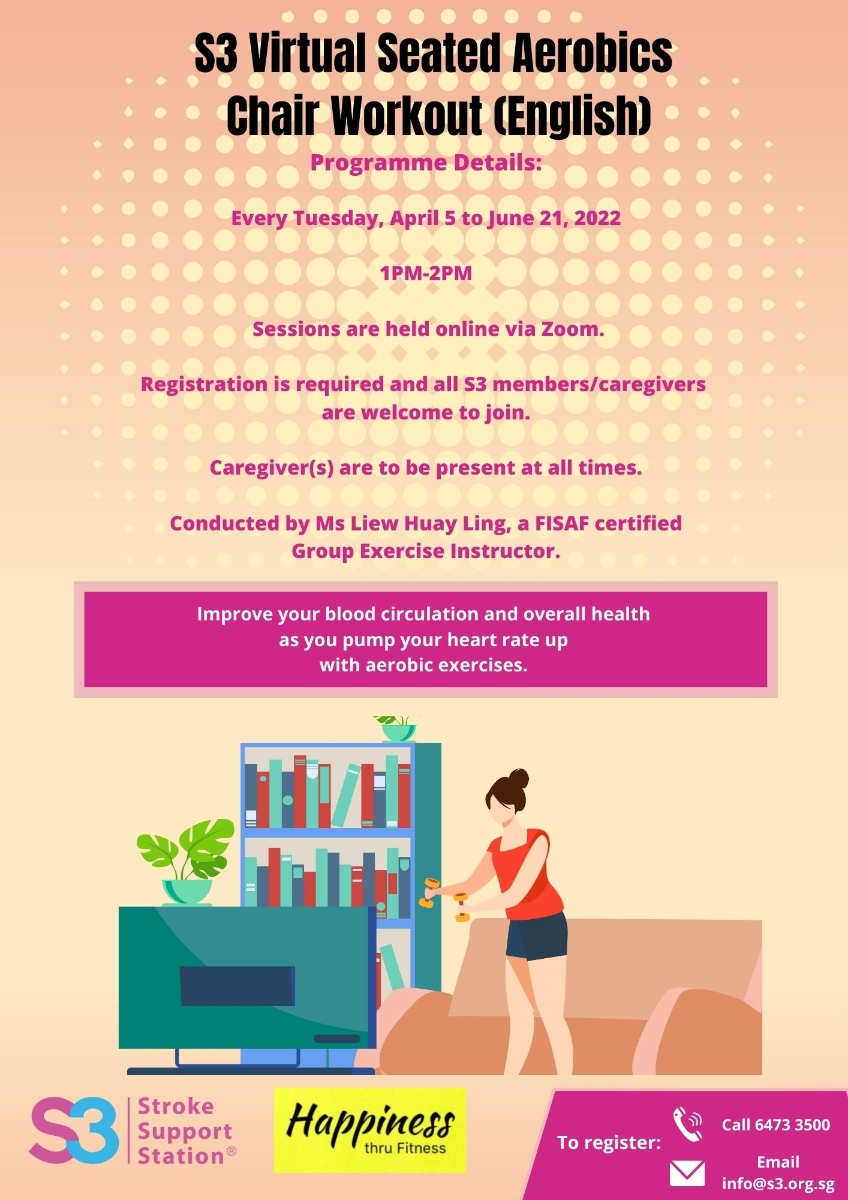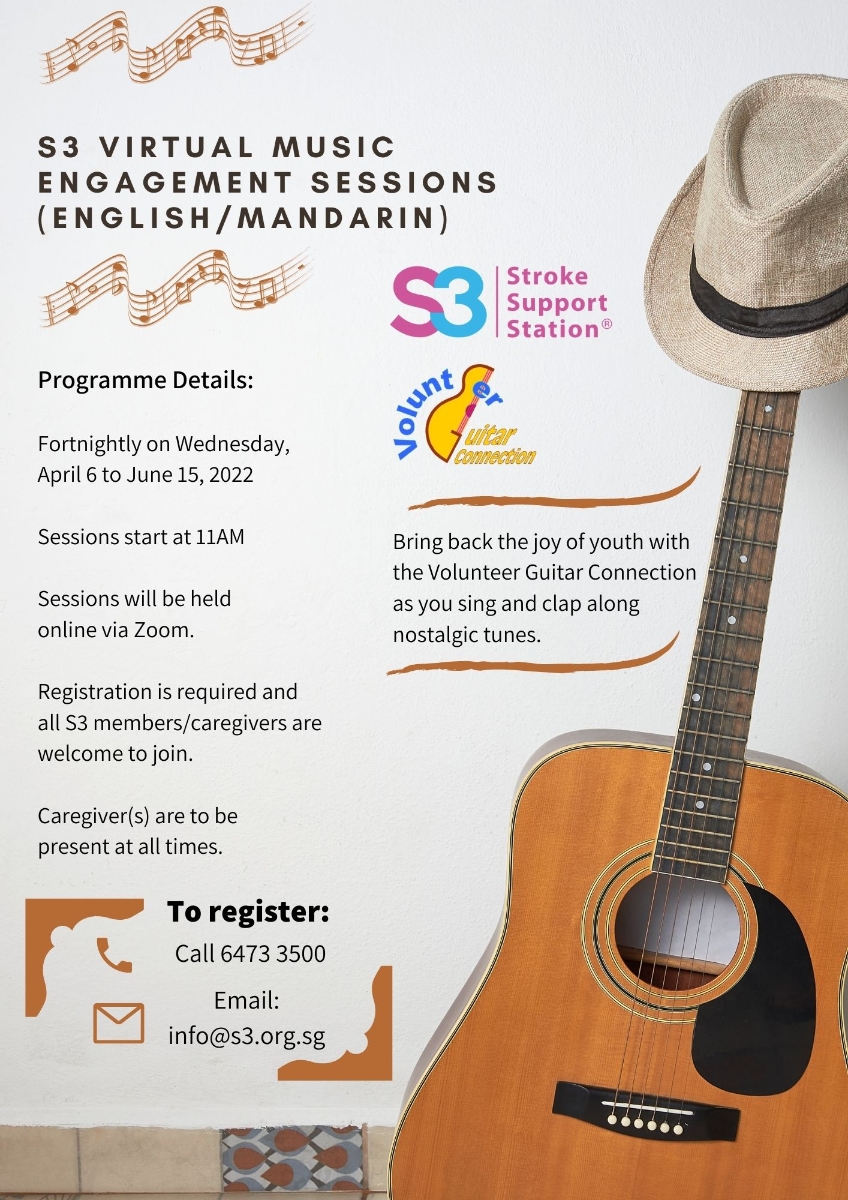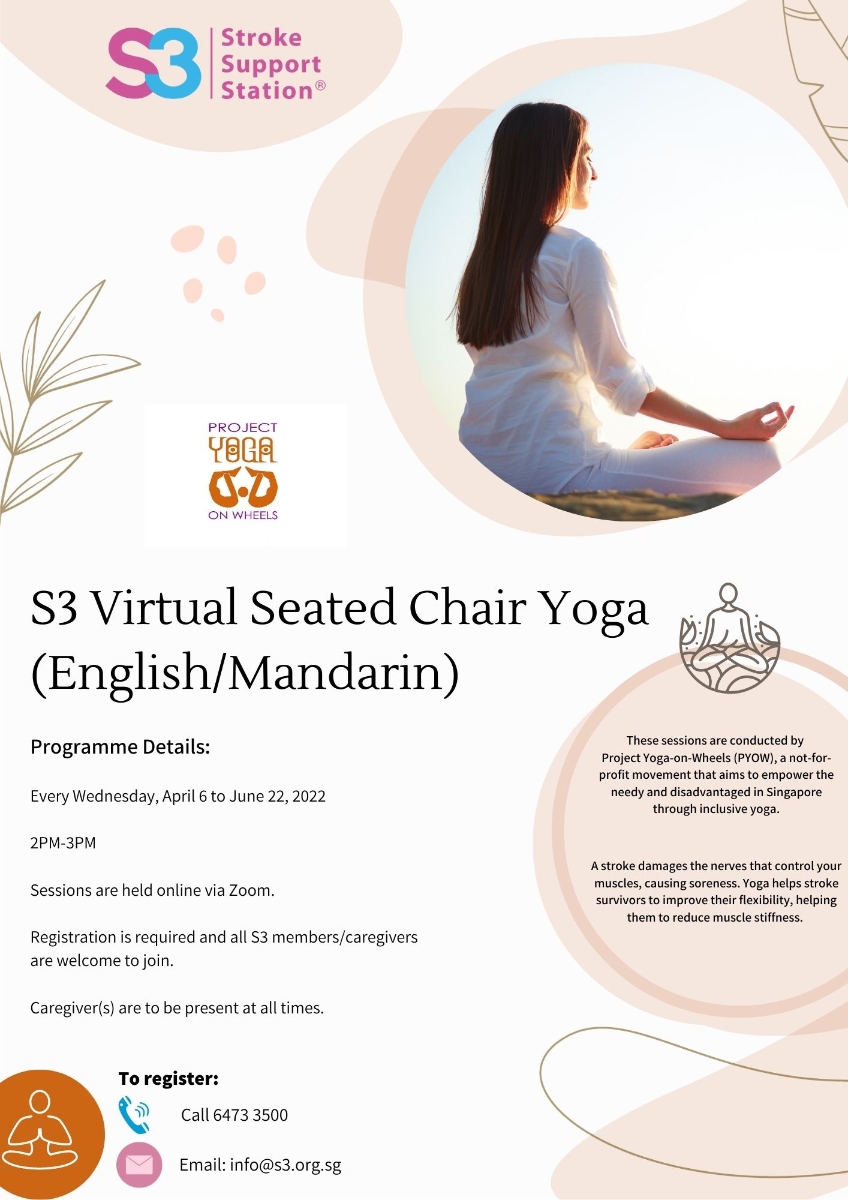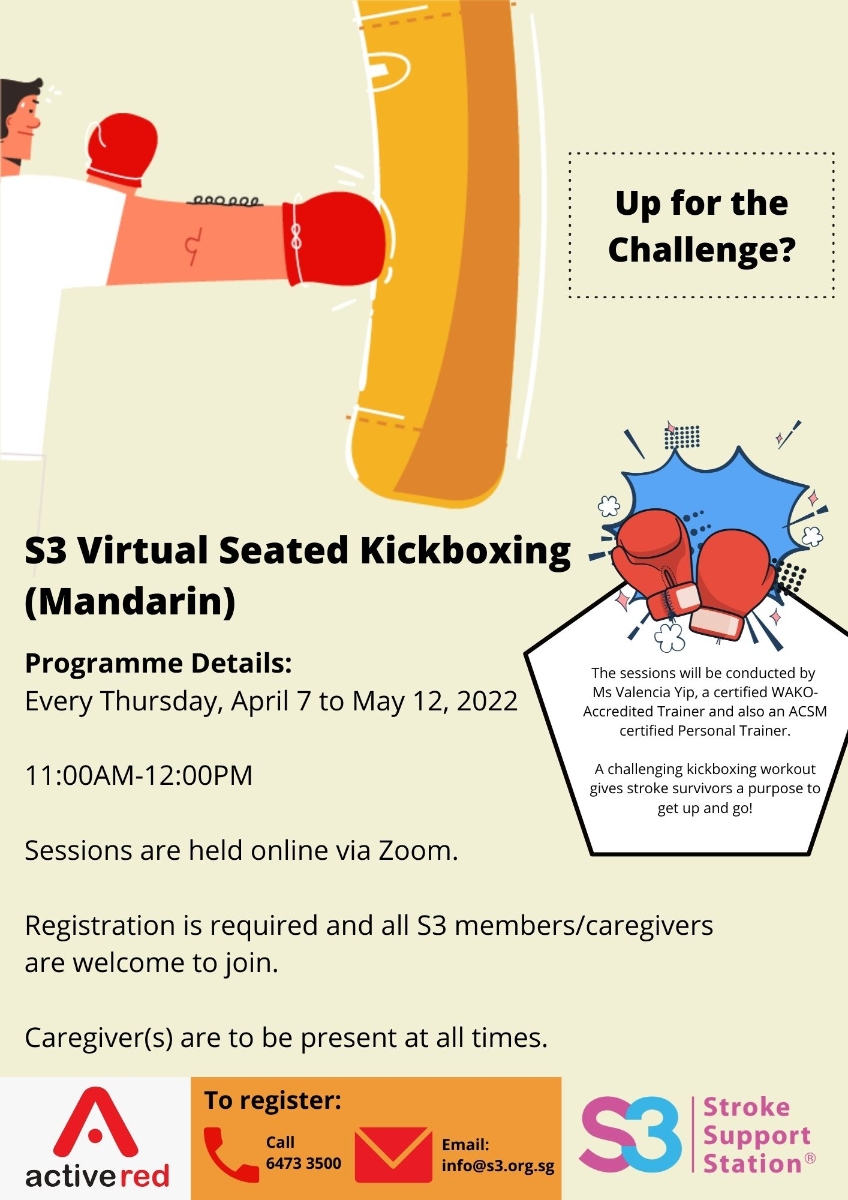 Only boxing professionals can perform the strenuous movements of kickboxing. True or false?
Kickboxing may seem daunting, but it can be used for therapeutic purposes too!
Practising the powerful and rigorous movements of kickboxing provides an intensive workout which is necessary to accelerate the recovery process for stroke survivors. Your upper body strength and control will benefit from the punches and jabs performed.
Kick and punch your way to good health with our trained kickboxing specialist Ms Valencia Yip from Active Red!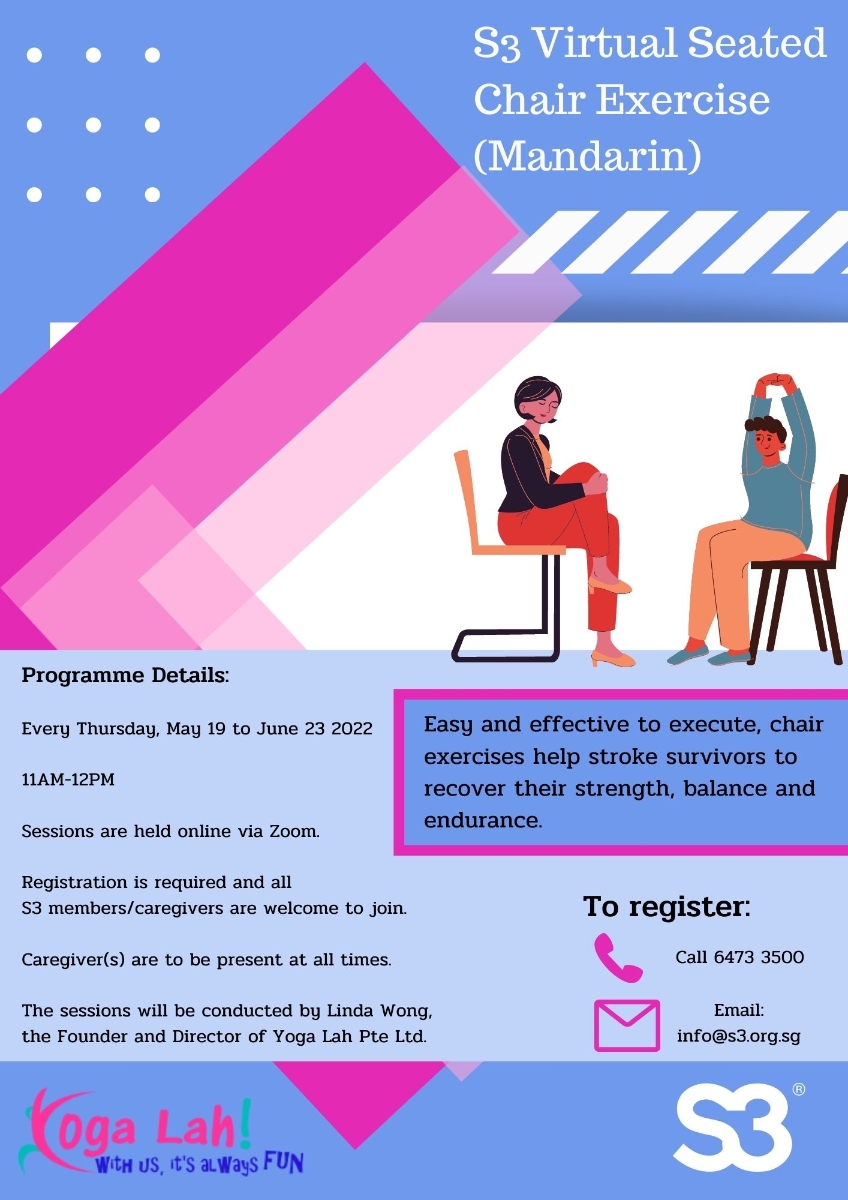 After a stroke, many survivors experience weakness and mobility issues which discourage them from exercising. However, leading a sedentary lifestyle is not ideal.
Chair exercises are low impact and comfortable to perform, which do not take much toll on the joints and muscles. These exercises are suitable for stroke survivors with lower functional levels or those who are wheelchair-bound.
The sessions will be conducted by Ms Linda Wong, Founder and Director of Yoga Lah Pte Ltd.
Sign up for our Virtual Wellness Programmes:
Jurong Point centre: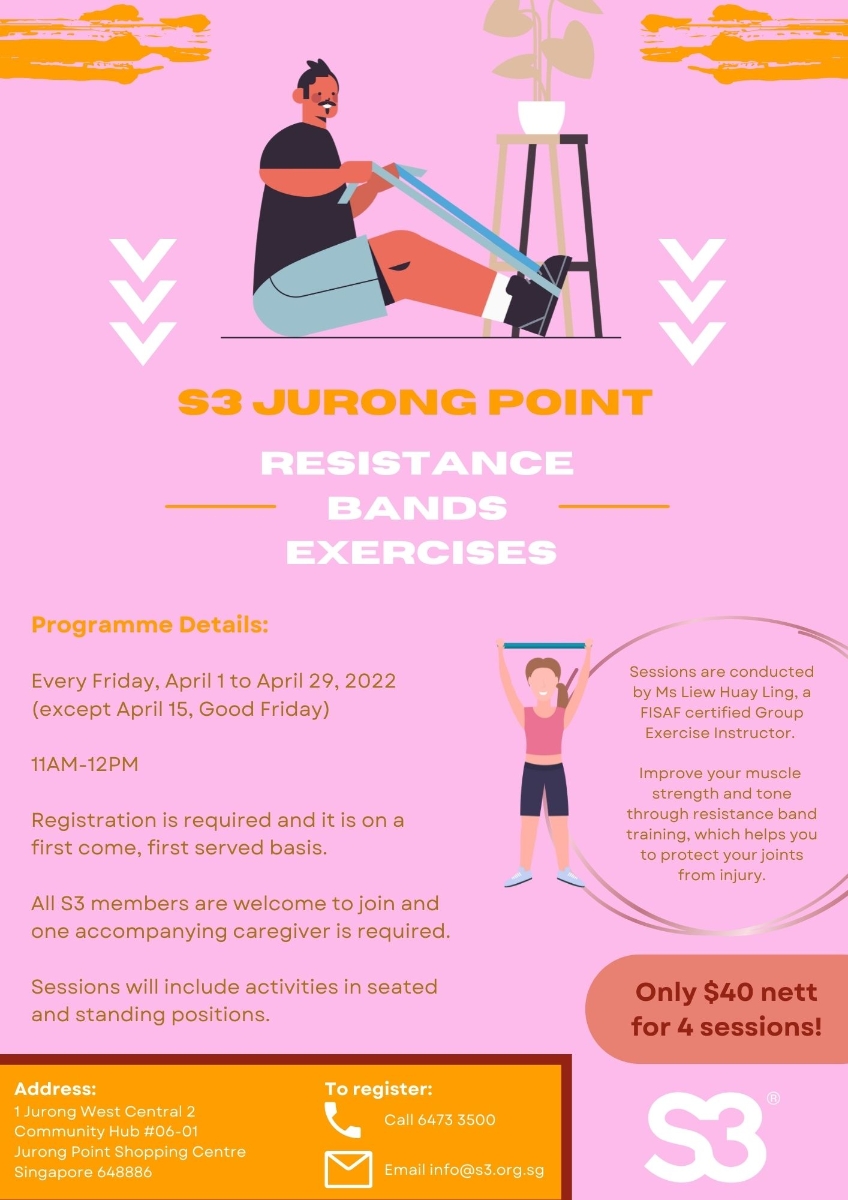 The use of resistance bands during an exercise session works on the stabilizer muscles. Strong stabilizer muscles enable the larger muscles and joints to work properly, causing less tension and pain for stroke survivors while they move.
Resistance band exercises also build strength, and their intensity can be adjusted for stroke survivors who are ready for a greater challenge.
Light and versatile, resistance bands exercises are varied and are suitable for stroke survivors with different fitness levels.
Join Ms Liew Huay Ling, a FISAF certified Group Exercise Instructor as she leads different fun and enjoyable resistance band exercises.
Price: Only $40 nett for 4 sessions!
Aromatherapy is the use of essential oils and scents to stimulate relaxation and healing. It is widely
known that the application of aromatherapy helps one to relieve stress, depression, and anxiety.
For stroke survivors experiencing pain and suffering from high blood pressure, aromatherapy is
especially beneficial to manage these symptoms and help them to feel at ease. In addition, it also
helps to improve immunity with the support of aromatherapy and sleep quality, which is also
important for the caregiver.
Learn more about how to use aromatherapy in your daily life by signing up for this talk. This talk will
be conducted by Ms Adeline Lim, the President of Holistic Aromatherapy Association Singapore.
Sign up:
We often aim to achieve great successes in our efforts. However, our limitations may prevent us
from attaining them. Suffering from imposter syndrome means that we cannot accept these
limitations, resulting in self-doubt.
Thereafter, we may try to take on more tasks to prove ourselves. For stroke survivors with imposter
syndrome, they may strive to achieve overtly difficult functions such as running. This may lead to
further stress, burnout and even injuries.
Join us on our upcoming talk to learn how you can better accept your strengths and weaknesses and
show compassion to yourself. This talk will be conducted by Mr James Chong, the Clinical Director of
The Lion Mind.
Sign up:
Diet plays an important role to reduce high blood pressure. As compared to other risk factors, it is
easier to control what you eat which can help you to better overcome hypertension.
Managing hypertension is not just about cutting down your salt or oil intake. You can consider
consuming more food items with minerals which contributes to a lower blood pressure level.
Learn more about the ideal diet to combat hypertension from Ms Liow Min Choo, a certified
nutritionist with many years of clinical experience.
Sign up:
It is important to control your care and legal arrangements when you fall ill or even when not. This will prevent the escalation of potential disagreements and conflicts. You will have a peace of mind knowing that you have left a positive legacy.
Hear from Mr Patrick Chang, the Founding Director of SimplyWills Pte Ltd, about how to create a Lasting Power of Attorney and Advance Medical Directive.
Sign up:
Do you know that depression affects at least 25% of all stroke survivors?
Common mental health ailments such as depression and anxiety are often invisible as they are not frequently discussed among family members and friends. As a result, stroke survivors and caregivers suffer silently and eventually, they become prone to social isolation and other illnesses such as insomnia.
Ms Kathleen Chia, Community Outreach Manager of Caregivers Alliance, will be sharing her expertise on managing our mental wellness and how to seek different avenues for support. Sign up for this talk now!
Sign up:
Listening to and creating our favorite music from the past help us to relive joyful moments and improve our memory. They also make us feel young again, with hope and optimism in our hearts. With the accompaniment of nostalgic music, we can immerse ourselves in our favorite places and experiences from the days that had gone by.
In addition, Mindful Awareness Practice is a set of exercises applying the concept of mindfulness to every aspect of our lives. These exercises will help us to be less anxious, be more attentive and alert, find joy in whatever we do and be a kinder and more caring person.
Sign up for this programme and let us reminisce beautiful memories and build a mindful spirit with the volunteers from RSVP Singapore.
Performing aerobics exercises helps the body in many ways which include enhancing our flexibility and cardiovascular health, as well as conditioning our muscle strength.
Get your full body energised as you step, stretch, and lunge your way to better fitness.
The Aerobics Chair Workout will be conducted by Ms Liew Huay Ling, a FISAF certified Group Exercise Instructor.
Music helps one to relieve stress, lessens anxiety and invigorates our cognitive abilities. Exposing ourselves to music hastens our thinking and reaction.
As we enjoy the beautiful pieces of music together, we build bonds and social connectedness. Join us on our virtual music engagement programme as volunteers from Volunteer Guitar Connection perform live on your favourite songs.
Learning proper breathing techniques and performing different yoga poses grant peace and serenity to the mind. The various yoga stances promote balance and flexibility for stroke survivors, which are important for them to improve their mobility.
We are happy to collaborate with Yoga on Wheels, a non-profit organisation which seeks to bring the benefits of yoga to the vulnerable.