Fashion Meets Therapy: S3 x Werable Collaboration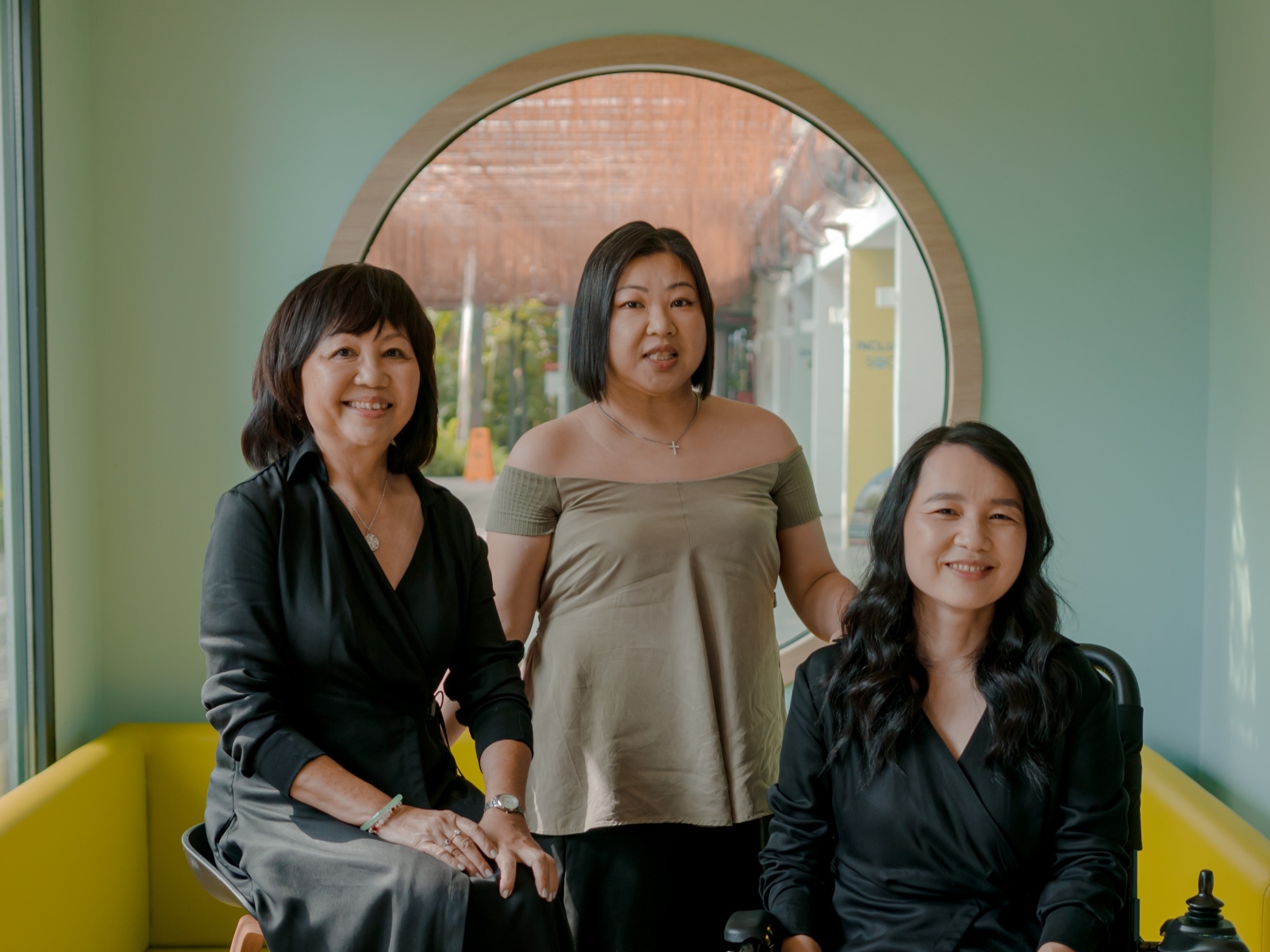 From left to right: Catherine Lee, Thng Wen Yi, and Zhang Miaoyi. Photo: Syan Adly.
Classy, stylish, and timelessly beautiful.
Those were our thoughts when we first saw the three ladies donned in Werable's apparel for a special photoshoot. Werable is a brand that designs and co-creates adaptive fashion for, and with, communities who have disabilities that make dressing challenging – an everyday task that many of us take for granted.
It only took about an hour of dressing, hair and makeup before the models, who are stroke survivors undergoing therapy with Stroke Support Station (S3), were set and ready to have their photos taken.
The models shared that they had been excited for this day, as it was rare to find user-friendly and attractive clothes for people who have difficulty moving some parts of their body. It was even rarer to get an opportunity to be part of a fashion shoot.
Left: Catherine Lee, 63, wearing the Easy-grip Buckle Wrap Shirt Dress from Werable.
Right: Catherine and her husband. Photos: Syan Adly.
Catherine likes that the clothes are fashionable and easy to wear. Although the left side of her body which is affected by her stroke has been recovering well with therapy, the dress's unique buckle feature makes dressing as easy as a simple stretch of an arm.
She shared that the clothes empowered her to believe that she could return to a normal lifestyle while recovering from her stroke. When asked about what advice she would give to other survivors, she shared that one simply has to keep persevering.
"When you have a stroke, the first few months, it's very terrible," Catherine said. "It seems like we're not getting any better, no matter how hard we try.
"But as we continue to push on, you can see yourself improving."
Left: Thng Wen Yi, 50, in Werable's Off-shoulder Top and Wide Legged Pants.
Right: Wen Yi and her husband. Photos: Syan Adly.
Similarly, Wen Yi expressed that other survivors should not give up in their recovery journey. She shared how her confidence had wavered following her stroke, which hit her hard emotionally as she had always been an independent woman.
"After the stroke, I totally lost my confidence," Wen Yi shared. "Today with this, I gained back my confidence."
She was determined to continue being independent for herself and her husband's sake. Wen Yi is well on her way to recovery with occupational therapy at S3, where she could see visible improvements in her affected arm under Nagis' guidance, one of our therapists.
Left: Zhang Miaoyi, 40, in Werable's Easy-grip Buckle Wrap Shirt. Photos: Syan Adly.
Miaoyi was delighted that Werable's clothes were easy to wear on her own, as many of the clothes she could wear had buttons that needed help from others. She felt that the collaboration with Werable has helped members to realise that they can also be beautiful, dress well, and one day to even "walk the runway".
Miaoyi also believed that having a positive outlook on life can encourage others to value themselves, sharing, "There may be difficulties with our bodies, but we still can chase mental peace and achieve incredible things in our lives."
The models also expressed their gratitude to Monica Cheung, a senior occupational therapist with S3, for guiding them throughout the process of dressing with Werable's clothings.
Catherine putting on her dress herself under Monica's watchful guidance. Photo: Syan Adly.
For example, Monica taught them that it would be easier to put in their weaker arm first and to maintain balance while wearing bottoms to prevent a fall.
Monica also appreciated the collaboration between S3 and Werable as it sends a strong message to the community about debunking stereotypes of people with disabilities.
"I think it's good that people are starting to question what adaptive, day-to-day items should look like," Monica said. "It shouldn't compromise on design, or how good you look."
Claudia Poh, 26, founder of Werable.
We also managed to catch Claudia Poh, founder of Werable, for her thoughts on the future of inclusive fashion.
"I believe adaptive fashion could be the norm – that you can walk into a store, pick something up, and you don't feel singled out, you don't feel like nothing is available for you," said Claudia.
"We all deserve to have options. We would very much like to have some agency over our lives, preferably in the most dignified and stylish manner."
The models were grateful for Claudia and Monica's support and encouragement, expressing how the two had made them feel like empowered, confident, and strong women who could also be fashionable.
A group photo of the models and their husbands. Photo: Syan Adly.
However, all three survivors fondly shared that their husbands' unconditional love and care were one of the biggest reasons that kept them going. They believed that they could not have come this far without their husbands, who remained by their sides through thick and thin.
"With his support, I am healed," said Wen Yi, smiling at her husband.