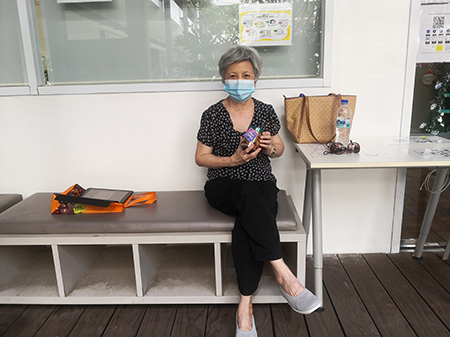 Mrs Maureen Wee is a caregiver to her husband Mr Heng who suffered a stroke in 2020. Then, Mr Heng was on many medications for his chronic illnesses such as high blood pressure and diabetes.
One of the first symptoms of stroke that Mr Heng displayed was his difficulty to lift himself up from the bed. Sensing that something was wrong, Mrs Wee rushed him to the hospital and he was diagnosed to suffer from a minor stroke.
Besides his chronic illnesses, Mr Heng often snacked on tidbits and exercised infrequently. His lifestyle may had been contributing factors to his stroke.
Despite Mr Heng's setback, Mrs Wee still maintained a positive attitude and cheerful disposition. Here's her story:
What are your challenges as a caregiver?
My husband can be forgetful at times. He can have quite a temper and would not listen to me. Hence, sometimes, we get into arguments.
However, I can feel that deep in his heart, he loves me. He shows this by buying things for me which I appreciate greatly.
How do you and your family support Mr Heng?
I cook for him and wash his clothes. I am fortunate to have a son who understands my needs. Before my husband's stroke, we were not proactive enough in encouraging him to exercise. I was rather preoccupied myself.
It was after his stroke that we realised the importance of leading an active lifestyle and so, my son and I made arrangements to help my husband to exercise. My son advised me on what activities to do and which food items that can keep my husband fit.
What are your goals for Mr Heng?
I always tell my husband: no matter how tired you are, make an effort to walk. Instead of taking the bus, we try to walk to our son's house which is just a few blocks away. Sometimes, I also wish he can cool down his temper.
How do you practise self-care?
Sometimes, I feel tired and my whole body will tense up after doing household chores for a few hours. I learnt to stagger my working hours and take breaks in between my household chores. Self-care is important. If I cannot complete certain tasks today, I will finish them tomorrow.
I try to keep myself healthy by eating more vegetables instead of rice. I take my medicine on time and do some walking when I have some free time. It is important to give yourself some space to relax.
A few years back, I fell inside a bus and since then, I suffer from chronic back pain. I take more vitamins and glucosamine so that I can have more energy to do housework and care for my husband.
For leisure, I like to watch television and play iPad games (eg. Word Scribble) to train my memory.
What keeps you motivated in caregiving?
I have thoughts of giving up initially. Fortunately, I receive assistance from others. I pray together with my relatives. I attend church sessions regularly and they give me an opportunity to discuss my thoughts and experiences.
I also have open conversations with my son regularly. The most important thing is to speak up. Don't bottle up your feelings. I also try to be contented in my heart. Others may be suffering more than me.
How has S3 helped you as a caregiver:
I share my opinions with the trainers who lend me their listening ear. I also like chatting with Sally, S3's Customer Service Associate.
S3 celebrates the month of love with Mrs Maureen Wee. If you are a stroke caregiver, or know anyone who can benefit from our support services, call us at 6473 3500 or drop us an email: info@s3.org.sg.