1) Gardens by the Bay Virtual Tour
Thank you volunteers from Gardens by the Bay for bringing majestic greenery to our virtual screens. Seeing the beauty of nature stimulates pleasant feelings in all of us.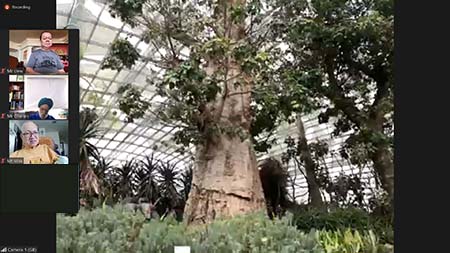 In Africa, the Baobab is known as the Tree of Life as its trunk provides shelter and building materials for the people while its leaves are sources of nutrients, minerals and vitamins.
The virtual tour brought us to the wonderful world of cactuses and baobabs. We learnt all about the characteristics and details of different succulents. Many of these succulents possess medical or aesthetic properties which benefit us.
The agave plant acts as a mirror to reflect sunlight in the hot desert where it originates.
Here's a little fact about the Gardens that you may not know. How are these gigantic plants transported to the Flower Dome? They are transported by airplanes or container ships depending on their condition and sizes. The transportation is conducted in the wee hours of the morning.

Can you guess what is this plant? You probably may have eaten it before. Yes! It is the aloe vera, most commonly found in your favourite drinks or desserts. Aloe vera is known as a source of antioxidants and is used in skin care products too.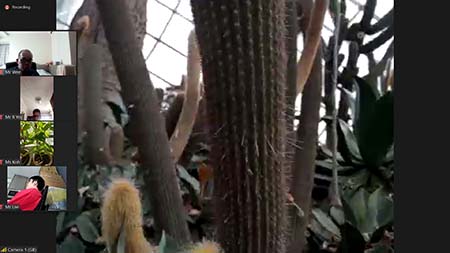 The flower bed of the wooly cactus is pollinated by bats.
The virtual tour is a new initiative under Gardens by the Bay's Gift of Gardens programmes, which seeks to reach out not only to the underprivileged, but also beneficiaries of social service agencies. Thank you Gardens by the Bay for such a meaningful and kind initiative!
2) Volunteer-led bonding session: Travel Around the World in 60 minutes.
What is the most important thing that we need to bring on an overseas holiday? Your luggage? Your passport? Nope, we only need our happy thoughts!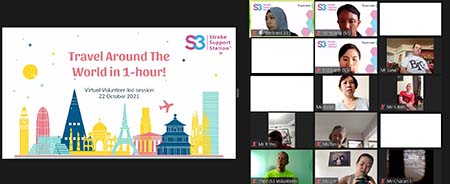 Do you know what is the cost of the most expensive taxi ride in the world? What about the longest street in the world? S3 volunteers presented many interesting facts about travel which often led to looks of surprise and excitement.

Guess what? The most expensive taxi ride in the world is... 235 (MINDBLOWING) dollars!!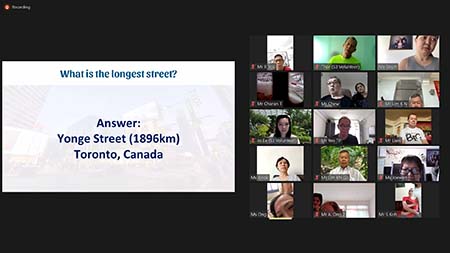 Participants shared their thoughts and feelings about travel. Ms Annie Ong loves to go to the beach and Mr Silvanus Koh yearns to travel to Jamaica to glance at the vast safaris. For Ms Helen Tan, experiencing winter reminds her of eating a cold ice cream.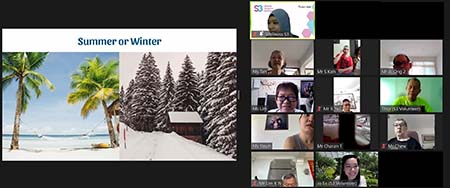 Do you prefer summer or winter? Well, if you are vacationing in the summer, you get to bring fewer clothes which is less of a hassle.
Mr Liew led a presentation on his travelling experiences to Taiwan. He shared his beautiful memories with us through many photos.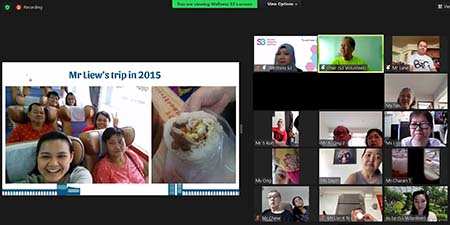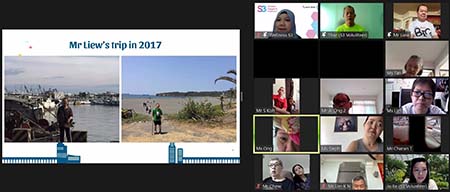 Walking from one end of the beach to the other. Well done Mr Liew!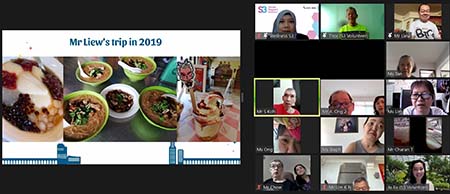 Mr Liew's guilty pleasures in Taiwan: Smooth and silky beancurd dessert and Taiwan vermicelli. Are you salivating yet?
Through this bonding session, we opened up a "vaccinated travel lane" for participants to relieve their fond memories. Conversing about them brings us all joy and happiness. Thank you S3 Outreach team, volunteers and participants for your active contribution towards this virtual sharing session.