"To care for those who once cared for us is one of the highest honors."
Caregiving is a noble and selfless vocation. They sacrifice much of their time to serve the needs of stroke survivors. More often than not, they have to give up their jobs, hobbies and leisure to keep their loved ones by their side.
In the stroke recovery journey, stroke survivors are at the centre of attention as the most important goal is for them to regain their mobility and functions. The role played by caregivers is at times neglected and placed in the sidelines. Worse still, they may be judged by people around them.
"Caregivers are only there to accompany their loved one. The medical professionals are the ones who help stroke survivors to recover."
"It is the caregiver's fault that their loved one suffered a stroke in the first place. It means that they had not been taking good care of their loved one well enough. If the health of a stroke survivor worsens, it is the caregiver's responsibility too!"
Have you heard of such myths before?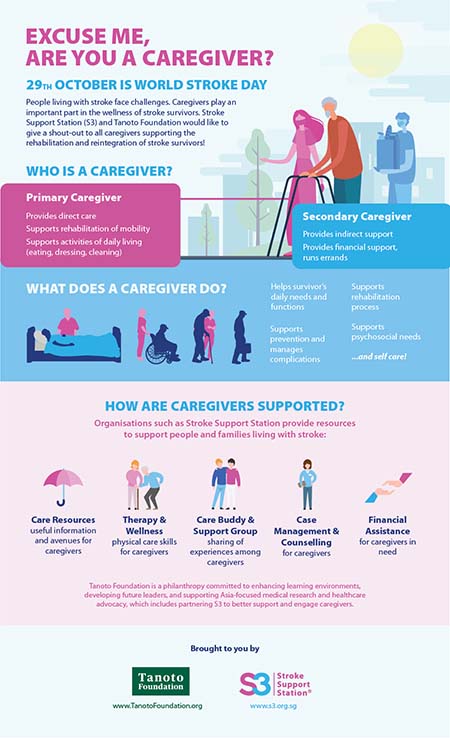 The many roles played by caregivers in the community. Download this infographic and share them with your family and friends to raise awareness of caregiving!
Besides assisting stroke survivors in their physical functions, caregivers also take charge of many household responsibilities. They have to manage finances, provide care to other household members (young children and aged parents) while juggling their individual commitments such as their studies or their jobs. Additionally, they complement with medical professionals to support stroke survivors as they need to understand and execute the advice given by doctors and therapists.
Sounds tough, isn't it?
Stories of caregivers in the community
This World Stroke Day, we are glad to collaborate with Tanoto Foundation to raise awareness of the caregiving experience. In this feature, we highlight the stories of caregivers Ms Liew Huay Ling and Mdm Soon Chii Sy.
To Ms Liew, seeing her father smile for the first time in 6 months after his stroke was a momentous occasion. She hopes to bring the same smile to as many stroke survivors in the community as she can. To achieve this, she conducts K-pop and other exercise sessions to keep stroke survivors engaged. Seeing her participants enjoy the sessions brings her fulfillment.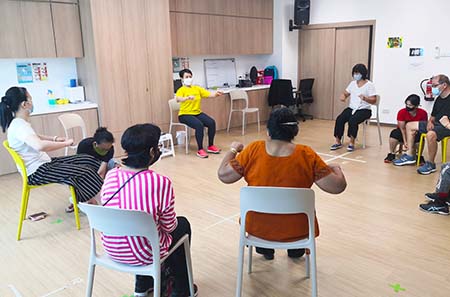 Ms Liew conducting exercise classes for stroke survivors in S3.
Signing her husband up for S3's programmes was the best thing for Mdm Soon. S3's application of specialised physical therapy technologies had created a "breakthrough" in her husband's stroke recovery journey. His mobility improved and he no longer needed to rely on Mdm Soon much. Now, Mdm Soon can take some time off for herself.
Caregiving is a difficult experience. However, at the end of the day, it is rewarding to see the efforts from caregivers paying off as their loved one recovers gradually. During the journey of caregiving, caregivers learn new things about themselves and their loved one which inspire them to step up to new heights.
Read more about S3 caregivers here: https://www.straitstimes.com/singapore/health/stroke-survivors-caregivers-recovery-journey-support